Refugees on a rubber raft waiting to board the "Phoenix," a ship belonging to the Migrant Offshore Aid Station (MOAS), off the island of Lampedusa, Italy, 04 October 2014 (EPA)
The prime minister of Libya's UN-backed unity government has ruled out any possibility of a readmission agreement between Libya and the European Union to stop migrants and refugees from making the perilous journey across the Mediterranean.


Prime Minister Fayez al-Sarraj told German daily newspaper Die Welt's Sunday edition that Libya would not accept any migrants the EU attempts to send back to them. He said, "Europe needs to find ways to take them back to their home countries. They [migrants, refugees] cannot live with us."
This file photo taken on March 30, 2016 shows Libya's UN-backed Prime Minister-designate, Fayez al-Sarraj speaking during a press conference in the capital Tripoli. The Libyan PM's comments came in the wake of Austrian Foreign Minister Sebastian Kurz's suggestion that the EU should find a way to reach an agreement with Libya to stop refugees from leaving for Europe.
The prime minister said, "The situation of migrants coming to us from the south [Libya], is totally different from the case in Turkey. These cannot be compared."
After being overwhelmed by migrants in 2015, the EU managed to disrupt a key migration route from Turkey to Greece by negotiating a deal with Ankara.
This agreement should now "inspire cooperation" with other key countries, the European Commission will argue in a new communication on Tuesday.
Accordingly, the EU will offer countries in Africa and the Middle East incentives to curb migration flows.
Italy, which has been the destination of migrants setting sail from Libya, has pushed for the EU to offer African countries money to tighten border controls, emulating the deal with Turkey.
Thousands of migrants try each year to make the crossing from Libya to enter the EU, but many drown when their boats and dinghies sink.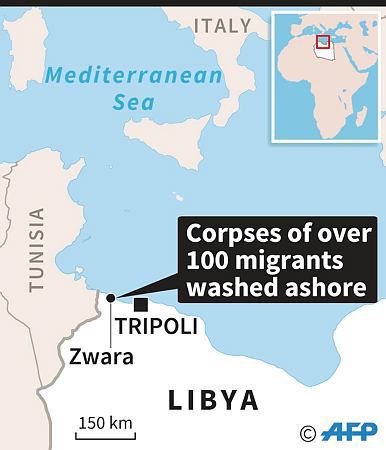 In the latest human tragedy, the bodies of 132 migrants who were trying to reach Europe have been found on western Libyan beaches over the past four days.
Human smugglers have exploited the chaos gripping Libya since the 2011 uprising that overthrew dictator Muammar Gadhafi to traffic migrants across the Mediterranean Sea to Europe.
Prime Minister al-Sarraj remarked that, to solve the migration tragedy, one must go to the bottom of the problem and look for the solutions in the countries of origin of migrants.
"They need political and economic stability and development opportunities. We need a common vision with the EU to end the problem of migration," he said.