Former vice president Emmerson Mnangagwa will be sworn in as Robert Mugabe's successor on Friday, Zimbabwe's speaker of parliament Jacob Mudenda, confirmed Wednesday.
Preparations were already underway for the ceremony, Mudenda told journalists in the capital, Harare, hours after state broadcaster ZBC had announced the swearing in, citing ruling party sources.
"We have notified the chief secretary to the president and cabinet, Misheck Sibanda, so that he can make arrangements," said Mudenda.
Mnangagwa, who had fled Zimbabwe in fear for his life after Mugabe fired him as vice president earlier this month - reportedly fled to neighboring South Africa - is scheduled to return to Harare on Wednesday.
Hundreds of Zimbabweans were congregating at Harare's air force base to welcome Mnangagwa, who is known as "The Crocodile" for his ruthlessness.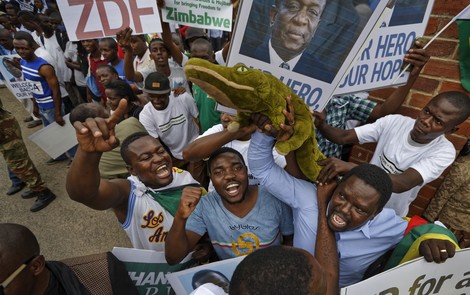 They were holding signs that read "Welcome back president" and "True to your word, you're back." Some had brought a stuffed toy crocodile.
"I came here personally to welcome our hero, our father and our changer," Sarudzai Maruve, 28, told dpa.
Zimbabweans had awoken to a new dawn from a night of partying and jubilation, after Mugabe, their leader of 37 years, stepped down late Tuesday.
The momentous event was triggered by a series of actions, namely a bloodless coup last week by the country's military, who urged Mugabe- widely blamed for destroying the country's economy - to resign.
Mnangagwa, 75, was Mugabe's lifelong comrade and deputy until he was accused of treachery and sacked earlier this month.
It was Mnangagwa's political ambition to take over which set off a bitter succession battle between him and Grace, the president's 52-year-old wife, triggering the crisis that toppled the autocrat.
When Mnangagwa was dismissed as vice president by Mugabe on November 6, it initially looked like he'd been outfoxed by the first lady, forcing him to flee the country.
But the situation quickly turned on its head, with his dismissal triggering a military takeover and mass street protests, which ended with Mugabe's ouster and Mnangagwa catapulted to center stage.
A former close Mugabe ally, Mnangagwa's fall from grace appears to have been engineered by the first lady, who lobbied her husband to back her own political ambitions.
It was the climax of a long feud between the pair over who would replace the ailing and increasingly frail 93-year-old leader.
But Mnangagwa's dismissal alarmed the army, with the generals quickly moving in, staging a military takeover which brought him down within days, proving to be one of Mugabe's greatest tactical errors.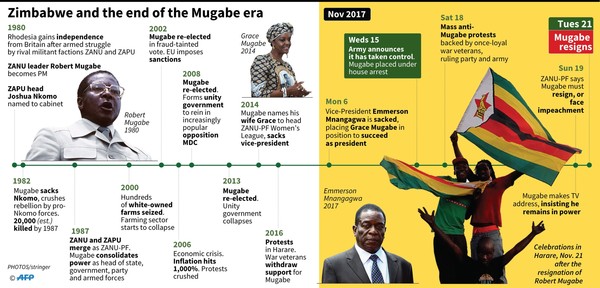 "Everyone is happy; it's a new future," Francis, a domestic servant in his 60s, told dpa on Wednesday.
"Now everyone wants to know what's happening next."
However, there is also concern among Zimbabweans, as Mnangagwa firmly stood by Mugabe's side during the country's tragic economic downturn and countless alleged human rights violations.
"To be honest, I am a bit worried, but we just hope it won't be like [Mugabe's leadership]," Maruve told dpa.