The young intern who apparently runs-at least from time to time- the official twitter account of republican presidential hopeful Donald Trump is taking the internet by storm after Trump said the intern 'accidentally did a retweet' of an unusual tweet on Thursday implying that Iowans in the U.S. had "issues in the brain" due to the state's genetically modified corn.
The tweet retweeted manually from Trump's account- which has 4.64 million followers- said: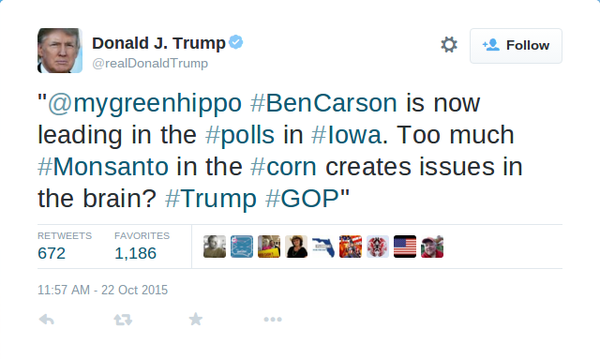 The tweet suggested that GOP candidate Ben Carson's lead, in polls conducted by Quinnipiac University earlier in the day, was due to 'brain damage' caused by agriculture giant Monsanto's genetically modified products.
However, the tongue-in-cheek tweet was deleted a few hours after and replaced with another tweet, which said:
The young intern who accidentally did a Retweet apologizes.

— Donald J. Trump (@realDonaldTrump) October 22, 2015
The first tweet Trump shared came after the results of the newest Quinnipiac poll, in which retired neurosurgeon Ben Carson came out on top with 28 percent compared to 20 percent for Trump.
This poll marks a first for Trump as its the first -and only- time he has not been in the lead in Iowa since he entered the presidential race.
The agriculture giant Monsanto Company is among the first to carry out and embrace genetically modified foods, which is still a controversial issue that sparks a lot of criticism.