Democrat Hillary Clinton and Republican Donald Trump scored a string of wins on Super Tuesday, US networks projected, putting the pair closer to presidential nominations.

Bernie Sanders defeated Clinton in four states: Colorado, Minnesota, Oklahoma and his home state of Vermont.

Republican Marco Rubio notched his first victory of the campaign, taking the Minnesota caucus.

Texas Sen. Ted Cruz has won the Republican presidential caucuses in Alaska. It's his third win on Super Tuesday, adding to victories in the Texas and Oklahoma primaries.

Cruz adds 12 delegates to his total with the win in Alaska. Donald Trump will take home 11 delegates from the state, and Florida Sen. Marco Rubio gets five delegates.

Cruz's win in Alaska is the final Super Tuesday contest. The 2016 presidential race will resume on Saturday, with primary elections and caucuses in Kansas, Kentucky, Louisiana, Maine and Nebraska.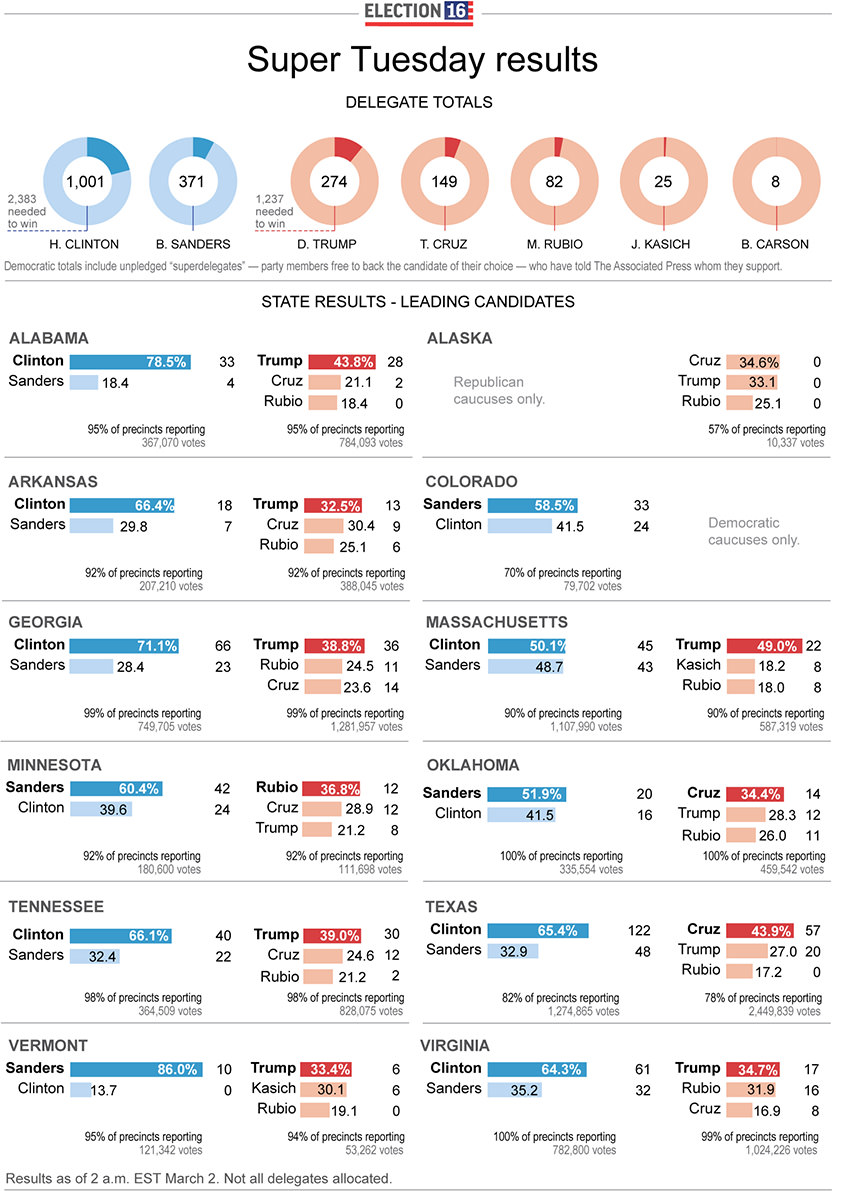 Here is a state-by-state breakdown of projected winners on the pivotal day of the 2016 White House race:


Alabama
Republican: Donald Trump
Democrat: Hillary Clinton


Alaska
Republican: Ted Cruz

Arkansas
Republican: Donald Trump
Democrat: Hillary Clinton


Colorado
Democrat: Bernie Sanders


Georgia
Republican: Donald Trump
Democrat: Hillary Clinton


Massachusetts
Republican: Donald Trump
Democrat: Hillary Clinton


Minnesota
Republican: Marco Rubio
Democrat: Bernie Sanders


Oklahoma
Republican: Ted Cruz
Democrat: Bernie Sanders


Tennessee
Republican: Donald Trump
Democrat: Hillary Clinton


Texas
Republican: Ted Cruz
Democrat: Hillary Clinton


Vermont
Republican: Donald Trump
Democrat: Bernie Sanders


Virginia
Republican: Donald Trump
Democrat: Hillary Clinton


- TOTAL WINS -

Democrats
Hillary Clinton: 7
Bernie Sanders: 4


Republicans
Donald Trump: 7
Ted Cruz: 2
Marco Rubio: 1