Total economic losses from Tropical Storm Harvey could be as high as $70-90 billion, with the bulk of the losses coming from inland flooding in the Houston metropolitan area, risk modeling firm RMS said on Wednesday.
The majority of these losses will be uninsured, given private flood insurance is limited, RMS said in a preliminary estimate.

"With the rain still falling heavily and the waters rising, the situation is too fast-moving to be stating with certainty what the losses in Texas could be," Michael Young, RMS head of Americas climate risk modeling, said.

RMS would issue an official insurance loss estimate for the storm "in the coming weeks", Young added.

RMS said last week that wind damage from Harvey would likely lead to insurance losses below $6 billion.

Modeling firm Air Worldwide said earlier this week the insured losses from Harvey's wind and storm surge were estimated at between $1.2 billon and $2.3 billion. That figure does not include flooding.

Analytics firm Corelogic earlier on Wednesday raised its estimate for wind and storm surge insured property losses, excluding flooding, to $1.5-3 billion from $1-2 billion.
Wall Street analysts have forecast insured losses for the storm of as much as $20 billion.
Tropical Storm Harvey weakened as it moved farther inland and flooding rains continued over extreme southeastern Texas and southwestern Louisiana on Wednesday, the National Hurricane Center said.
Harvey was about 35 miles (56 km) north-northwest of Lake Charles, Louisiana, and was packing maximum sustained winds of 40 miles per hour (64 km per hour), the NHC added.

Up to 40,000 homes destroyed by Harvey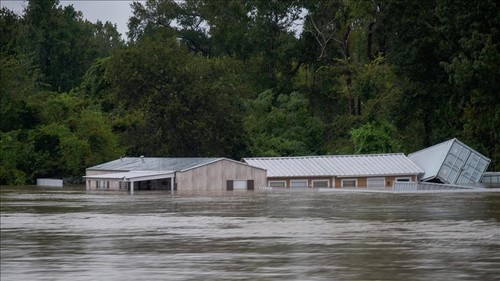 Construction site offices are seen submerged in flood during Hurricane Harvey in Conroe, TX, United States on August 29, 2017. (AA Photo)
Torrential downpours and mass flooding from Hurricane Harvey may have already destroyed as many as 40,000 homes in the Houston area, a county judge said Wednesday.
"We have people who are on the second flood of their homes. They're riding it out, and they're waiting for the waters to go down," Harris County Judge Ed Emmett said on morning talk show Good Morning America.
"Working with the federal government and the state government, we've got to get those people back into their normal lives as soon as possible," said Emmett, who is also the director of the county's Office of Homeland Security and Emergency Management.
Houston Police Chief Art Acevedo urged residents to refrain from returning home, at least for now, due to concerns that live electric wires could lead to additional deaths and injuries.
"We don't want any more tragedies," he said.
Harvey, now a tropical storm, made landfall in southwest Louisiana around 4 a.m. local time (0900GMT) after crippling Houston, Texas and surrounding areas with flood waters.
Houston was battered by five consecutive days of rain that broke national records and overburdened the city's dam and levee system. Many neighborhoods were flooded in order to prevent some dams from catastrophically failing.
Texas Governor Greg Abbott estimated that 24,000 National Guardsmen will be deployed to his state, up from the 14,000 currently there.
Abbott said recovery assistance could exceed $125 billion.
In all, 33 counties are part of a federal disaster declaration, he said.
At least 24 people have been reported dead in the disaster, including a law enforcement officer, and more than 8,500 have been rescued in Houston alone.
As the waters retreat, Arkema SA said its industrial chemical plant northeast of Texas faces real potential for fire and/or explosion after some temperature-sensitive chemicals lost refrigeration "due to extremely high water."
But the company said it does not believe there is any imminent danger and is working with authorities to address the issue.
"We have no higher priority than the safety of our employees, neighbors and the environment. We have been working without pause to keep our materials safe," it said in a statement.
The Harris County Fire Marshall's Office confirmed that a 1.5-mile (2.41-kilometer) evacuation area around the plant remains in effect and was not sure when it might be lifted.