Eight people were killed and numerous others injured in New York on Tuesday after a vehicle plowed into a pedestrian and bike path in Lower Manhattan, New York Mayor Bill de Blasio said.
"It's a very painful day in our city. Horrible tragedy on the West Side. Let me be clear, based on the information we have at this moment, this was an act of terror and a particularly cowardly act of terror," Mayor Bill de Blasio told a news conference.
"Aimed at innocent civilians, aimed at people going about their lives who had no idea what was about to hit them. We at this moment based on the information we have, we know of eight innocent people who have lost their lives. And over a dozen more injured."
The terrorist was identified as 29-year-old Uzbek national Sayfullo Habibullaevic Saipov from Florida, ABC News quoted a law enforcement official.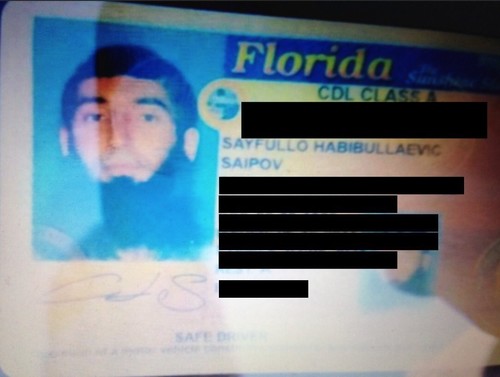 A law enforcement official said the crash is being treated as a "terror attack" and confirmed the death toll and said 12 others were injured.
The incident took place near the West Side Highway, police spokesman Ahmed Nasser said.
The driver was shot by police after jumping out of the truck with what turned out to be a fake gun in each hand, officials said. He was taken into custody. His condition was not immediately disclosed.
Witnesses described a scene of panic and blood, with people screaming in fear and the path strewn with bodies and mangled bicycles.
A police official said the attack was being investigated as a possible act of terrorism. The official was not authorized to discuss the investigation and spoke on condition of anonymity.
Police said the vehicle, a rented Home Depot truck, entered the bike path on West Street a few blocks from the new World Trade Center and struck at least 12 people. The truck also slammed into a small yellow school bus.
Video footage of the school bus showed its right side bashed in, and firefighters surrounding it as they worked to free children inside.
Donald Trump decried an apparent terror attack that killed eight people in his hometown of New York as an act of madness Tuesday.
"In NYC, looks like another attack by a very sick and deranged person," he tweeted. "Law enforcement is following this closely. NOT IN THE U.S.A.!"
A large number of police vehicles could be seen in Manhattan near West Street and Chambers Street, which is near a community college and a high school and a few blocks north of the National Sept. 11 Memorial.
New York, which is often on high-security alert, is America's financial and entertainment capital, with a population of 8.5 million.