A two-minute walk from the entrance of Istanbul's ITU Ayazağa metro station brings you to the Elgiz Museum, my favorite art place in Istanbul's financial district, Maslak. For business people, students and the unemployed alike, Elgiz offers a space of refuge in a hi-tech neighborhood surrounded by skyscrapers and business centers. The museum has an open library, a cracking permanent art collection and a space devoted to seminars. This Fall, Elgiz is hosting Azade Köker's "Dissolution" until Jan. 7, a new show that thoroughly unsettles the peaceful atmosphere of the museum.
Köker is one of those artists who brings a magisterial presence to the art space that displays her work. Like Anselm Kiefer, her work is rich in layers and often sends a shiver down her viewers' spines. Born in Istanbul in 1949, Köker studied at Istanbul State Academy of Fine Art and the Berlin School of Fine Arts. After opening a workshop in Berlin in the late 1970s, she taught at German universities and became a professor at the Braunschweig Technical University. She has displayed her work in exhibitions in numerous cities including Düsseldorf, Hannover and Stuttgart.
"In her most recent works presented at Elgiz Museum, Köker seems to have focused on the relationship between nature and man," Burcu Pelvanoğlu writes in her article for the show's catalogue. "The artist shows nature as it resists all of man's cruelty, pointing to the victory of nature against man and consequently culture, which was developed by man's collective shame and inability to return to nature."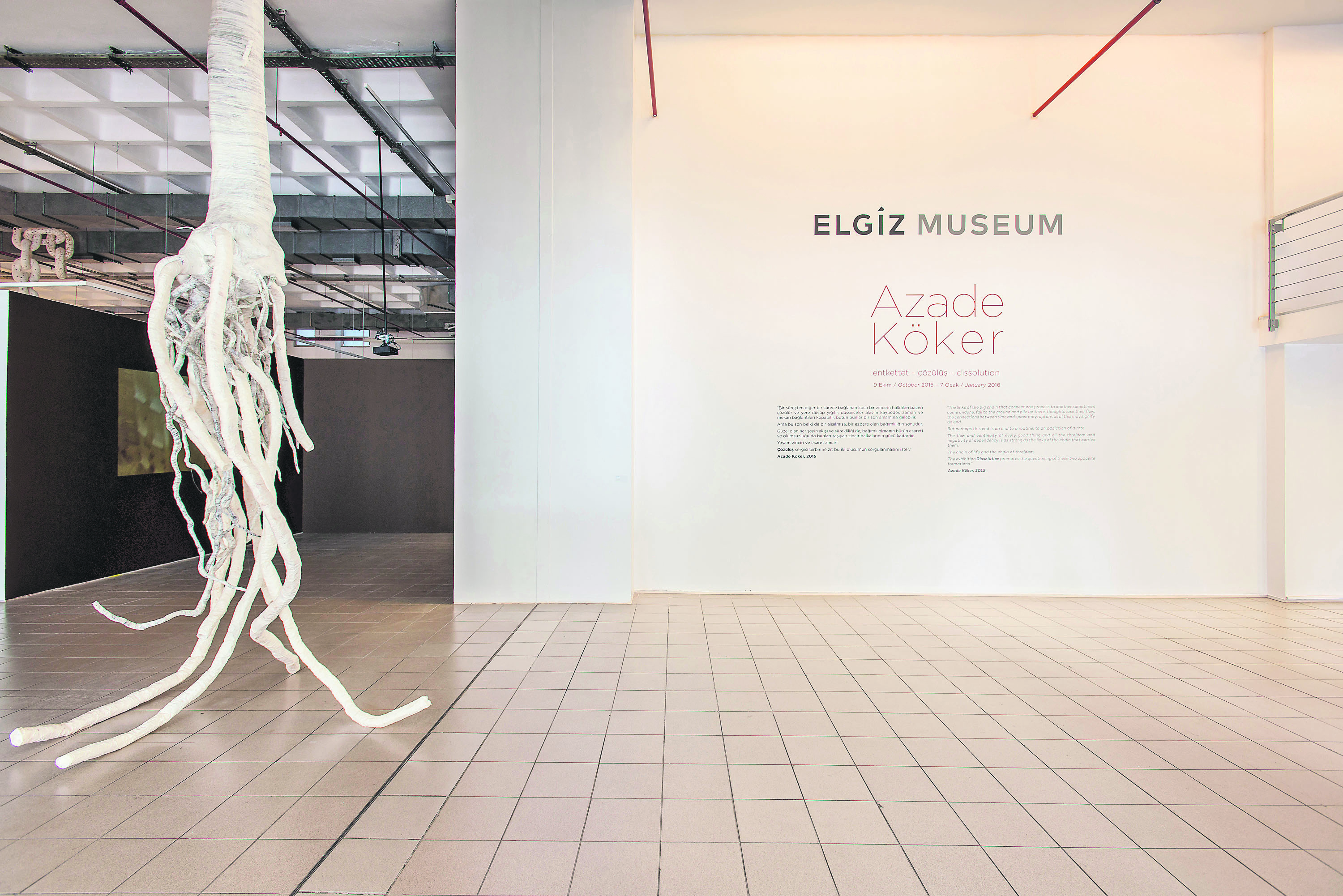 One of Köker's paperworks, "Rhizome," nicely illustrates this conflict between the cruelty of mankind and nature. This massive work, placed at the entrance of the museum, takes its roots from the ceiling and resembles a living organism. "If we think of this installation within the framework of Gilles Deleuze and Felix Guattari's rhizome theory, we realize that rhizome as a model for culture looks for the original source of things," Pelvanoğlu explains. "On the other hand, a rhizome makes up the semiotics of chains that have been constructed on the axis of artistic, scientific and social struggles due to forms of power and conditions."
Köker's paper rhizome seems to search and reach out to a meaning, the important difference here being the change in the roots' position from the ground to the air. "Here Köker reveals what is usually unseen: the tree's roots. In the sculpture, as in nature, they are proportionally larger than the trunk itself, and often occupy many more times the surface area occupied by the tree's crown," according to contemporary art curator Nat Muller. "This tree, however, is crownless. A big gaping cavity stares back at us from where the crown should have been. The tree... is an empty shell. Dead matter that is hollow."
Another work, "Bodrum Rubbish 2" features multiple layers of forms: images of plastic supermarket bags left in nature, back grounded by outlines of human figures. Here Köker's canvas manages to hold together such complicated phenomena's such as nature, waste, consumption and society. In "Abandoned City," a paper and video installation from 2015, Köker's imaginary city seems fragile and open to external influences. "Hybridity is the key element in Azade Köker's works," Ahmet Ergenç writes in the exhibition catalogue. "Later on, Köker started to take on the issue of hybrid identity in a macro perspective that incorporated the culture-nature hybridity ... In 'Abandoned City,' the exhibition audience is presented with a sort of dystopia through a city-political awareness. Huge, abandoned buildings in decay and the rust stains on their walls illustrate the disaster scene caused by a life-engineering project."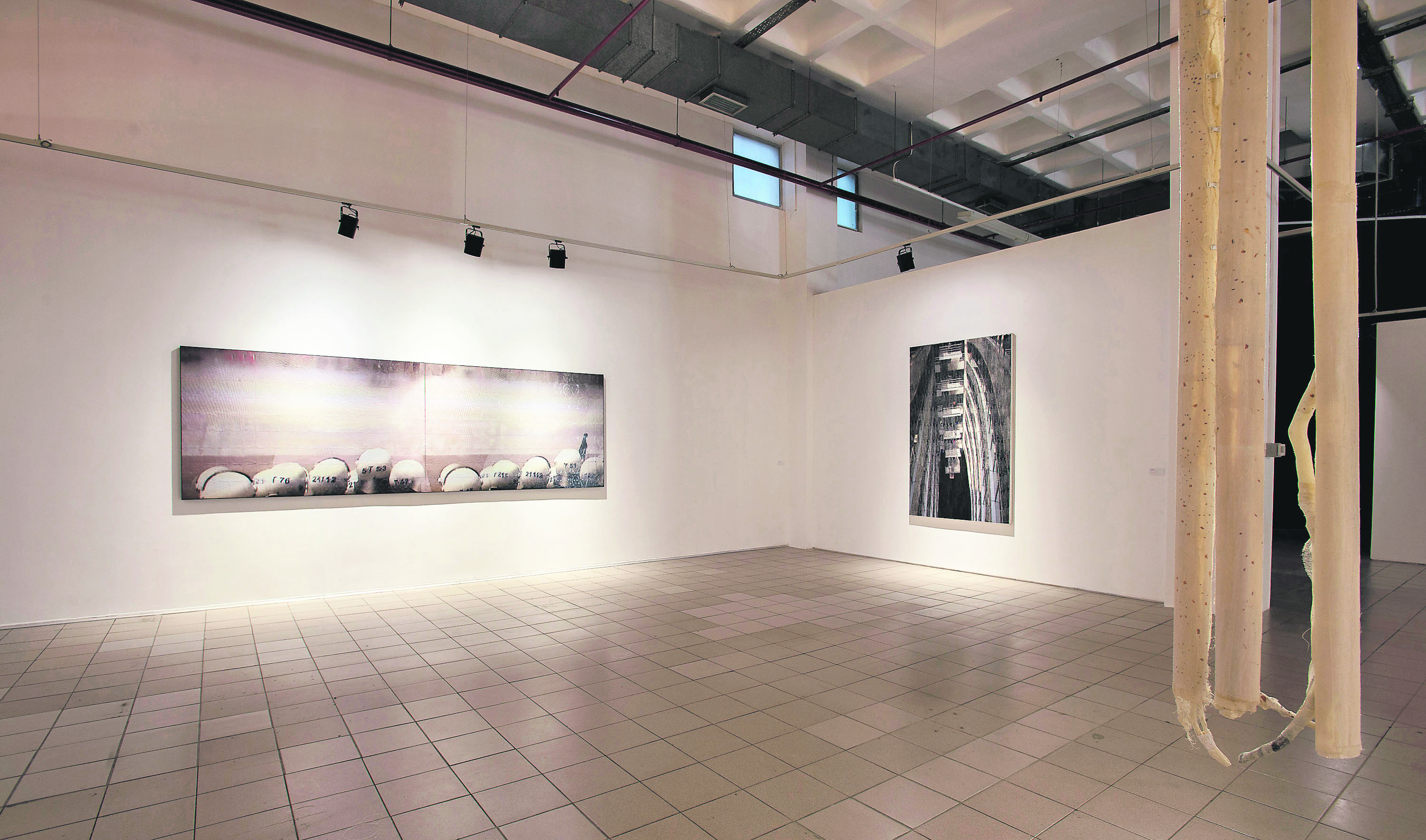 Also on display here are mixed media on canvas representations of numerous Middle Eastern cities: Mardin, Aleppo and Beirut. According to Muller, Köker in these works, "constructs alternative cartographies, mapping out these cities' vistas through the many photographs she has taken on her travels, rearranging their placement and coordinates vis-a-vis the geographical map. All these photographic snippets make up a composed cityscape, but feel somewhat out of place. A sectarian and divided city, after the end of the civil war in 1990, Köker's Beirut feels even more chaotic and fragmented than the actual city."
But it is "Entkettet," a paper installation that has variable dimensions that can best be described as the centerpiece of the exhibition. The visitor can read the artist's own interpretation of this work at the entrance of the museum: "The links of the big chain that connect one process to another sometimes come undone, fall to the ground and pile up there, thoughts lose their flow, the connections between time and space may rupture, all of this may signify an end. But perhaps this end is an end to a routine, to an addiction of a rote. The flow and continuity of every good thing and all the thralldom and negativity of dependency is as strong as the links of the chain that carries them." The exhibition catalogue features another quote from Köker on her understanding of hybridity: "There are two types of hybridity," Köker told an interviewer: "The first is the hybridity that forms our character as we internalize the millions of pieces of data that the world offers, the second is the political hybridity that is imposed."
Köker's paper chain of life and thralldom is a good example of her use of hybridity, both as a material and a concept. "Entkettet" also reinforces the Anselm Kiefer-like aspect of Köker's exhibition. Her mixture of romanticism and urban dystopias at Elgiz Museum is truly unsettling.