Founded in the eastern Black Sea region and setting an example for the world, Baksı Museum will host the Student Art Festival for the fifth time.

The founder of the museum, Professor Dr. Hüsamettin Koçan, said their primary aim is to make people in the region happier. "We have managed to reach a broader area over a five year period, and we will include Turkey as a whole in our festival," he said.

Baksı Museum is located on a 30-hectare (75-acre) area, 45 kilometers (27 miles) away from the eastern Black Sea city of Bayburt, and features exhibition rooms, studios, a conference hall, a library and a guest house. With a theme of "River and Child," the Baksı Culture and Art Foundation searches for talented children and introduces them to the world of art and design. The festival will also include students from the İspir and Pazaryolu districts of Erzurum for the first time this year.

A total of 35 students will participate in the workshops that start today and will continue through Sunday, ending with a grant ceremony. An exhibition that consists of the works created by the students during the workshops will be open to visitors at the end of the day on Sunday.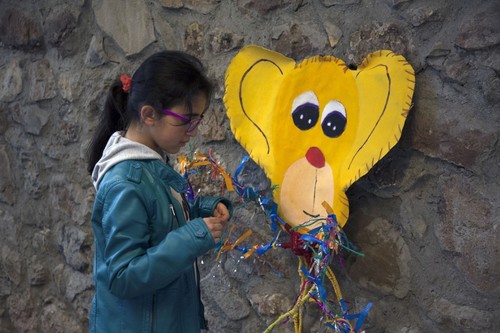 An exhibition that consists of works created by the students during the workshops will be open to visitors on Sunday.

The children are required to share their paintings as part of the festival, which is open to all of the students in the region. After a panel meeting held on April 26, 35 children were selected to participate in the workshops for three days. Child education expert, Elvan Ekren, will work with the students in the workshops during the festival.

Professor Koçan said the museum, which also won the "Year of the Museum Award" from the European Council Parliamentary Assembly in 2014, breaks boundaries, surpassing 37 other museums from 22 countries. "Baksı Museum is not just a place where people look at artwork and leave. It offers opportunities for people living in this region, provides training for them and tries to make people's lives more enjoyable," he said and added that they had provided scholarships for 100 students, so far.

"We have decided to reach a broader region with a new goal of providing scholarships to 130 students in Erzurum, Erzincan, Rize, Trabzon and Artvin. This year, we will be hosting talented students from Pazaryolu and İspir. We will also take our students to Istanbul this year. Next year, we are entering a totally new phase. The Baksı Student Festival has been scheduled to be held all over Turkey. We are working on setting up a new student academy," he explained.

Baksı Museum

Baksı Museum is located on a hill with a view of Çoruh Valley, 45 kilometers away from Bayburt in the village of Bayraktar, formally known as Baksı.

This extraordinary museum blends contemporary art and traditional crafts. It covers 30 hectares with exhibition halls, workshops, a conference hall, a library and a guest house. The museum was founded in 2010 by Prof. Dr. Hüsamettin Koçan, who is an artist and academic from Bayburt. This project is a result of Koçan's effort to give back to his community through his expertise. In order to realize this, the BaksıCulture and Art Foundation was founded in 2005. The museum became a social project with the contributions from many artists and volunteers over the years.

Without any financial support from the state, the museum's main building construction proved challenging and was finally completed in 2010. The museum was opened in July, 2010. In 2012, the new exhibition hall of the museum, Depo Müze, was launched.