This Sunday the world will celebrate International Mother's Day and Zorlu Shopping Mall, Istanbul Modern and the Pera Museum are offering a range of artistic activities for children and mothers to enjoy together.

Little visitors to Zorlu Shopping Mall will enjoy a "Sand Art Workshop" where they can prepare gifts for their moms at the "Special Workshop for Mother's Day."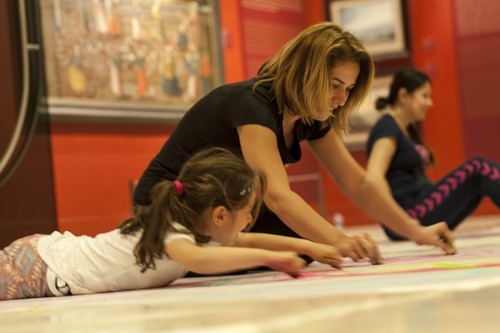 At Pera Education, mothers and children will learn about different parts of the brain and travel between various countries accompanied by fantastic stories and music.

Located in the activity area inside Zorlu Shopping Mall where many entertaining activities take place every weekend, children will have the chance to enhance their creativity thanks to the unique works they create with extraordinary concepts. In honor of Mother's Day, this week's concepts in the Zorlu workshops will be centered around "Sand Art" and "Mother's Day."

Young children will create their own works using colorful sand in the "Sand Art" workshop while making presents for their moms, while at the "Mother's Day" workshop, they will design art work using colorful paper and mats. The activities will be held in the designated children's activities area on the metro-level floor inside Zorlu Shopping Mall and are free of charge.

You can also spend an artistic day with your mother at Istanbul Modern. On this special day, mothers can visit the guided exhibition "Harbor" for free. The "Harbor" exhibit focuses on Istanbul Harbor and the relationship between the city and the sea. During this free guided tour, visitors will get a chance to observe the cultural traditions and social life exclusive to the harbor, as well as explore the Turkish arts from the 19th century to the present.

Gifts that are sure to make this special day memorable will also be available at the Istanbul Modern shop. Here, you can choose from the printed products of Fahrelnissa Zeid's "Mother-Child" line, which are the perfect present for your mother or loved ones.

Up the hill, Pera Education will run a program entitled, "Tete-a-tete with Mother" on Mother's Day. In addition to the event that aims to offer a fun museum experience for mothers and children, there will be special trinkets for sale at the Pera Cafe and Art Shop.

The program takes visitors on a journey through the mysteries of the human brain. Along this journey, mothers and children will learn about different parts of the brain and travel between various countries accompanied by fantastic stories and music. The program will conclude with a joyful concert and is open to participants on Saturday, May 14, free of charge. The program for children between the ages of four and six will be held from 12:30 p.m. until 2:30 p.m., while the program for children ages seven through 12 will be held from 3:00 p.m. until 5:00 p.m. There will also be promotions for visitors looking to buy jewelry at the Art Shop. Pera Museum Friendship Cards, which are specialized to suit the needs and expectations of visitors, will be offered with a 25-percent discount. Visitors who want to take a break at the Museum cafe can try the delicious treats offered there with a 20 percent discount.