One of the most important figures of contemporary Turkish art, Devrim Erbil has opened an exhibition that can be viewed until June 9 in the Mahall Bomonti Art gallery in İzmir. At the "Istanbul From the Air" exhibition, which was organized with the cooperation of Lebriz Art Solutions at specially restored historical places, 22 works of the master artist can be seen.
Devrim Erbil, who has given 60 years of his life for this art, spoke about the outstanding element in his paintings, which is "the line."
"I made colorful patterns when I was five years old. I used colorful lines there. The color fits into a shape through the line. Feeling the line and fixing it is one of the most important agents of the 20th century. Renaissance artists used to use lines just in their sketches," Erbil said.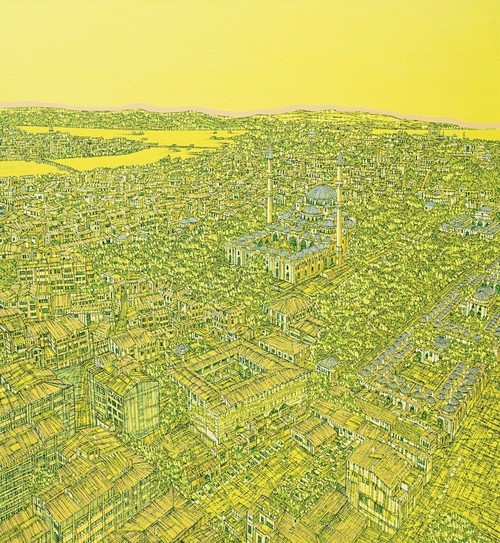 "Line was also used in the times of two-dimensional arts like miniatures, Egyptian paintings, Aztec and Far Eastern arts. However, the line is not seen in Western art until the 20th century. I focused on the values of different cultures at first. I saw the effectiveness of line as a means of expression," he added.
"It is important to see the line as an abstraction of the human mind and accept that it is a creative agent. To be honest, I didn't use it consciously at first, rather the 20th century did that. Paul Klee, Picasso and many artists used the line consciously. Then I said that as a person originating from a culture that is the source and nature of the line, I have more right to use it. I got it instinctively and I know that it is good," the master artist said.
Implying that concepts such as art dealing and being auctioneers are not common in Turkey yet, Erbil said, "Awareness of a buyer depends on his/her cultural background. For example, if the customer is a company, it must have an art consultant or if it is a person, it must have its own cultural background and own special interests. I mean people shouldn't buy the works of an artist just because he or she is famous. All these require love and knowledge. You cannot love something without having knowledge of it."