For many Istanbul locals, the American Hospital on Nişantaşı's Güzelbahçe street is linked with surgery, sickness and hopefully, eventual recovery. You may have visited an ill relative there or rushed to its emergency room during the night, following hours of unexplained pain. I felt awkward as I headed to the building for a photography exhibition the other day, walking past relatives of patients smoking away at the entrance, describing the situation of their loved ones over the phone to concerned friends.
Located on the ground floor of the Nusret - Semahat Arsel building, just left to the hospital entrance, Operation Room has opened its doors as a contemporary art gallery in Nov. 2014 under the directorship of Ilgın Deniz Akseloğlu. In the last three years, the gallery showed works by an interesting lineup of artists, including İrem Sözen, Refik Anadol, İzzet Keribar, Burcu Orhon, Fikret Mualla and Ferhat Özgür.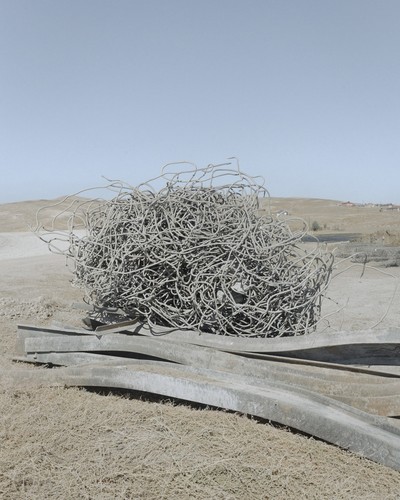 Two nurses were walking along the photographs during my visit, enjoying a moment of reflection in the silent surroundings of the gallery. Together we looked at images of barren mountains and deserted streets, parts of Furkan Temir's new exhibition, "Surface Bulk or The Mine Mountain".
Temir, a self-taught photographer, is 22 years old. After studying film at an Istanbul university, he grew an interest in photojournalism and travelled widely in Anatolia. His photographs had been published in numerous international venues, including the Guardian, the New York Times and TIME magazine.
Research for his latest photography project began in 2014 and in the following two years Temir documented landscapes in Anatolian cities. During this time, the project also took shape in the mind of the curator Ilgın Deniz Akseloğlu who also had numerous trips to Anatolian towns. Together, the artist and the curator realized how they were in a process of understanding and feeling the need of explaining what was going on in the country.
"In the end, we chose a more ambiguous, conceptual way of explanation, and decided to adopt a documentation language that would fit better to our position as human beings, citizens and artists that have been hit by the changes that have been going on really fast since our childhood," Akseloğlu said in an interview last week.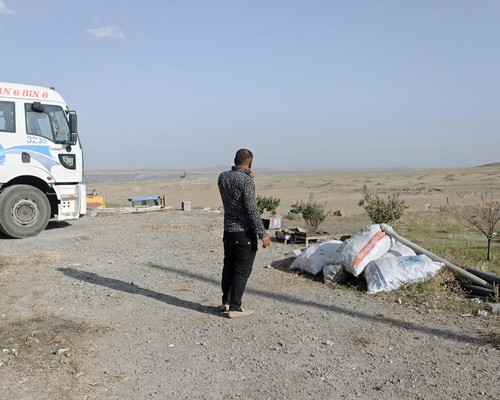 "Peripheral areas began to disappear, city borders began to jumble with what has been seen as nature before, the demography got way too enigmatic to observe so we tried to limit ourselves through an aesthetic that we had developed in months through Furkan's eye. We live in an era that we call anthropogenic. That means we are not able to name the nature, the environment that we all are surrounded by regardless of human activities anymore. Having a crisis to understand and to define has led us to choose to depict our bewilderment through classical methods of photographic documentation."
Temir told me how he took trips to Kars and travelled more than 6,000 kilometers to take the pictures. "I used an analog camera for black and white pictures," he said. "And the color pictures were produced by a digital camera that imitated the colors and the style of a big format machine."
The mountain has proved a strong metaphor for both the artist and the curator. "It is one of the most common mental pictures in the philosophy of aesthetics," Akseloğlu, the curator, said. "Its distance, height, peak, its possibilities of rendering an illusionary perception for anything that is smaller to them fit perfectly to our position of observing the today's changing panoramas of Turkey. Of course Anatolia in general, but also specifically Central Anatolia, where most of the pictures that we used in the exhibition were taken, is a region surrounded by mountains. Each mountain has geographically and culturally very old metropolitan areas around them. They are symbols."
In search of an artistic discourse, the artist and the curator questioned their identities and the significance of east and west, Istanbul and Anatolia, the city and the mountain.
"This research led us finally to a question mark," Akseloğlu said. "This is where the title of the exhibition comes from. 'Surface Bulk' is technically what we see at first hand when we look at today's landscapes in Turkey: Natural textures combined with construction elements, caterpillars, ruined artifacts, smashed down monuments getting through renovation projects, a potpourri of architectural materials."
The other part of the title, "Mountain Mine," meanwhile, is more poetic. Temir and Akseloğlu explained how it refers to extracting what has remained under the surface for a long time.
"Here one can recall natural sources as well as cultural layers, and then making a huge bulk out of it and naming it a 'mountain.' As if it had always been there. It torments our memories by distorting the truth. This is a mountain that you are unfamiliar with, and one made in the blink of an eye. It rises before your eyes in an uncanny way."