The exhibition titled "Parade" by accomplished artist Mevlüt Akyıldız which opened in cooperation with the Mimar Sinan University of Fine Arts (MSGSÜ) in the Beş Kubbe Hall and Tek Hall at the Tophane-i Amire Cultural Art Center, welcomes art lovers through Dec. 2.
Speaking at the opening ceremony of the exhibition, MSGSÜ Rector Professor Yalçın Karayağız said that the exhibition has a very special place. Implying that he has been a friend of Akyıldız since their university years, Karayağız said that the pair has always kept their connection, despite working in different departments. Mentioning the humanitarian and friendship-based aspects of Akyıldız's artistic character and emphasizing the precious nature of these characteristics in the artist, Karayağız said: "Akyıldız is a master who far exceeds us in terms of talent. He is an artist who knows the language of painting, the value of art and has an acute awareness that art must overlap life.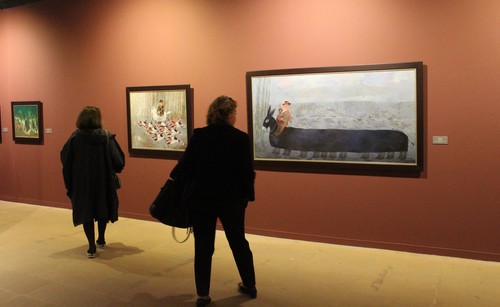 The 'Parade' exhibition teaches everyone what we have learned from Akyıldız over the years." The professor went on to add: "If you are a student in any studio of a department, you are a student of all the academics of this department. Therefore, all academics were our teachers. We were able to communicate with all academics easily. Whenever we needed to enter a place and follow a lesson, we could do it. We considered the criticism offered from academics as an opportunity of acquisition for us. Mevlüt Akyıldız is a friend, who looks at life through the lens of metaphor, satire and irony with a smile. That smile is what unites him with people. Now, we are witnessing his incredible exhibition. I want to express my thanks to all those who have contributed," the rector said.
Amid aims to combine current things together with traditional ones and tragic things together with comic ones on his canvas, his paintings under glass and his sculptures, Akyıldız said: "We were together with Yalçın Karayağız in the academy. We happened to be in separate places but now we are together again. We have been friends for 40 years." Blending ordinary life motifs with motifs of street language, the artist expressed his sincere thanks to those who contributed in the preparation of the "Parade" exhibition, mentioning that the university has played a tremendous role in the arrangement of "Parade," which presents a collection of his artwork spanning 40 years. "I have painted all the works in this exhibition but the story of the exhibition is told through the contributions of others. A tree is known by the fruit that it bears. Therefore, actions speak louder than words. This is what I have been able to do. I have created these works but people must start to discuss them, and they will. Perhaps the future generations which have not been born yet will criticize my paintings through analytical discussion in the future. What we have done in a good or bad way will be apparent in the future. Thank you to all," the artist said.
The exhibition can be visited until Dec. 2 from 10:00 a.m. until 5:00 p.m. and is closed on Mondays.
About Mevlüt Akyıldız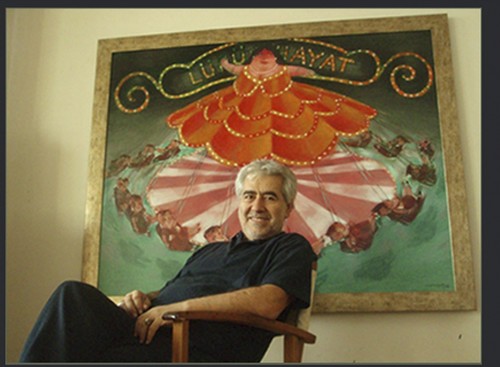 Born in 1956 in Ankara, Mevlüt Akyıldız began his studies at the Fine Arts Academy of Istanbul State Advanced Painting Department in 1973 and graduated from Neşet Günal Studio in 1981. Akyıldız worked in the guest artist program at the Provincetown Artwork Center in 1989. Working as a professional artist since completing his education, Akyıldız has held many exhibitions both in Turkey and abroad.