The UN Security Council will hold an emergency meeting on Wednesday to discuss Pyongyang's launch of a ballistic missile that for the first time landed in Japanese-controlled waters, diplomats said.
The United States and Japan called for the urgent talks, which are expected to be held around 4 pm (2000 GMT).
North Korea fired two intermediate-range missiles simultaneously, but one appeared to explode on take-off, according to the US military.
The second missile landed in the Sea of Japan (East Sea), some 250 kilometers (155 miles) off Japan's north coast and within its Exclusive Economic Zone (EEZ).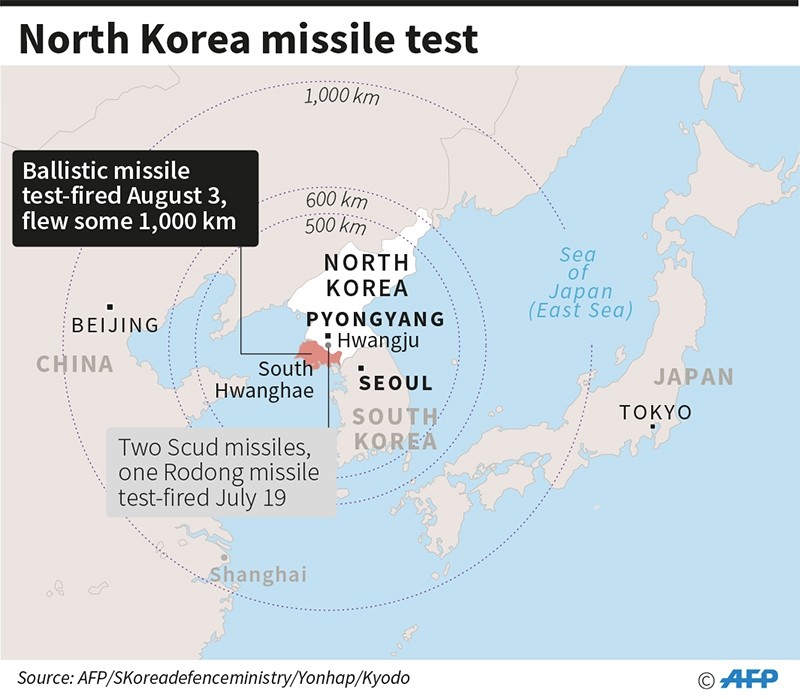 "We expect to be calling an emergency meeting of the Security Council for later this afternoon, with our Japanese colleagues," US Ambassador Samantha Power told reporters.
Britain's Deputy Ambassador Peter Wilson said: "This is the first time that a DPRK missile has landed in the Japanese EEZ. I think this is something that the council should take extremely seriously."
Wilson said the latest launch was "a clear violation of UN Security Council resolutions" that prohibit North Korea from developing missile technology.
US Strategic Command said the two missiles were launched from a site in western North Korea at around 7:50 am Seoul time (2250 GMT Tuesday).
The council has repeatedly condemned North Korea's missile launches, but a US-drafted statement circulated last month following an apparent submarine-launched missile test was bogged down in discussion with China.
The council last adopted a statement condemning North Korea for two medium-range missile tests on June 23.
North Korea has been hit by five sets of UN sanctions since it first tested an atomic device in 2006.
The council in March adopted its toughest sanctions resolution to date, banning exports of coal, iron and other minerals from North Korea and imposing other restrictions, in particular in the banking sector.