South Korea is committed to deploying an advanced US missile defense system this year despite opposition from China, a minister said Wednesday, even as opposition lawmakers headed to Beijing with a different message.
Seoul and Washington agreed to deploy the Terminal High Altitude Area Defense (THAAD) system in the South after a string of North Korean nuclear and missile tests -- prompting strong objections from China.
"THAAD deployment is part of our efforts to bolster defense against threats from North Korea," Defence Minister Han Min-Koo said in a report to the country's acting president.
"This is not a subject for political considerations," he told Prime Minister Hwang Kyo-Ahn, who took over the executive powers of scandal-hit President Park Geun-Hye after she was impeached last month.
But the opposition Democratic Party has said they will review the deployment if they win upcoming presidential elections, and a group of their lawmakers flew to Beijing to meet Chinese Foreign Minister Wang Yi and other top officials.
"They are going to convey our belief to China that the THAAD issue should be left in the hands of the next president," the party's parliamentary floor leader Woo Sang-Ho said.
Originally set for December 2017, the country's presidential election may be brought forward if Park's impeachment is upheld by the Constitutional Court, which has up to six months to decide.
The Democratic Party's presidential hopeful Moon Jae-In is currently the frontrunner in the race.
Beijing argues THAAD will hurt its security interests and increase the risk of military conflict in the region, and has imposed what have been seen in South Korea as a string of sanctions in retaliation for the development.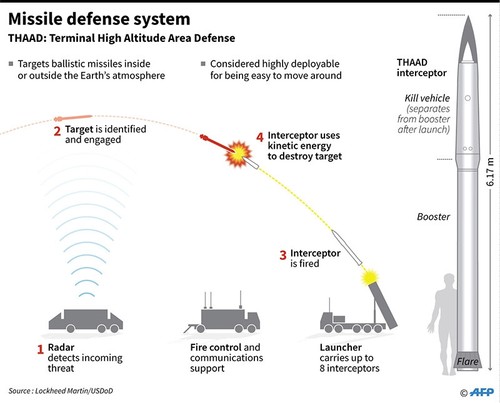 These include new restrictions on Korean K-pop stars and other celebrities appearing on Chinese TV programs or performing in the mainland.
China also refused to approve chartered flights from South Korea for the Lunar New Year holiday, hitting the lucrative tourism industry.
Washington maintains THAAD is no threat to Beijing.
"There's no reason for China to oppose that system. This is a defensive system. And there's no reason for anyone in the region to have concern about that, other than, perhaps, North Korea," Pentagon Press Secretary Peter Cook said Tuesday.
The proposed missile system has also sparked angry protests from both residents of the areas where it is set to be deployed.