A Myanmar court jailed two journalists on assignment for Turkey's state broadcaster, along with their interpreter and driver, for two months on Friday for violating an aircraft law by filming with a drone.
Cameraman Lau Hon Meng from Singapore and reporter Mok Choy Lin from Malaysia, were detained on Oct. 27 along with their Myanmar interpreter, Aung Naing Soe, and driver, Hla Tin.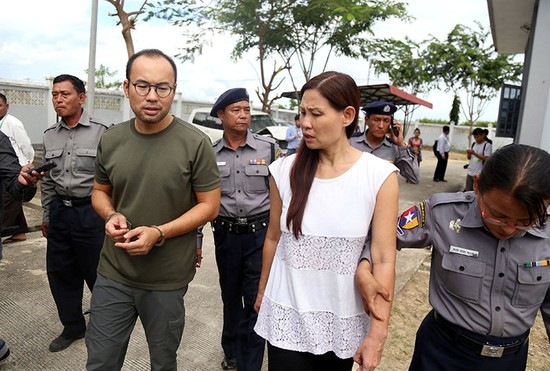 Cameraman Lau Hon Meng from Singapore (L) and reporter Mok Choy Lin from Malaysia arrive for their first appearance in the court. (Reuters Photo)

The four had been working on a documentary for TRT World, the English-language subsidiary of the Turkish Radio and Television Corporation, when they were detained for attempting to fly a drone near parliament in the capital, Naypyitaw.
While none of the four detained is a Turkish national, the case has further strained diplomatic ties in the wake of President Tayyip Erdoğan accusing Myanmar's military of carrying out a "genocide" against the Buddhist-majority country's Rohingya Muslim minority.
Police initially began investigations into whether they had violated an import-export rule that carries a penalty of up to three years in jail, but the judge in the case opted to introduce a fresh charge of contravening the 1934 Burma Aircraft Act, which carries a maximum sentence of three months.
Both the cameraman and reporter pleaded guilty to the lesser charge, and the judge sentenced all four to two months, according to a Reuters reporter at the hearing.
A fresh hearing will be held on Nov. 16 to determine whether charges will be laid for violating the import-export rules.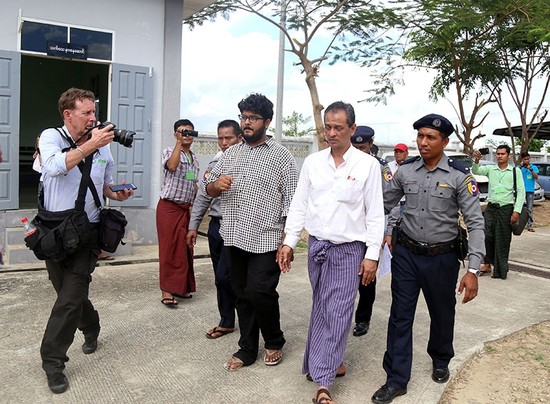 Aung Naing Soe (L), Myanmar freelance journalist and interpreter, and his driver Hla Tin(R), arrive at Zabu Thiri court. (Reuters Photo)

"The detainees admitted that they committed the crime hoping they would only be fined, so it shocked us when the judge sentenced them to two months," said defense lawyer Khin Maung Zaw.
The lawyer said he would appeal for a reduction in the sentence to a fine.
Before proceedings began Friday, Mok told reporters in the court that they were sorry for any disrespect of the Myanmar's laws, but complained that the legal process had lacked transparency.
"We have no idea what is going on and we are not allowed to speak to our family," she said.
"And the rules and procedures are not explained to us. We were asked to sign statements that are completely in Burmese that we cannot understand."
Interpreter Aung Naing Soe told reporters as he was brought to court the four had not been mistreated while in custody, though police had asked about who they had spoken to and about the trips he had made to several of Myanmar's restive regions, including Rakhine.
Aung Naing Soe's mother Daw Thandar said she had been unable to visit her son in prison.
"The charge is ridiculous," she said. "I am aware that none of the drones in our country are licensed. My son and the driver should be freed at least as they are not the drone owners."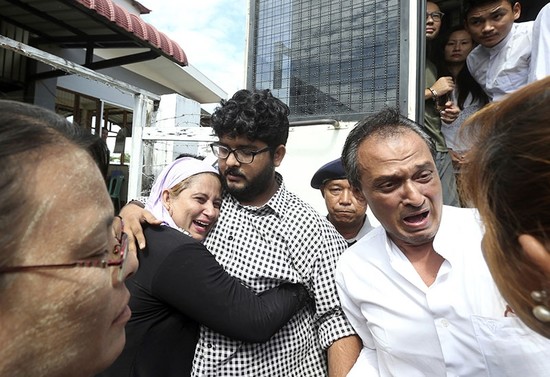 Aung Naing Soe is hugged by his mother as he arrives with driver Hla Tin. (AP Photo)

Aung Naing Soe's home in Yangon was raided by police after his arrest and computer equipment was confiscated. TRT said he was denied access to his family and lawyers.
In a statement released four days after the arrests, TRT World, the English language service of Turkey's public broadcaster, said Myanmar's Information Ministry had been previously informed about the crew's filming plans.
"Our crew wanted to film the parliament building in the capital with a drone, after conducting an interview with a member of parliament," the statement said.
"They were detained by security officials before flying the drone."
The two TRT staff arrived in Yangon on Oct. 21 on journalist visas, TRT added, and used the drone at various locations before their arrest.
Myanmar says the military counter-insurgency clearance operation launched in August was provoked by Rohingya militant attacks on security posts in Rakhine State, and has denied both Erdoğan's accusation and a top UN official's description of the operation as a "classic case of ethnic cleansing".
More than 600,000 Rohingya Muslims have fled Myanmar for neighboring Bangladesh since the military operation began.
The verdict is also the latest sign of withering press freedoms which had started that had started to blossom in Myanmar after the end of junta rule in 2011.
The Committee to Protect Journalists earlier slammed the reporters' arrests as part of an "escalating clampdown on press freedom" in the fledgling democracy.