Speaking to journalists on his return flight from Tokyo at the conclusion of his three-leg trip to France, Brussels and Japan, President Recep Tayyip Erdoğan said he was pleased to see the huge interest expressed by Japanese companies in a broad range of investments and commercial ventures in Turkey.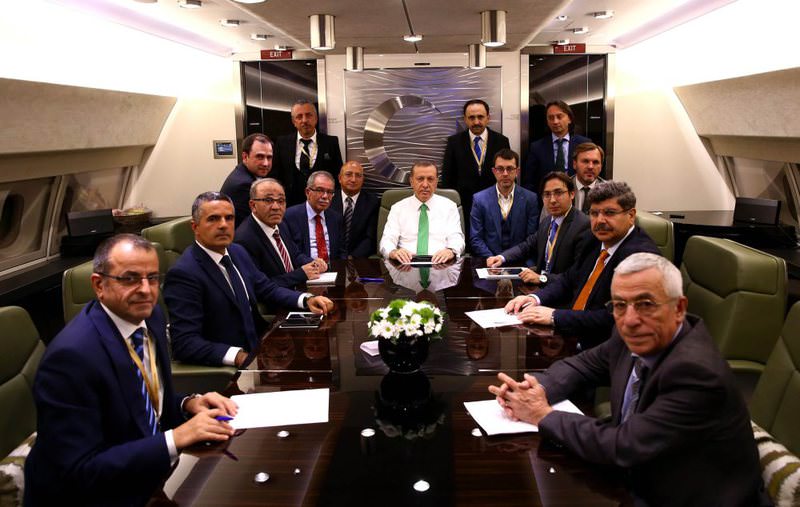 He described the meeting organized by the Prime Ministry's Investment Support and Promotion Agency for Japanese investors as an eye-opener. "I got the opportunity to talk about investment opportunities in Turkey with over 500 Japanese investors. We were able to engage in detailed discussions with the big five Japanese conglomerates, which are the Mitsubishi Corporation, Toyota Motor Corporation, Mitsui Corporation, Hitachi Ltd. and IHI Corporation."
Reportedly, the big five are interested in investing between $6 billion and $7 billion in infrastructure, petro-chemicals, automotive, health and energy sectors. Erdoğan also emphasized the growing importance of Turkey for global automotive giant Toyota, which will be producing an SUV for export in addition to the current production of its Verso and Corolla models in its Turkish factories. The SUV expansion is expected to create an extra 1,000 jobs. The company is also considering producing a hybrid car in its Turkish facilities, Erdoğan said.
He has spearheaded efforts to improve bilateral commercial ties between the two countries. Officials said Japanese investments as of June 2015 were $1.7 billion, $1.6 billion of which occurred in the last five years.
Japanese investors are especially interested in nuclear power plants, Erdoğan said, adding that the focus was to establish balanced trade with Japan. The current bilateral trade between Turkey and Japan is $3.6 billion, $3 billion of which consists of Japanese exports. He highlighted the important part Japanese companies played in the construction of the Marmaray underwater tunnel in Istanbul and the İzmit Bridge. "Some also want to be involved in the building of the Çanakkale Bridge, he said.
Erdoğan said he had met with Emperor Akihito and Empress Michiko at the Imperial Palace in Tokyo, getting the opportunity to talk about the issues discussed during the trip. Discussions with Japanese Prime Minister Shinzo Abe centered on regional and global issues as well as exchanging opinions about the threat of international terrorism in preparations for the coming G20 summit in Antalya.
The visit to the Tokyo Mosque was one of the trip's highlights, Erdoğan said, adding: "Its architect is Hilmi Şenalp, who also built the Mimar Sinan Mosque in Istanbul, Marmara University Theological faculty's mosque and a mosque in Maryland in the U.S., which we will open this month if possible."
He also said he was presented with an honorary doctorate from Weseda University, which is considered one of the top three universities in the country with 54,000 students and 4,000 academics.
RUSSIA LOSING FRIENDS BECAUSE OF ITS CONDUCT

When asked about the continuing tension over the Russian involvement in Syria, President Erdoğan said NATO had announced that it was ready to deploy its rapid action force with 48 hours if necessary. "It showed it was ready to stand by Turkey. Russia seems to be intentionally testing the region. Russia cannot gain friends through such conduct. It will only lose its existing ones," he said.
On the risk of a new wave of refugees, Erdoğan argued that as long as there is terror the risk remained. "[Syrian President Bashar] Assad [and his] regime are responsible for the land offensive while the Russians are engaged in the air offensive. Iran is also in a supportive role. Death can make people do anything. A new refugee wave is possible. Everyone, including EU member countries, commend Turkey's efforts to shelter refugees. EU officials seem to have understood that they need to do something about sharing the burden."
On the Russian involvement in the Syrian civil war, Erdoğan said Russian cooperation with the PKK terrorist organization's Syrian affiliate Democratic Union Party (PYD) was no surprise because Moscow would want to use them as their land-based proxies. "They could also deal with other groups. When you look at the weapons used by the Islamic State of Iraq and al-Sham [ISIS] you see they are made by Western countries or Russia. When you ask how this came about, they suddenly become uncomfortable."
When asked if the latest developments could spur Turkey to establish links with the Assad regime, Erdoğan said: "The current regime is a terrorist state. We will not alter our stance. It is responsible for the deaths of 350,000 people. Five million had to abandon their country and 7 million people are internally displaced. Everyone is asking whether ISIS will take over if Assad falls. It is also possible to think that the Syrian people themselves will take over their own sovereignty. We all know there are people able to govern Syria. That's why we have been supporting the Free Syrian Army since the beginning. In short, it is impossible for us to view Assad positively." He said recent comments by NATO gave the impression that more were coming to the opinion that establishing a safe zone in Syria is a good idea. He mentioned a possible telephone conversation with U.S. President Barack Obama sometime next week to give the two leaders the opportunity to go over all relevant issues.
MISSILE DEFENSE SYSTEM

When asked about the continuing contract process for a jointly produced missile defense system in which Chinese, American and French companies are interested, Erdoğan said that Chinese President Xi Jinping will be in Turkey next for the G20 summit. "France has also renewed its proposal," he said, noting that French President François Holland has sent a letter through Prime Minister Ahmet Davutoğlu on the issue. "The missile defense system is a topic of outmost importance for us. Joint production and technology transfer are crucial."
Situations change and governments have to adapt, Erdoğan said, referring to the issue of China standing by Russia and Iran in Syria. He said his remarks about Turkey joining the Shanghai Five rather than the EU if necessary was made in light of the EU's 50-year-long delaying tactics. "During my meetings in Brussels with EU leaders earlier this week I saw that they were in a more positive disposition toward Turkey. Things are changing."
German Chancellor Angela Merkel's remark that her opposition to Turkey's full membership in the EU had not changed, Erdoğan said: "I found it a bit strange. It's nothing new. She always prefers to use the term, 'privileged partnership.' However, this is not Germany's opinion. For example, former Chancellor Gerhard Schröder never said such a remark. Are Merkel's coalition partners of the same opinion. Is her foreign minister? I talked to her on the phone recently. If it had come up I would have asked whether she had the same opinion. I may ask her when she comes to Turkey in November. We need to further develop bilateral ties with Germany because there are 3 million Turkish nationals there."
About the continuing tense ties with Israel, Erdoğan accused Israel of taking an aggressive step whenever there is an opportunity to improve ties. "Suddenly you see Israeli forces conducting a raid on Al-Aqsa Mosque compound. It is a holy place. How can we extend our hand when they go in and cause damage in Al-Aqsa? After the Mavi Marmara attack, Obama intervened and they apologized. We had made significant progress on compensation and the embargo when they went ahead and bombed the Gaza Strip." He said positive steps undertaken by Turkey had not generated the appropriate response from Israel.
PRESIDENT ERDOĞAN: HDP POLICIES NOT SURPRISING

Pro-Kurdish Democratic Peoples' Party (HDP) Co-Chair Selahattin Demirtaş's decision to punish parliamentarians who did not attend the funerals of PKK members is not a surprising development, Erdoğan said, noting that despite his protestations that the HDP was nothing like the PKK, policies undertaken clearly showed links between the two went deep. "They are now caught in the act. The nation will definitely take such policies into account before voting in the Nov. 1 elections."
He accused the HDP of trying to blame him and the government for the PKK's escalating violence. "It is clear who is causing the violence and who is threatening innocent civilians. There are many people who couldn't run for Parliament in the Nov. 1 elections because of PKK threats. Village heads I invite to the presidential compound fail to attend and later blame the PKK's threats for their absence. It is everyone's duty to protect the sanctity of the ballot box in the Nov. 1 elections."
When asked about Justice and Development Party (AK Party) Diyarbakır deputy candidate Galip Ensarioğlu's claim that police officers linked to the Gülen Movement were to blame for the body of a PKK member dragged by a police vehicle, Erdoğan said: "I have no such information. I already commented that such conduct is unacceptable. If there is a body, it should be given to its kin. It can't be treated that way. Once in Turkey, I will get the necessary information from the interior minister."
While Erdoğan was away, two important developments took place concerning the Feb. 28 1997 coup. The first was the court's demand to be presented with all the information about the Petrol Ofisi A.Ş contract and asking for the testimonies of Yeni Şafak daily's owner Ahmet Albayrak and his brother Nuri Albayrak concerning remarks Aydın Doğan is accused of making pertaining to claims that he toppled the Welfare Party (RP) and True Path Party (DYP) coalition government during the Feb. 28 process. When asked to comment on the matter, Erdoğan said he thought they were encouraging developments and that the judiciary's past conduct, which could be construed as taking part in a cover up, left a lot to be desired. "Everything should come out to the open. We are currently in a period where innocents are accused. My son who went abroad to complete his PhD was slandered with claims that he had run away. He was here during the Qurban Bayram holiday and will return next June or July. Everyone knows who has run away from our country." He also shared his joy upon learning that Aziz Sancar was one of the three Nobel Prize winners in chemistry this year. "I called and congratulated him. We are proud of him. I invited him to visit me when he comes to Turkey. I wish the number of such Turkish scientists increase."