McDonald's workers staged the first ever strike in Britain on Monday in protest at pay and working conditions at the U.S. fast-food giant.
About 40 workers gathered outside two restaurants in Crayford, southeast London, and in Cambridge before attending a protest outside parliament.
Workers are demanding an hourly wage of £10 ($12,98), union recognition and an end to zero-hours contracts, under which employees are required to be available for work but have no guaranteed minimum hours.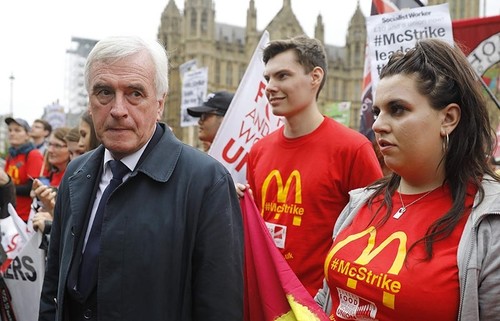 "For far too long, workers in fast-food restaurants such as McDonald's have had to deal with poor working conditions, drastic cuts to employee hours, and even bullying in the workplace -- viewed by many as a punishment for joining a union," Ian Hodson, president of the Bakers, Food and Allied Workers Union, said in Cambridge.
Jeremy Corbyn, leader of the main opposition Labor party, lent his support, saying the demands "are just and should be met."
McDonald's highlighted that those on strike made up less than 0.01 percent of its workforce and that 86 percent of its workers had opted for flexible contracts.
"McDonald's U.K. and its franchisees have delivered three pay rises since April 2016, this has increased the average hourly pay rate by 15 percent," it said in a statement.