Film director Rauf Ali fled Aleppo, Syria, and sought refuge in Turkey two years ago. When leaving, he took his uncompleted film, "Seer" with him. The Syrian director completed his film in Turkey, and his goal is to shed light on the struggle for freedom in his country, while offering an insight into the tragedies of Syrian people.
Ali received his academic cinema education in Lebanon, and after working on films sets and on TV series in his country, he rolled up his sleeves to direct his own film.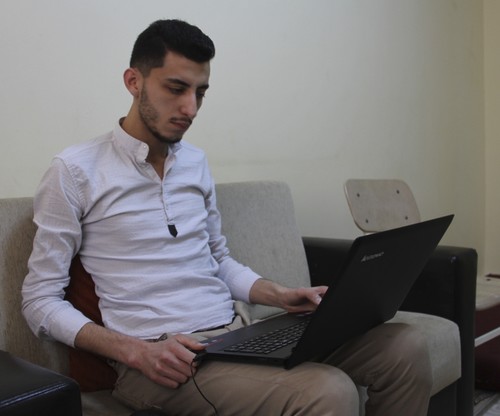 He began shooting his film in Aleppo, which for the past year has been under the shadow of war and fighter jets. He was forced to leave his beloved city and country for Turkey once life in Aleppo became unbearable.
All his struggles and all the impossibilities could not stop Ali from realizing his dream of telling the world about the dramatic situation of the Syrians and their battle for freedom in the country. He found work in a carpet factory in Turkey and eventually managed to complete his film.
The film opens with a scene where a small boy named "Seer" writes "freedom" on a wall of one of the houses in the Syrian capital Damascus and gets killed by soldiers. The scene recounts the incident that sparked the battle for freedom in Syria more than five years ago.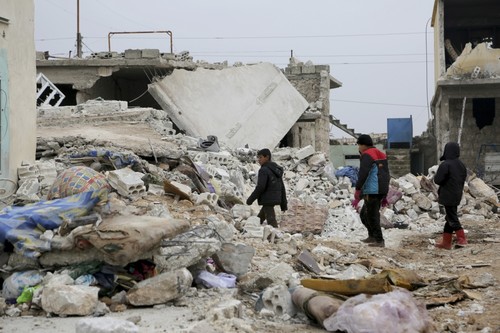 Ali has submitted his film to numerous film festivals around the world, hoping to draw the world's attention to Syria.
Speaking to Anadolu Agency (AA), the Syrian film director expressed his desire was to show the world and make people aware of the tragedies taking place in Syria.
Claiming that the civil war was sparked by children writing messages on walls, Ali said he decided to make a film about the war in Syria after realizing the children's role in this fight for freedom.
Even though Ali started shooting his film while under heavy bombardment, he said the process was not challenging.
"When I started shooting this film in Damascus, it was not a hard thing to do because by that time, we had already got used to the war. When there was an armed conflict in an area, the neighborhoods fell into silence. While I was filming 'Seer' in Syria, military aircrafts were flying above us. We were not afraid of anything. We just shot our film. I just want to tell the world what is happening in Syria," he said.
Some parts of the film were eventually shot in Turkey, as the production was completed here.
"If we had fear in our hearts, this war would not have started in the first place. We always felt death right around the corner, yet I wanted to deliver my message to the world, no matter what. This film will be passed down to future generations, and future generations will know about our fight for freedom. I previously shot two other films, 'The Places We Destroyed' and 'The Tears of War.' I sent my latest film 'Seer' to film festivals around the world, since I want the world to understand the Syrian tragedy. There is nothing I can do to stop the war, apart from shooting films. We can only do this. We worked in Syria while feeling the breath of death," Ali said.
He added that all he wants to do is to recount the stories of people who have suffered and continue to suffer in Syria.
"Nothing will be the same in Syria again. Nobody gets to return to their lives before the war. I wish the story I filmed would have been a made up story," said Ali.