The newest film by Bosnian director Aida Begic follows the stories of Syrian refugees İsa, Ahmed and Mutez, shedding light on the effects of war on children and the trauma they experience in the ongoing Syrian civil war. For the last year-and-a-half, Begic has been visiting refugee camps all across Turkey, meeting new people and listening to firsthand accounts of the country's youngest refugees to gain an understanding of their predicament, holding acting, film and drama workshops that have allowed her to work with more than 250 Syrian children, casting child actors from her workshops in her new film, "Orphan."
As filming continues in the southeastern province of Şanlıurfa, the Bosnian director spoke with an Anadolu Agency (AA) correspondent about the journey, saying that the filming process is nearing completion, ready to wrap up after six weeks of shooting in the Turkish province. She highlighted that "Orphan" is a film centered on the experiences of the children of war and those left orphaned in the conflict, while adding that this is her third film to be produced about similar subjects.
While Begic's filmography has primarily been composed of dramas, she told AA that she hopes to create a comedy in the future. The Bosnian director also explained that "Orphan" features comedic elements that will allow its audiences to breath a sigh of relief throughout the film.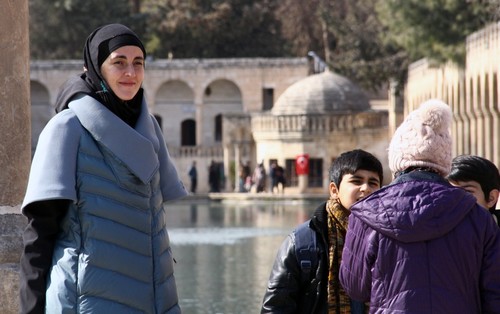 Pictured above, Bosnian director Aida Begic embarked on a mission to portray children of war though the story of three Syrian refugee children.
Belgic indicated that she received overwhelming hospitality while in Turkey and that she has not run into any difficulties while filming "Orphan." As a native of Bosnia, the director stressed that she has personally experienced the effects of war, having witnessed the Bosnian War nearly 25 years ago. She said: "I have children of my own. I empathize with the feelings these children experience. Here in Turkey, we are shooting a film about Syrian refugees because we need to give the children of the tragedy a voice to be heard around the world. Making a film about children coming from different countries becoming refugees is a nice thing. We want their voices to be heard," Belgic said, adding that countries in both the Balkans and the Middle East have experienced and continue to endure the same sufferings.
"We are here from Bosnia and Turkey, but I do not believe that we have linguistic troubles," said the Bosnian director. "Our film crew is composed of people from 13 different countries, including Syrians, Bosnians and Turks, and we speak from our hearts. This film has united two continents in one heart. In fact, this is what makes Turkey a special and unique coun
try because you can feel the soul around here. We are dealing with different people, different cultures and different types of suffering, but there is no barrier between us."
As a director, Begic believes that many feelings can be transferred to people via the silver screen, noting: "I try to focus on themes of love and communication as well as hope and inner beauty in my films. Hope needs to flourish. There is much more beauty in the world that our eyes can see. I want to reveal these beauties in my films. I believe that different kinds of beauties have the ability to flourish in different concepts and have meaning."
Lead Syrian actor in the film İsa Demlahi, 15, came to Turkey two days after losing his father in the war. For the last three years, İsa has been living in a home in Gaziantep that he shares with 30 other people. Young actor Demlahi expressed his happiness to the AA correspondent for being featured in "Orphan," saying: "I like the film as its focal point is Syria. I would take part in any production that is about Syria. I was attending a cinema school back in my country. I want to continue my studies and become a good actor in the future. I believe that a star will be born after this film, and I hope that it will be me."
Having a very big heart, Demlahi promises to help all Syrians in need if he becomes famous and rich in the future. "We were doing okay before the war broke out," said Demlahi, while explaining their financial status back in Syria: "We were living in peace with my mum and dad, but our entire world collapsed when my father died. Many people died in Syria and on the border. I want to share these tragedies with others by making films about Syria. If I earn money, I will make sure other Syrians earn money as well."
Produced by Bosnia and Herzegovina-based production company Film House Sarajevo, "Orphan" is the story of Syrian children İsa, Ahmed and Mutaz who are able to find love and friendship on a journey that began in hatred and destruction.
Written and directed by Begic, who was inspired by real people and true events, the film is produced in Turkish, Bosnian, Arabic and English and features amateur child actors from France, Jordan, Turkey and Palestine. İsa Demlahi, Ahmed Hasrum, Mutez İbrahimpaşa, Tuka Nağğal, Carole Abboud, Firas Taybeh, Nisreen Faour, Darina Al Joundi, Siham Haddad, Mehmet Usta, Yıldız Kültür, Feyyaz Duman, Beyazıt Gülercan and Ferda Işıl star in the leading roles.