SALT Ankara programs continue with screenings of selected feature films that challenge the status quo and urge change. Compiled from this year's Thursday Cinema selection, which investigates the notion of regeneration, the films bring together the stories of individuals and those of cities with increasingly ambiguous borders.
Subtitled screenings will take place at Çankaya Municipality Contemporary Arts Center (ÇSM) and the Ankara Branch of the Chamber of Architects.
'Made in Dagenham' (2010)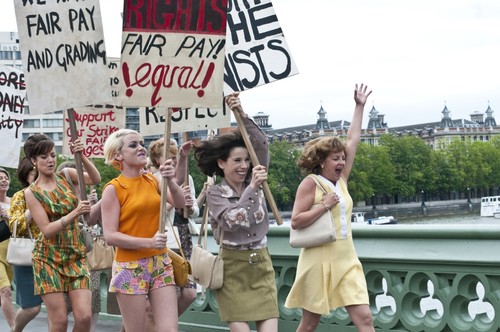 Taking place at Ford's Dagenham Factory in East London in June 1968, the film, directed by Nigel Cole, retells women sewing machinists' strike against sexual discrimination and their demand for equal pay. Under the leadership of Rita (Sally Hawkins), 187 women workers take a stand against one of the world's largest companies, which lead to a historic upheaval that reinforces the organization of women's movements and the female labor force across the U.K. The film will be screened at ÇSM's Yaşar Kemal Conference Hall on Oct. 15.
'The Experimental City' (2017)
The brainchild of renowned scientist, inventor and comic-strip author Athelstan Spilhaus, the Minnesota Experimental City (MXC) was a planned community for 250,000 people. The project aimed at solving urban problems by creating a modular settlement in the isolated woods of northern Minnesota in the mid-1960s. Narrating the remarkable efforts of Spilhaus, the story uncovers his visions for an experimental city, partially enclosed by a geodesic dome that would continuously transform to find workable urban solutions by employing the latest technology in communications, transport, pollution control and energy supply. Yet, this futuristic attempt would always be remembered as an almost-realized model for the 21st century, with a philosophy of lifelong learning where everyone is both a student and teacher.
The latest documentary by Chad Freidrichs, "The Experimental City" premiered in Turkey in September 2018 at SALT Beyoğlu and will be shown at Ankara Branch of the Chamber of Architects on Oct. 25.
'The Fool' (2014)
Set in an unnamed town in Russia, the film follows the protagonist Dima's unavailing attempt to rescue a crumbling building - and all 820 of its residents. A plumber by trade, when Dima is called to check a burst pipe, he notices a crack tearing up one side of the building. In a housing facility of unique characters, chaos and limited means, he is at odds with the authorities as well as the unhindered inhabitants of a construction neglected for 30 years. Taking place over a single night as Dima struggles to persuade against the most evident odds, the film touches on topics of community, morality, reliability, neglect and reform.
Directed by Yuriy Bykov, the film will be screened at ÇSM's Yaşar Kemal Conference Hall on Nov. 8.
'Gaza Surf Club' (2016)
For some young Palestinians in the Gaza Strip, surfing seems the only way to escape from the ruins caused by airstrikes and to ensure a sense of freedom. Ibrahim, a 23- year-old lifeguard, dreams of inspiring his peers with his beloved sport and crafting his own boards. While for Sabah, a 15-year-old girl in love with the sea, it is not that easy to break the Mediterranean waves.
A fascinating glimpse into existence in a conflict zone, the documentary depicts through thrilling scenes how surfing can free the mind and the body, while giving a voice to a young generation on women's rights, freedom of expression and belief. Directed by Philip Gnadt and Mickey Yamin, the film, also observing the local sociopolitical situation, screened for the first time in Turkey at SALT Beyoğlu in June 2018. In this season, it will be shown at the Ankara Branch of the Chamber of Architects on Nov. 22.
'Up the Yangtze' (2007)
How did the world's largest hydroelectric project built on the third-longest river in the world change more than 1 million people's lives and China as a global economic superpower? Chinese-Canadian director Yung Chang returns to the disappearing historical landscape of his grandfather's youth to tell the story of a 16-year-old girl. Coming from an impoverished and helpless family, Yu Shui has no choice but to work on a luxurious cruise ship floating up the Yangtze River. While being trained as a dishwasher, she becomes accustomed to the facets of consumerism as well as the opportunities of modern technology. Now known by her new Western name, "Cindy" serves wealthy international tourists not far from her family who are moving to higher ground to escape the encroaching floodwaters caused by the building of the Three Gorges Dam.
A depiction of contemporary China based on the microcosm of a cruise ship as a metaphor, the documentary is the winner of numerous awards, including from the Vancouver International Film Festival (2007) and the San Francisco International Film Festival (2008).
The film will be meeting spectators at the Ankara Branch of the Chamber of Architects on Dec. 6.
'Lucky' (2017)
Behind the camera for this film, John Carroll Lynch tells the "enlightenment" story of a nonbeliever questioning the notion of reality while facing his own mortality. His name is Lucky, a cowboy hat-wearing, crossword puzzle addict, cranky old man living alone in a remote town in California. He passes time doing yoga, getting into depressing conversations with strange characters in local venues, watching bad TV shows and smoking a pack of cigarettes a day. As a 90-year-old who has outlived most of his generation, Lucky tries to understand why he's still around in such an existential agony.
Lynch describes his directorial debut as a "lightly fictionalized love letter" to the lead actor Harry Dean Stanton. The film, whose cast included director David Lynch, brought many nominations and awards for Stanton. Fourteen months after shooting for the film was complete, he died at age 91. Film lovers can see this extraordinary film at ÇSM's Yaşar Kemal Conference Hall on Dec. 20. The screening program is free and open to all. Reservations are not accepted.