Friday's release of great core inflation numbers coupled with healthy growth numbers last Tuesday indicate a strong turnaround in the Turkish economy. After an incredible year in 2014, the Turkish equity and bond markets saw profit-taking early this year on concerns of a slowdown. The 2.6 percent growth figures for the final quarter of 2014 (2.9 percent for the full-year) coupled with the 7.1 percent core inflation numbers were met with optimistic enthusiasm by investors.
Worries of sustained inflation growth were put to rest as growth numbers made Turkey the fastest growing European nation for the 2013-2014 period. Turkey's 2014 growth rate was beaten only by the 4.8, 3.6 and 3.3 percentages recorded by Ireland, Hungary and Poland, respectively. However, Hungary and Ireland were coming off major recessions in 2013 with either negative or near-zero growth rates in the previous year.
Inflation itself is often mistakenly viewed as being bad for the economy; however, its evil cousin deflation - something that the Europeans and Japanese are dealing with - make nations long for the days of inflation. This is currently the biggest concern in mature markets. Turkey has come off of decades of hyperinflation, thus the word has a negative connotation even while it is looked at as the cure-all for many troubled economies. Zero percent interest rates coupled with deflation force central banks into quantitative easing (QE) - a stop-gap measure aimed at solving systemic problems. The jury is still out on the long-term effects of such QE; however, if last week's job report is any indication, the medium-term positive impacts of QE are hardly definitive.
Last week, the United States released an abysmal jobs report which was a long time coming. Unemployment came in flat at 5.5 percent with few new jobs produced by the economy. Monetary policy hawks and their lobbyists (people who have substantial savings and want to lend to the government) are pushing for an increase of the current effectively zero-percent federal funds rate. Monetary policy doves (people who invest or borrow, or workers who have little savings - which amounts to 95 percent of the country) are praying for a continuation of the status quo.
The jobs report wasn't disappointing because of what it said but because of what it implied. This may be the end of down-trending unemployment numbers. If the trend is over, the public fears that unemployment will be on the rise in the United States. Why does U.S. unemployment impact every man, woman and child in the world? Because of the Graph 1: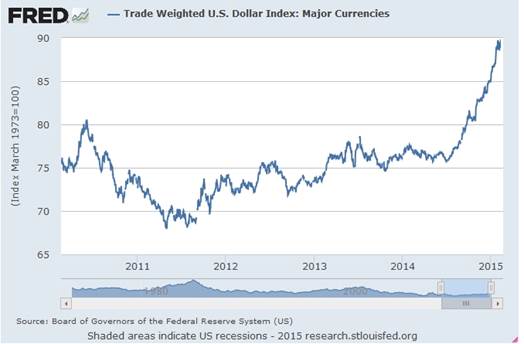 This is a Graph 1 of U.S. Dollar strength against global currencies. As is clear the U.S. dollar is basically crushing every other currency across the board. This means U.S. goods become more expensive to import, dollar denominated commodities are costlier and national currencies are experiencing devaluation throughout the world. If your euro, yen and lira are not as valuable because of U.S. dollar appreciation, you start to care about the U.S. economy.
The actual bad news for the U.S. isn't that unemployment is no longer decreasing, but that the more important "labor force participation rate" is now at a 37-year low. Workers who can't find a job and can no longer get unemployment benefits from the U.S. Government are not counted in the unemployment rate, but are counted in the participation rate. U.S. policy makers need to solve this complex problem, one of both demographics, technology and globalization. It will be surely be an uphill battle.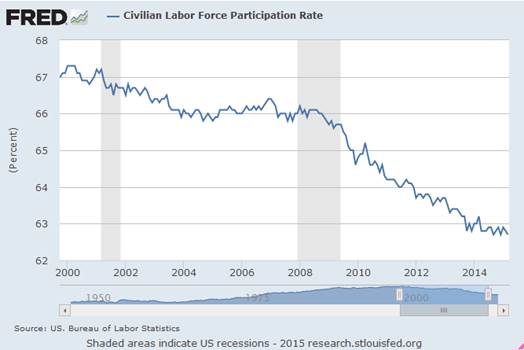 Why is this Graph 2 important? This is the hidden graph that few talk about. This is the real threat to the U.S. economy and the reason why there will be no interest rate hike this year. Last year, a hike was "imminent;" this year, economists predict a hike will occur in June or September. However, there will be no rate hike in 2015 nor will there be any rate hike in the first half of 2016. The economy is too fragile to withstand a rate hike, especially in an election year. Turkey has weathered two major elections itself in the last year (municipal and presidential) and the completion of the upcoming June elections will give it three years before the next major election. Investors value stability and this will be the period in which Turkey will attract foreign direct investment. Should the incumbent Justice and Development Party (AK Party) be re-elected, Turkey will be an island in a sea of economic despair to the east and armed conflict to the south, north and west. As investing is relative, this will make Turkey the best relative choice and investors will be rewarded for their patience.