Turkish defense and aviation industry exports have almost doubled in the past five years, reaching 7.6 billion U.S. dollars, according to export figures revealed by the Turkish Exporters' Assembly (TİM) .
Defense and aviation industry exports increased 1.4 percent in 2016, from $1.65 billion in 2015 to $1.68 billion, the newly released data showed.
Turkey's defense and aviation exports in 2011 were only worth $883 million.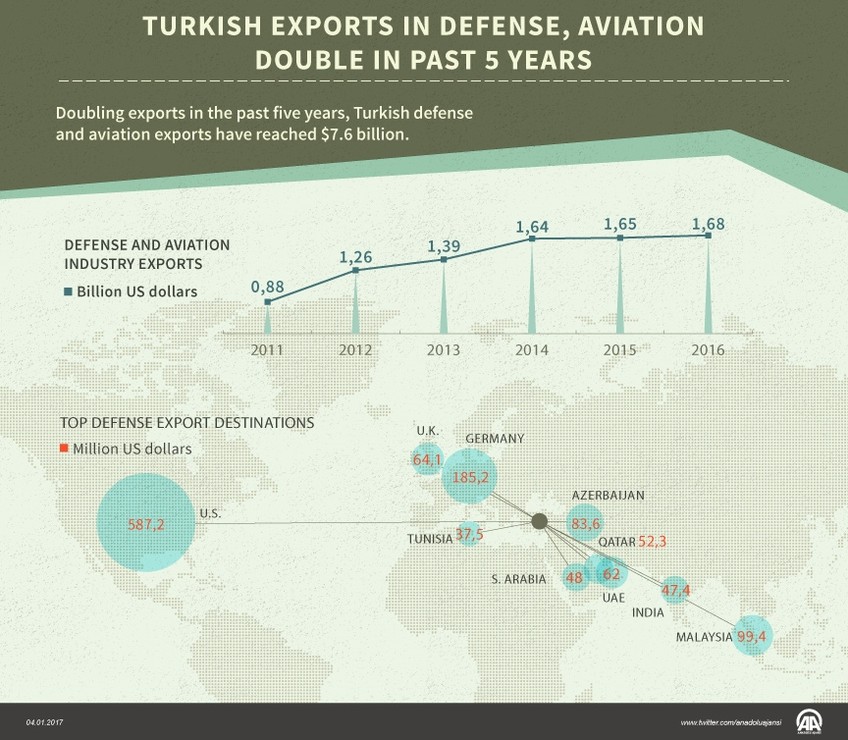 With the rise in the industry's export performance and rate of exchange, the export numbers of the Turkish defense and aviation sector increased by 12,65 percent on the Turkish lira basis. In 2016, the defense and aviation industry exceeded the TL 5 billion limit and exports reached TL 5.68 billion lira, after seeing TL 4.5 liras-worth of exports in 2015.
Last year's top export performance was in December 2016 with $212 million, while the lowest level was seen in July with $97 million.
According to the data, one third of last year's exports, about $587 million were received by the United States.
The U.S. was followed with exports to Germany worth $185 million, Malaysia with $99 million and Azerbaijan with $83 million.
The United Kingdom, United Arab Emirates, Qatar, Saudi Arabia and Tunisia were also among the other countries importing Turkish defense and aviation goods.
However, India had the most remarkable rise in Turkish defense and aviation imports. After receiving imports worth only $235,000 in 2015, India increased its Turkish defense and aviation imports to $47 million in 2016.