The leader of the Democratic Union Party (PYD) terrorist organization, Salih Muslim said Tuesday that he had not received an invitation to the U.N.-mediated Syria peace talks in Geneva and was not aware of any Kurdish representatives getting an invitation, despite expressing high expectations to be represented in the third talks on the issue.
"We will be invited, but we still don't know in what position," Salih Muslim had told Reuters ealier on in the day.
Prime Minister Ahmet Davutoğlu said on Tuesday that Turkey is against the participation of the PYD, the Syrian affiliate of the PKK terrorist organization and its armed wing People's Protection Units (YPG) in Syria talks.
Davutoğlu said during the ruling AK Party's assembly group meeting in the capital Ankara that he was not against Syrian Kurdish representatives joining the talks, deeming their presence at the table as a "necessity".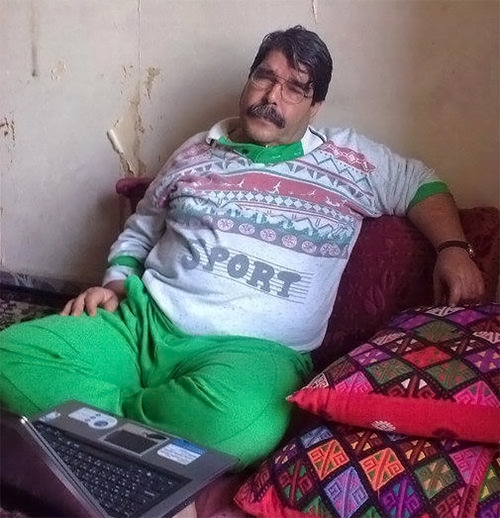 But he did not specify which other Syrian Kurdish groups he would like to see involved at Friday's meeting.
Referring to the PYD, the premier said: "A terrorist organization joining the ranks of the opposition during the talks is unacceptable from our viewpoint."
"The PYD, which cooperates with the (Syrian) regime, cannot represent the rightful fight of the Syrian people," said the Turkish premier.
Russia on the other hand, a close ally of Syrian dictator Bashar al-Assad, has been calling for the PYD to be included in the opposition delegation.
Russian Foreign Minister Sergei Lavrov however on Tuesday insisted that UN-backed Syria talks will not be successful if Kurdish representatives were not invited.
"Without this party, without this participant the talks cannot achieve the results that we want, a definitive political resolution in Syria," Lavrov told journalists at his main annual press conference.
Lavrov said, however, that Russia would not "veto" the talks if the Kurds were not invited and that it was up to the UN envoy de Mistura to decide which opposition groups would be asked to attend.