President Recep Tayyip Erdoğan, speaking over the weekend to journalists on the return flight from his Latin America trip that took him to Chile, Peru and Ecuador, said the U.S. should decide who its regional partner is, Turkey or the terrorists in Syria.
He said a security summit would be held when he returned to Turkey. "I don't want the mistakes committed in Iraq repeated in Syria," adding that he saw the rejection of the resolution allowing U.S. troop deployment in Turkey and Turkish troop deployment overseas in February 2003 just before the second Gulf War as a serious mistake. "At the time, I was for the approval of the resolution. If you delve into the matter, you'll find out who opposed and who actively but covertly mobilized support against it. If the resolution had passed, Iraq would not be in the state it is now. Turkey would have been at the table. I then became the prime minister and President George W. Bush asked to review the resolution. It then passed but our Kurdish brothers in Northern Iraq objected. And we decided that we would not be somewhere we weren't wanted."
Currently, the Turkish Armed Forces had all the necessary authority to defend Turkey, he said.
The PKK's Syrian wing Democratic Union Party (PYD) needed to be recognized as the terrorist group that it is, he said, adding that the latest evidence that the U.S. was committing great errors was the fact that an adviser of U.S. Vice President Joe Biden, who had visited him, had received a plaque from a PYD member.
Last week, photos emerged of President Barack Obama's Special Presidential Envoy for the Global Coalition to Counter DAESH Brett McGurk meeting with former PKK member and current PYD spokesman Polat Can.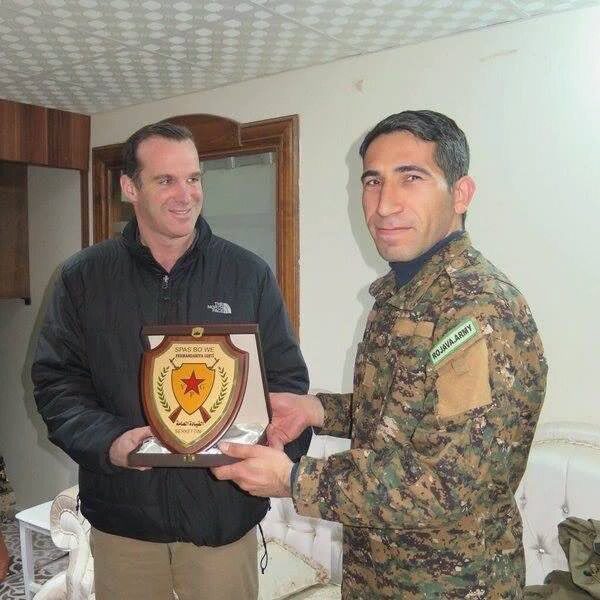 He said Turkey would be mobilizing to ensure the PYD would be recognized as a terrorist group by all international organizations.
Erdoğan said Turkey and the U.S. were in sync when it came to combatting DAESH, but Ankara expected a change in perspective from Washington on setting up safe zones in northern Syria. The president said modern cities that could be built in a safe zone would provide security for Syrians while addressing the huge refugee problem.
It was time that coalition forces took the initiative to resolve the Syrian crisis, argued Erdoğan, citing the aggressive nature of Russian, Iranian and Assad regime policies that made things worse.
TENS OF THOUSANDS AT THE BORDER

He said reports about 70,000 Syrians having reached the border with Turkey due to Russian and Assad offensives that cut access to Aleppo was a very real possibility, but added that the regime forces had cut the escape route north of the city. "Turkey is under threat. If these people are at out border and have no other option, we'll have to allow them in," he said.
About Russia's claims that Turkey was readying to invade Syria, Erdoğan said, "It is Russia that needs to explain why it is there and cooperating with the murderer of 400,000 people. Turkey has a 911-kilometer border with Syria and will definitely take the necessary precautions. That's what it is, while Russia is on the offensive. We need to be ready to defend ourselves."
"I also find it hard to understand Iran's policy in Syria. When I say something they get upset. However, why are we sacrificing Syria to sectarian war? The pain caused hurts us, not anyone else. Not Europe.
He said the increasing frequency of meetings with German Chancellor Angela Merkel was a positive development, adding that he would be meeting with her when she arrives on Monday. "The main topic of discussion is probably refugees. The EU pledged to provide a 3-billion-euro fund for Syrians in Turkey. We haven't seen a single euro yet. This will also be raised."
He said the matter of maintaining a no fly zone would also come up during Merkel's visit. "All G20 members know my suggestion. They agree to my face and then do nothing while Russia and Iran do whatever they like."
He also underlined the importance of maintaining a safe zone in northern Syria, building whole cities with schools and hospitals, to house civilians. The U.S. was at first cold to the idea of a no fly zone or safe zone, but was gradually warming up to the idea.
Turkey was determined to work with the international community to resolve the Syrian crisis, Erdoğan emphasized, but also underlined Turkey's capacity to defend itself against all threats.
EGYPT MUST RESCIND DEATH PENALTIES

Any thaw in ties with Egypt or a possible meeting with Abdel-Fattah el-Sissi required the annulment of the deaths sentences meted out to Mohammed Morsi, the country's first democratically-elected president, and his associates, Erdoğan said. However, he was not against the continued close ties between the people of Turkey and Egypt. "Our ministers may meet. However, it would be improper for the prime ministers to meet. I was of this opinion when I was the prime minister. I believe as people who believe in democracy, we can have no other stance toward a person who toppled the democratically-elected head of state."
He said he had told intelligence officials and ministers that they could continue their meetings with their Egyptian counterparts and shared his belief that the people of Egypt and Turkey could never be estranged from each other.
CLOSE TO DEAL WITH ISRAEL

Efforts to re-establish ties with Israel was close to bearing fruit, implied Erdoğan, adding that the process was clear cut from the very beginning. "We have three conditions: Apology, compensation and lifting of the embargo on the Gaza Strip. Through President Obama's intermediation, the apology was received. We have made serious progress on the compensation issue."
However, when it came to the embargo, the issue had to be tackled in a comprehensive and humanitarian manner, said Erdoğan. The huge energy needs of the Gaza Strip could be satisfied with an energy generating ship, Erdoğan suggested, but added that there also was the need to establish the electricity infrastructure. The water problem could be addressed through digging wells and purifying sea water, he said, but this also necessitated the establishment of a water pipe system. Schools and hospitals had to be built, Erdoğan said, proposing Turkey to be a guarantor for all construction material entering Gaza through designated points.
PRESIDENTIAL SYSTEM

The Parliamentary constitution commission that began its deliberations, with the support of all groups, including intellectuals and NGOs, would point the way to the preparations for the new constitution and create public awareness, Erdoğan said, adding that in time, the debates would reach a more mature state.
The next six months will prove to be crucial, he said, noting that he was eagerly awaiting what the leaders of the four political parties in Parliament would say. "I will not sit back and watch. With the nearly 20 teams I created, I will hold meetings at the Beştepe Presidential Complex and consult with representatives of civil groups."
ÖCALAN CANNOT BE AN INTERLOCUTOR

President Erdoğan supported Prime Minister Ahmet Davutoğlu's stance that the jailed leader of the PKK, Abdullah Öcalan, could not be seen by the state as an interlocutor in efforts to establish peace.
He said it was natural for the intelligence organization to meet with Öcalan, and anyone else, as part of its professional vocation, but neither the government nor parliamentarians should meet with Öcalan. "The only people who can legally go and see him are his relatives," he noted.
Erdoğan also said that he would be chairing a cabinet meeting toward the end of the month.