U.S. President Donald Trump, during his joint press conference with NATO Secretary General Jens Stoltenberg on Wednesday, said it was time to end the civil war in Syria and allow the refugees to return home but failed to provide any details on how it could be achieved. While describing Syrian leader Bashar Assad as a "butcher," Trump said, "It is time to end this brutal civil war, defeat terrorists and allow refugees to return home." Speaking to the reporters, Trump said, "The vicious slaughter of innocent civilians with chemical weapons, including the barbaric killing of small and helpless children and babies, must be forcefully rejected by any nation that values human life."
Commenting on Syria's Bashar Assad, Trump added: "That's a butcher. That's a butcher. So, I felt we had to do something about it. I have absolutely no doubt we did the right thing, and it was very, very successfully done."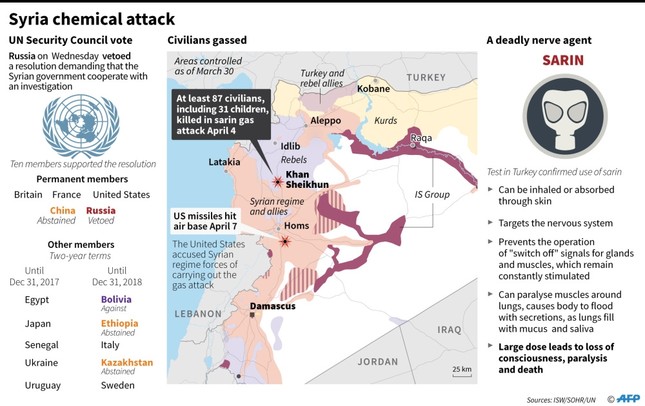 Trump's remarks come hours after Russia vetoed a U.N. Security Council resolution that would have compelled Damascus to cooperate with an investigation into the attack. On Wednesday, Russia again vetoed the U.N. Security Council, shielding the Assad regime and blocking a Western bid to condemn a deadly gas attack in Syria and would have pushed the regime to cooperate with investigators. Responding to questions after the press conference, Trump said it is possible that Russia knew of the Khan Shaykhun attack in advance.

In the meantime, U.S. Secretary of State Rex Tillerson said Wednesday there was a "low level of trust" between Moscow and Washington D.C. after talks with his Russian counterpart Sergei Lavrov. "There is a low level of trust between our two countries," Tillerson said at a news conference following the talks. "The world's two foremost nuclear powers cannot have this kind of relationship," he asserted, while reiterating the U.S. position that Assad must eventually relinquish power in Syria, a position that is at direct odds with Russia.

Turkey has been supporting the U.S. efforts to topple the Assad administration in Damascus, and the country believes there is no future for Syria if Assad is at the helm, stressing that a comprehensive transitional government would be the only solution to end the years-long civil war.

Turkey vows to clear YPG from its borders
Meanwhile, Turkish President Recep Tayyip Erdoğan said after clearing the country's borders from Daesh, that Turkey is also determined to clear its borders of the PKK terrorist organization's Syrian offshoot, the People's Protect Units (YPG). Speaking in the Black sea province of Ordu on Thursday, President Erdoğan emphasized that Turkey has cleared its borders of Daesh with the recently completed Operation Euphrates Shield and will also remove the YPG from its borders. ''After al-Bab, now we are talking about Manbij. In this regard, our talks with both coalition forces and Russia are ongoing. We will not allow the [Democratic Union Party] PYD/YPG to be at our borders. We will not allow the PYD to establish a state there [in Syria]. Everyone has to know that,'' Erdoğan said.

Earlier this week, President Erdoğan said Turkey has two important targets in Syria, Manbij and Raqqa, while reiterating that the country will support the Raqqa operation if the PYD does not participate. Last month, Turkey officially announced that Operation Euphrates Shield, which had been operating in Syria since last August, had ended, while Turkish officials hinted that there might be more cross-border campaigns in the future. As a result, Erdoğan's comments are considered Turkey's new road map for Syria. ''We have two important targets in Syria, Manbij and Raqqa. If the U.S and coalition forces would sincerely cooperate with us, we would support them both in Manbij and Raqqa,'' Erdoğan said.