President Recep Tayyip Erdoğan on Monday released a statement marking the 1915 events, expressing his condolences to the grandchildren of Ottoman Armenians, who passed away at that time.
Erdoğan's message was read during a religious ceremony at the Armenian Patriarchate in Istanbul.
"This year, I once again pay our respects to the Ottoman Armenians who lost their lives under the harsh conditions of the First World War [World War I] and convey my condolences to their descendants," the president said.
Turkey dismisses allegations of genocide but acknowledges there were casualties on both sides during the events in World War I.
Erdoğan said Turks and Armenians shared a common history and culture "as two ancient nations of this region."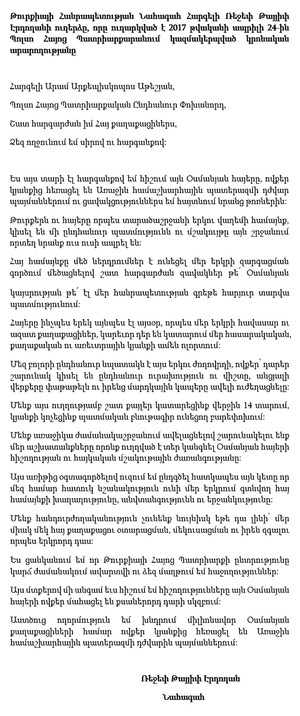 "It is our common objective for these two peoples, who have shared the grief and happiness of centuries, to heal the wounds of the past and strengthen people-to-people ties," he said.
Noting the "many steps" taken in this direction in the past 14 years, and the "historic reforms" launched, Erdoğan said Turkey was determined to advance efforts and preserve the memory of the Ottoman Armenians and Armenian cultural heritage in the future.
He emphasized that the peace, security and happiness of the Armenian community were "of special importance" to Turkey.
"We have no tolerance for the alienation and exclusion of our Armenian citizens nor for a single Armenian citizen to feel second class," he stressed.
Erdoğan also expressed his hopes for a "speedy" conclusion of the election of the Armenian patriarch of Turkey