A tweet posted to promote an international security event was met with criticism by Turkish social media amid deteriorating relations with the U.S. and the latest scandal with NATO.
The post to promote the speech of Turkish Chief of Staff Gen. Hulusi Akar at the 9th annual Halifax International Security Forum, which was shared Saturday on the official Twitter account of the event, included a photo of taken right after the July 15 coup attempt launched by the Gülenist Terror Group (FETÖ).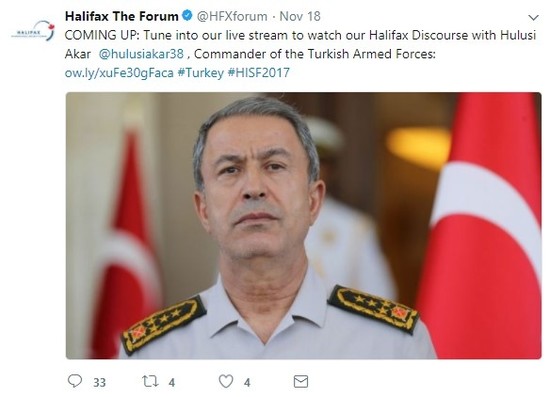 In the photo, a bruise on Akar's neck is clearly visible, which occurred during scuffles with pro-coup officers and soldiers during Akar's efforts to put down the coup attempt.
The tweet was visible in the account until Monday afternoon, and was removed as Turkish media outlets started to report the post.
The photo was met with criticism, with users saying asking: "Is this also a coincidence?"
The question refers to the latest scandal involving NATO as President Recep Tayyip Erdoğan and the Turkish Republic's founder Mustafa Kemal Atatürk were listed as "enemies" over a chart during NATO's Trident Javelin exercise in Norway. The incident, which was revealed Saturday, prompted angry reactions from Turkish authorities and public, with Turkish soldiers participating in the exercise withdrawn.
NATO Secretary-General Jens Stoltenberg and Norwegian Defense Minister Frank Bakke-Jensen apologized over the episode.
Both incidents took place at a time when relations between Turkey and the U.S. have hit rock bottom over a number of issues. The two NATO allies are at odds in Syria as the U.S. partners with the PKK terrorist group's Syrian offshoot Democratic Union Party (PYD) and its armed wing People's Protection Units (YPG) on the ground, supplying the group with truckloads of arms and ammunition.
The two countries also disagree on FETÖ. The terrorist group, responsible the deaths of 250 people during the coup attempt, still has a large follower base and extensive school network in the U.S. Additionally, FETÖ leader Fetullah Gülen resides in the U.S. state of Pennsylvania despite Turkey's calls for extradition over his involvement with the coup attempt and other crimes, including mass exam cheating, illegal wiretapping, infiltration into state institutions and sham trials conducted by FETÖ members. Turkey's probe into a U.S. consular staff in Istanbul over FETÖ ties led to cancellation of U.S. visa services in Turkey on Oct. 8, before partially resuming Nov. 6.
Turkey's decision to acquire S-400 air defense missile system from Russia created tension within NATO, as the U.S. makes up the bulk of the defense alliance.