Last week, the Turkish delegation presided over by Vice President Fuat Oktay withdrew from a conference on Libya in Palermo, Italy after they were excluded from a key meeting on the case.

The meeting, which included representatives from Italy, Egypt, Libya, Russia, France, Tunisia, Algeria, the U.N. and the retired Gen. Khalifa Haftar, who is one of the political actors of Libya, was not included in a schedule provided to Turkey.
In the statement he gave while leaving Palermo, Vice President Oktay underscored the impossibility of achieving stability in the Mediterranean without Turkey's involvement.

"Libya cannot be stabilized as long as some countries continue to crush the process in line with their own interests. Libya needs less foreign intervention, not more," the vice president stressed.
"Unlike the others, we are open to a broad dialogue with all Libyan and regional actors. It is impossible for those who are responsible for the current difficult situation in Libya to make any positive contribution to the country's recovery," Oktay added.
Libya has remained dogged in turmoil since 2011, when a deadly NATO-backed uprising led to the ouster and death of long-serving President Moammar Gadhafi after more than four decades in power.
Currently, two rival seats of power are vying for supremacy in Libya: An internationally recognized national unity government based in Tripoli and a government supported by a legislative assembly based in the eastern city of Tobruk.
Libya's two main rival leaders – retired Gen. Haftar, who rules most of the east, and U.N.-backed Prime Minister Fayez al-Serraj – met for the first time in more than five months in Palermo, Sicily.
Italy organized the two-day conference in hopes of making progress on ending Libya's lawlessness and promoting a U.N. framework for eventual elections.
But expectations were limited, with Haftar's camp making clear that he wasn't participating in the conference itself but rather meeting with leaders of neighboring countries on the sidelines. Turkey preferred to act together with the international community to aid Libya which was pushed into chaos as a result of Khalifa Haftar's coup attempt in May 2014. The Libya Conference held in Palermo is the latest initiative materialized since Haftar's aforementioned coup attempt.

Even though the Libyan Political Agreement (LPA) was signed by all international actors involved in Libya at the Rome Conference in 2015, it was blocked by a regional clique led by the United Arab Emirates (UAE) and in which Egypt had an active role.
Meanwhile, the U.N.-appointed special representative Ghassan Salamé prepared a road map to resolve the deadlock in the application of the LPA; however, steps were not taken to realize the stated aspects of this road map. While the conference in Palermo aimed to resolve the issues caused by LPA's failed enforcement, holding a meeting to which Turkey was not invited to led to the untimely demise of the Libya Conference.
Is it possible to find a permanent resolution while the events transpired in Palermo demonstrate the insoluble nature of the crisis in Libya? Is it possible to end the military tutelage in the country and realize transition to a true democracy? Which actors undermine the democratic process? What will Turkey do to resolve the issue? Daily Sabah asked these questions to Justice and Development Party (AK Party) deputy professor Emrullah İşler, who was appointed as Turkey's special envoy to Libya in 2014. İşler drew upon his experiences as the special envoy and explained the events that transpired in Palermo, Turkey's propositions for a political resolution in Libya and the road map. İşler also commented on the Jamal Khashoggi murder.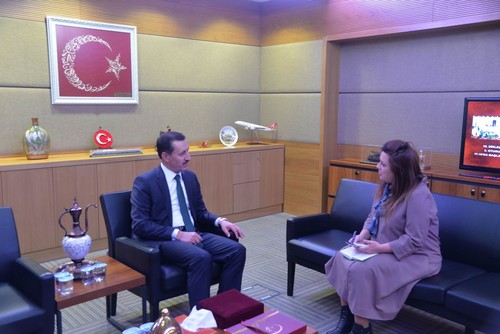 Turkey's withdrawal from the Libya Conference
Talking about the Libya Conference, İşler stressed the importance of the organization while expressing that it followed in the footsteps of the previous conferences held in Paris and Rome. İşler explained that Turkey attended this meeting at the vice presidential level for the first time. Regarding the events that transpired at the conference, he expressed Turkey's discomfort about the unannounced meeting and the statements given afterward.

"They are talking about 'prominent actors of the Mediterranean.' This was a discriminating and ostracizing expression. For this reason, we have withdrawn from the conference to demonstrate our displeasure. They have wronged Turkey. Those realized this action aimed to undermine the conference," he remarked.
İşler stated that this unannounced meeting was organized by countries and their affiliates which caused the crisis in Libya. He asserted that Italy could have taken the initiative to prevent such a meeting but failed to do so.

"We don't have issues with Italy; they have expressed their sadness about the event. However, we have left Palermo after consultations and with President Recep Tayyip Erdoğan's instructions," he added.

İşler also expressed that they were not expecting a concrete result from the conference.
Smear campaign against Turkey's Libya policies
Touching upon his appointment as Turkey's special envoy to Libya, İşler asserted that he has met with all sides in the Libyan conflict and that Turkey seeks an extensive reconciliation resolution in Libya.

"We are doing our best to establish stability in Libya and all sides of the conflict express their belief that Turkey is sincere and well-intentioned. Yet, a certain clique and their media are conducting a smear campaign against Turkey," he claimed.
Elaborating on this clique, İşler stated that Egypt and the UAE along with their media are the ones that conduct the smear campaign. He affirmed that they were accusing Turkey of providing armaments to certain parties of the Libyan conflict.

"Yet, they are the ones who provide all kinds of support, including armaments, to Gen. Haftar and his force," he stressed.

He signified that the aforementioned countries were escalating the crisis in Libya instead of trying to instill peace and stability.

İşler explained Turkey's policies regarding the Libyan conflict: "Firstly, we prioritize peace and stability in our policies. We are against any policy which could cause violence or war. Turkey is very clear about this issue; there is a crisis in Libya and this crisis should be resolved through dialogue and negotiations. We treat all sides of this conflict equally and we have enforced this stance since the very beginning. Secondly, we are against foreign interventions and condemned all foreign interventions. Thirdly, we are a proponent of the initiative launched by the U.N. For this reason, we have supported the LPA. We still support the said political agreement; however, a general who is not tasked by the agreement being acknowledged as a legitimate actor by the international community indicates that the agreement isn't being enforced."
İşler criticized U.N. special representatives for not taking necessary initiatives to enforce the agreement. He asserted that the Libyan crisis was caused by international and regional actors and that these actors are continuing to escalate the crisis instead of putting forth efforts to resolve it.
Meanwhile, İşler also expressed that the different sides of the Libyan crisis have yet to put aside their differences for the sake of the country. Stating that he had urged all sides of the conflict to prioritize the future of the country instead of their respective interests at a press conference at Tripoli, İşler asserted that his call was left unsupported.
International community disregarding popular demand for democracy
Once again underscoring Turkey's efforts to resolve the crisis in Libya, İşler indicated that the international community turned a blind eye to people's demand for democracy during and after the Arab Spring, deliberately causing countries to fall into chaos.
"We see this in Syria, Libya and Yemen. Fortunately, [Rached] Ghannouchi's wisdom prevented chaos in Tunisia. It's obvious that the internal strife in Libya is incomparable to those in Yemen and Syria. Yet, Libya is an oil-producing country and has a small population of 6-6.5 million. We see that the country is in a sorry state while it should have been in good shape. Of course, the Libyan crisis cannot be isolated from the Syrian and Yemen crisis; I believe if the Syrian crisis is resolved, Libya and Yemen will follow suit."
İşler explained that actors in the Libyan crisis are also engaged in the Syrian crisis and that achieving resolution in either country could trigger a similar reaction in the other.
Instilling chaos in Libya
About the unresolved crisis in Libya, İşler briefly touched upon the history of the region. He asserted that the Islamic lands faced a great threat after World War I and that territories were divided and borders were redrawn. According to his opinion, this process has recurred with the Arab Spring as it causes further division and civil wars.
"They are trying to divide the already divided land into smaller parts. For this reason, as the people of the region and Muslims we should prevent this from happening. Libya is a country almost three times larger than Turkey and has oil along with fertile soil. While this country has everything to be prosperous, they are far from it because of the civil war," he said.
On the other hand, İşler claimed that the West played a prominent role in Libya's descent to chaos. He asserted that the West is never concerned with democracy but with protecting its interests.
"I don't believe the West is concerned with democracy. If they were concerned about democracy, they would have supported the peoples of countries that experienced the Arab Spring and prevented them from falling into chaos. They have a singular concern: how to protect their own interests. We have seen international and regional actors who want to maintain the status quo deliberately pushed these countries into chaos," he explained.
According to İşler, certain actors continue to see Turkey as a threat as it has inspired the Arab Spring. He asserted that the Gezi Park incidents in 2013 and particular events which took place after were initiated by the aforementioned actors.
Turkey as a mediator
İşler expressed that he had suggested Turkey could act as a mediator between the sides of conflict in Libya when he was first appointed as a special envoy.

"Yet, eastern Libya rejected this proposition and told that they didn't want any other initiative than the U.N.'s. Our offer is still valid; however, the smear campaign against Turkey conducted by certain actors prevents the realization of this proposition," he commented.
Adding that he had meetings with the Tobruk government in Libya, İşler stated that the conditions are maturing by the day and that Turkey could take a more active part in the following months.
The Khashoggi murder
Talking about the Khashoggi murder which occurred in the Saudi Consulate in Istanbul, İşler stressed that it was unacceptable. He affirmed that Turkey condemned the heinous act.
"I believe Turkey was very successful in this matter. Saudi Arabia denied the murder at first; however, as Turkey continuously provided information to the public, they were forced to refute their own statements. Most recently, they have announced that five of the accused will be tried, with execution being the penalty," he stated.
İşler explained that the official who gave the instructions for the murder is yet to be revealed.

"For this reason, their statements have little weight in public opinion," he said. İşler expressed that Turkey wants the perpetrators of the murder to be tried in Turkey.

"We want those who have committed this heinous crime to be extradited to Turkey. We will try them here fairly and transparently. I believe this would satisfy the public," he commented.
Regarding the future of Turkish-Saudi relations along with Saudi Arabia's status in the international system, İşler said that Saudi Arabia has a strong tradition in terms of its policies and that he believes common sense will prevail.

"I believe they will take their expected part in the international community," he concluded.