Ruling Justice and Development Party (AK Party) deputy chairman in charge of the economy Cevdet Yılmaz (L) said that efforts to establish institutional dynamism in the scope of the recent constitutional reform will have a positive effect on the economy in the long term, adding that Turkey will enjoy higher growth rates in the second half of the year as a result of increased economic activity amid the accuracy-based, well-timed initiatives of the government.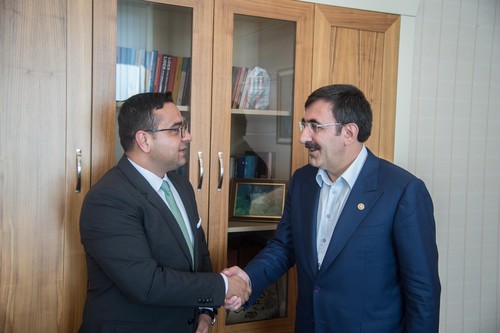 Responding to allegations that the AK Party is harming the very financial disciplines which have been deemed the secret to the party's success over the past 15 years; namely, small and medium-sized enterprise (SME)-based initiatives such as the Credit Guarantee Fund, zero-interest loans and the postponement of certain taxes, the deputy chairman said that Turkey will stay within the limits of internationally recommended standards, underlining that the government remains determined to maintain its financial discipline.
Yılmaz stated that AK Party-based reforms over the years have aimed to consolidate the Turkish economy in the long run, rather than focusing on short-term, sporadic boosts. The deputy chairman also explained that the government's top priority is to remove the middle-income trap, while stressing that the AK Party will continue to implement policies towards achieving this goal.
"When we do achieve this goal, the second step that was declared as the mission of the party at the AK Party congress will commence," he said.
Daily Sabah: Firstly, what sort of reforms are you planning to make to rescue Turkey from the middle income trap?
Cevdet Yılmaz: In the last 15 years, Turkey has made a leap from the lower-middle income group to the upper-middle income group and yet another leap is required to reach the high-income group. This relies on the making of an economy which prioritizes know-how, efficiency and the production of commodities with high-added value.
Turkey has completely dissolved the tutelage system and consolidated the national will through the referendum of April 16; this is an important step in terms of escaping the middle income trap. A country riddled with the elements of the tutelage system, under the constant threats of coup and with a malfunctioning justice system can't promote to the high income group. We have changed this.
On the other hand, in terms of technology, Turkey was spending 0.5 percent of its $230 billion GDP on research and development in 2002. Today, our gross domestic product is around $860 billion and the ratio of R&D expenditure is 1 percent. While it's below what we desire, we are aiming to increase it to 3 percent with our 2023 and 2035 visions. Increased R&D expenditure by the private sector is crucial and we're making some progress there. I believe Turkey is on the right track.
The integration between technology production, general production and the defense industry is definitely crucial. For this purpose, we are continuing to implement policies which contribute to cooperation between universities, industry and technology parks. Escaping the middle income trap is of high priority; we'll continue to implement policies to achieve this goal. When we do achieve this, the second leap that was declared as the mission at the AK Party congress will commence.
DS: On the other hand, some are claiming that Turkey's democracy regressed following the July 15 coup attempt and that the current Turkish democracy won't be able to support the said second leap. What is your take on this subject?
CY: The July 15 coup attempt was a great betrayal and what transpired after the coup attempt definitely harmed Turkey's economy and image. Furthermore, terrorist organizations like FETÖ and the PKK are well organized abroad and are lobbying against Turkey in international mechanisms.
For this reason, we perceive these kinds of pseudo-criticisms that are seemingly controlled from a center as attempts to defame Turkey. I believe criticisms towards Turkey's democracy should be considered as just attempts of defamation.
Turkey has never relinquished its democratization vision; moreover, mottoes of the AK Party's latest congress were democracy, change and reform. These essential concepts are the indicators of the AK Party's mission to consolidate democracy, prioritize the people and increase participation of people to politics. These allegations are being made by those who don't want Turkey to leap forward with democratic steps.
DS: What is your take on the announced 5 percent growth in the first quarter of 2017? How do you respond to the allegations that this is an unhealthy and unsustainable growth that relies on credit expansion?
CY: We've realized a growth rate surpassing expectations; it's the third largest growth among the G20 countries, right after China and India. Industrial production and export had an immense contribution to this growth rate; there is a significant increase in our production and production capacity. However, exports took the lead in this achievement, as almost half of this growth rate depended on it. Instead of producing wild allegations, everybody should be proud of this growth.
How was this realized? Despite last year's coup attempt, we were able to grow significantly due to 15 years of reforms and regulations. The Justice and Development Party's (AK Party) reforms throughout the years aimed to consolidate Turkey's economy in the long run, instead of spontaneous and short-lived boosts. As we can see now, the mentioned reforms enable Turkey to overcome negative political and economic developments. After the coup, Turkey declined only for a quarter; the following quarters indicated a growth, respectively 3.5 percent and 5 percent. I should underline that this is a tremendous performance which marks the staunchness of policies implemented to Turkey's economy.
The government's accurate and well-timed initiatives were also effective in this success; various supports and incentives along with tax reductions for small and medium-sized enterprises (SMEs) revitalized the economy.
Regarding the subject on the Turkish Statistical Institute's (TÜİK) analysis, after a rather long process, the institutions revised Turkey's national dividend calculations. It was done according to the international standards of (the European Union's statistics agency) Eurostat. Moreover, calculations of past years were done retrospectively and certain figures were corrected. Nevertheless, the growth rate is independent of TÜİK's analysis and it's very real.
In terms of sustainability, it's important to maintain your performance throughout subsequent quarters. The leading indicators estimate that the high growth rate will be maintained in the following quarters. We also foresee that the base effect will take place in the third quarter. As Turkey declined in the third quarter of 2016, we will observe the largest growth rate in that quarter; there is also a partial base effect in the fourth quarter. Turkey will be enjoying a high growth rate in the second half of the year due to increased economic activities and last year's base rate. Hopefully, we will surpass the estimated 4.4 percent growth rate that is in our party program.
Stability, trust, economic predictability and reforms are also crucial components of sustainability. Turkey didn't just provided economic revitalization packages; it simultaneously implemented political and economic reforms, the most recent one being the referendum of April 16. With the results, trust and stability is guaranteed in Turkey. The change in the system of governance ensures stability. Turkey has a bright future ahead. Governments that were able to secure at least 50 percent of the voters will administer the country for five years, while reforms will be implemented more swiftly due to the decline in bureaucratic processes. Similarly, economic decision making processes will be improved. In the midterm, this is my projection.
DS: It is being said that the growth rate does not have a substantial positive effect on employment. What would be your response? Also, what are your policies about increasing youth employment?
CY: Turkey has been one of the countries which were able to substantially increase employment. From 2009 onwards, we have realized an increase of 6-7 million in employment; it's definitely tremendous. This seemingly didn't have any effect on unemployment data, as there are three indicators for employment: unemployment, labor force participation rate and employment rate. Labor force participation rate consist of the number of people who are eligible for employment and are seeking active employment. Employment rate, on the other hand, is the rate of people who are employed to those who are eligible for employment. Unemployment is the difference between these two. As Turkey achieved substantial increases in both employment and labor force participation in the last six or seven years, the unemployment rate didn't change much. Even though you increase employment, the rise in labor force participation doesn't allow you to improve the unemployment rate. Western countries have matured, in this respect; as their labor force participation is very much limited, the slightest increase in employment has observable effects on unemployment. In our country, however, population growth and the increased participation of women to the labor force make an observable improvement harder.
On the flip side, this situation contributes to our long-term growth projections, as more people are engaged in the production process. Therefore, this is actually a positive development. For instance, 10 years ago, women employment was around 22-23 percent; today, it's around 33 percent. We're observing a 1 percent increase per annum; it's a considerable rate and it supports our high growth rate. Nevertheless, unemployment isn't at a desired level. Due to the coup attempt and economic stagnation following it, we were not able to decrease our unemployment rate to desirable levels.
We're determined to improve employment through policies, production, export, investments and reforms. The Ministry of Labor and Social Security is working on a comprehensive project; they're focusing on youth, women and disabled employment.
On the other hand, it's important to resolve incompatibilities between the skill set of people and the demands of the labor force market. We're working on this project to train people in certain skill sets that the labor market demands and to increase youth employment through flexible working schedule. Implementation of these will result in increased employment.
DS: What is your take on criticisms that the AK Party is harming its own financial discipline, which has been deemed as the secret to the party's success in the last 15 years, through the Credit Guarantee Fund, zero-interest loans to SMEs and the postponement of certain taxes?
CY: As you've said, Turkey progressed immensely in the last 15 years, especially in terms of political economy. Financial discipline was one of the pillars of this progress. Turkey decreased its deficit substantially; from over 10 percent deficit, it declined to approximately 1 percent. The public debt-national income ratio decreased from 74 percent to below 30 percent. These are considerable developments, especially when it's compared with the trends all around the world.
For instance, in Europe this ratio is around 90 percent, while in the US it is over 100 percent. Turkey made its own financial margin and utilized a portion of this margin with the said revitalization package. This isn't extravagant; our deficit will be around 2 percent.
Considering Maastricht criteria, 3 percent is the limit for European countries; therefore, Turkey will stay within the recommended limits. Moreover, this financial margin was utilized in a rather smart way; these supports and incentives were implemented to bolster growth. Now, the growth rate we have achieved compensated for everything. In this sense, I can clearly say that Turkey is determined to maintain its financial discipline.
DS: Known as the Production Reform Package, a law consisting of 77 articles was approved at the general assembly of the Parliament. What changes is this law foreseeing?
CY: It's the continuation of the previous reforms. As you know, economy is constituted by three main sectors: service, agriculture and industry. Industry is the locomotive sector; it contributes to 95 percent of total export. In this regard, industry is of utmost importance to us. The said package will decrease the costs for industry, increase competitiveness and relieve certain bureaucratic burdens of industrialists. It includes tax reduction, supports and incentives. Moreover, this law also applies to industry parks.
DS: Certain harmonization laws for the implementation of the presidential system are being discussed. In this respect, what will change in economy? How will the economy be administered in the new system?
CY: Turkey is currently in a state of transition; the process is not complete yet. Currently, the system is a party-member presidential system. This transition process will be fully implemented in 2019. After its implementation, bureaucracy and institutional structures will be overhauled. Firstly, the president will replace the prime minister and become the head of government. The main goal of this implementation is to have a clockwork system without hiccups and malfunctions. For this reason, the president will have the right to pass executive orders from 2019 onwards. Therefore, it will be much easier to implement reforms.
Furthermore, the elected president will be able to form and merge ministries along with redesigning departments within these ministries. This, in turn, will increase Turkey's institutional dynamism. What applies to bureaucracy will also apply for the economy; I believe this dynamism will also affect economy in a positive way. While it's uncertain at the moment, I'm expecting a consolidated structure in economy with fewer departments that will have increased coordination among them.
DS: Some argue that the ongoing state of emergency is blocking foreign direct investment and keeping domestic investors on hold. What is your response to these allegations?
CY: I disagree with these statements. First of all, the ongoing state of emergency is for fighting terrorist organizations; we suffered a coup attempt last year. On the other hand, we have seen certain countries declaring a state of emergency after a single terrorist attack. Nevertheless, Turkey will continue to implement its state of emergency until all matters of security are resolved.
Economy heavily relies on security. None of the investors would feel safe in a country where the state is riddled with terrorists. For this reason, Turkey's fight against terrorism under a state of emergency will also allow the Turkish economy to be more secure. Moreover, as our president and prime minister have also stated, the state of emergency isn't interfering with the flow of economy and it's definitely not arbitrary.
DS: As a politician who knows eastern and southeastern Anatolia well, what is being done in these regions to increase youth employment?
CY: Policies targeting the youth in the Southeastern Anatolia are our priorities. While the median age in Turkey is approximately 30, this figure is around 20 in eastern and southeastern Anatolia; this indicates the importance of policies targeting the youth and their employment.
In the last 15 years, we have invested substantially in the education and healthcare of youth in these regions, thus the human capital. We have increased the number of schools, bolstered the number of teachers and provided technological and scientific equipment to these schools. Moreover, we have provided aid to those who are less fortunate and we tried to eradicate the gap between the regions of Turkey.
I can say that these investments are yielding their results. As you know, I'm a Bingöl deputy. This year a young girl from Bingöl came first in four out of the five fields of the university entrance exam. Similarly, students from Bingöl received results that surpassed Turkey's average in the high school entrance exam. These indicate that investments in education and the provided equality of opportunity come to fruition in a short period of time.
On the other hand, terrorism is the most important obstacle in economic development of eastern and southeastern Anatolia. Despite several terrorist attacks, we have continued to provide public investments to the region with great determination; however, the private sector's investments were affected by terrorism and were below the desired level. We're fighting against terrorism to alleviate security risks and implementing the most comprehensive subsidy program in the region simultaneously.
This subsidy program will be realized in 23 cities, which we call "centers of attraction," aiming to increase private sector investments to the region. These subsidies cover various state supports ranging from providing equipment to building factories. For this reason, we're expecting the private sector investments to skyrocket in the said regions. This will have a positive effect in increasing youth employment, of course.