A company in southeast Turkey's Gaziantep province is turning mountains of plastic bottle waste into fluffy spindles of yarn and hygienic medical products.

Gama Recycle Fiber and Yarn is Turkey's largest integrated regenerated yarn manufacturer and largest polyester fiber maker—a feat accomplished completely through landfill scavenges.

Using a chemical process, the company converts water bottles imported from countries like the U.S., Germany and Belgium into various fibrous products that are then exported to about 35 countries.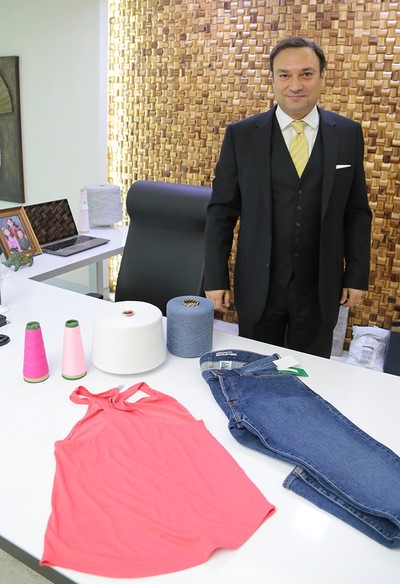 Gama Recycle's products are used in everything from textiles to packaging, as products made from plastic bottles have high flexibility, company chairman Zafer Kaplan told Anadolu Agency.
"The polyester fibers we produce are exported to 10 countries mainly in northern Europe, while yarns are mainly exported to Indonesia, the United States and Colombia," said Kaplan.

While the company began with yarns and fibers, its research and development efforts have succeeded in producing highly-absorptive medical and hygienic products in recent years.
Kaplan, who founded the company in his hometown of Gaziantep in 1997, says Gama Recycle hopes to expand its business to $25 million in exports this year and $40 million in 2019.
"We make about 500 tons of fiber per month from plastic bottles, and we have about $15 million exported annually," Kaplan said, adding that the company has several expansions planned in coming months.
Recycling practices remain below potential in Turkey, compared to recycling levels of around 75 percent in Europe, Kaplan added.
"Twenty percent of the [recycled materials] are collected by manual systems, by means of the scavengers. There is no industrial separation system, so the garbage in homes needs to be separated and collected [by hand]."
"Eighty percent of it is left in the garbage, where it takes 300 years to decompose," said Kaplan, who recommends developing an industrial separation system to capitalize on recyclable resources.
Turkey has pioneered recycling efforts in recent years, both through awareness initiatives to empower individual consumers and also recycling infrastructure to take advantage of the resources discarded in the trash.
A recent effort by Istanbul Metropolitan Municipality (IBB) aims to increase the volume of renewable waste collected from Istanbulites through a new system that will refund the value of each recycling deposit to the resident's megacity transport card.
Istanbul, which is home to nearly 15 million people, produces an average of 17,000 tons of domestic waste every day, out of which 6,000 tons are processed in IBB's garbage collection and recycling centers.