The U.S.-based Energy Information Administration released its energy report on Turkey, in which the administration confirmed that Turkey is increasingly becoming an important transit hub for oil and natural gas supplies, as the country provides access to Europe and other Atlantic markets from Central Asia and the Middle East.

According to the report, which draws attention to Turkey's increasing consumption of oil and other liquid fuels in parallel with its growth over the past decade, Turkey's proved oil reserves stand at 312 million as of Jan. 1, 2016, citing a study by the Oil and Gas Journal.

Highlighting Turkey's strategic position at the crossroads between oil rich regions - such as Russia and Middle East countries - and European demand centers, the report indicates that Istanbul and the Dardanelles Straits are one of the busiest chokepoints in the transport network, and that in 2015 more than 2 million barrels of crude oil per day flowed through the Turkish straits along with other petroleum products.
In addition to the straits, the report also points to Ceyhan Port, which in 2015 transferred more than 650,000 barrels per day (b/d) of Caspian crude oil and more than 400,000 b/d of Iraqi crude oil to Europe. Yet, Ceyhan Port and the straits are not the only way Turkey transports Caspian and Iraqi crude oil exports. There is also the Baku-Tblisi-Ceyhan oil pipeline, which operates on 1.2 million b/d of crude oil from Azerbaijan, Turkmenistan and Kazakhstan, and the Kerkuk-Ceyhan pipeline, which has two branches, though only one of which operates due to security reasons. Moreover, the Kurdish Regional Government (KRG) pipeline joins the existing pipeline to Ceyhan and operates on a capacity of 700,000 b/d.
Apart from Turkey's position as an oil transit point, the EIA report emphatically underlined Turkey's strategic role in natural gas transit given its position between the world's second-largest natural gas market, Europe, and the profound natural gas reserves of the Caspian Basin and the Middle East. As the report reveals, while the estimated volume of Turkey's natural gas reserves is 177 billion cubic feet (Bcf), total production was 14 bcf in 2015 and consumption stood at 1.7 trillion cubic feet (Tcf). The report confirms that Turkey has reasonably diversified its supply mix through liquified natural gas (LNG) and various pipeline connections, with in-process natural gas pipeline projects such as Turk Stream, which will carry Russian gas to Europe through Turkey, and TANAP, which should start operating before 2018.
One of the natural gas supply sources of Turkey is LNG, with two land terminals located in Tekirdağ's Marmara Ereğlisi and in Aliağa terminal in İzmir. While Marmara Ereğlisi has an annual capacity of 280 Bcf, the Aliaga terminal is owned by EgeGaz and has an annual capacity of 210 Bcf of natural gas. But the report unfortunately does not mention the other LNG terminal projects and FSRU projects in Turkey. Moreover, it says, "Although Turkey is encouraging natural gas transit across Turkey via pipelines, it is discouraging LNG transit." At this point, the EIA report fails to provide a complete update on Turkey's direction to become an energy hub with diversified supply sources in natural gas.

Fully aware of the importance of supply security to become an energy hub in the region, Turkey is working to ensure supply diversity through facilities such as storage, LNG and floating storage regasification units (FSRU).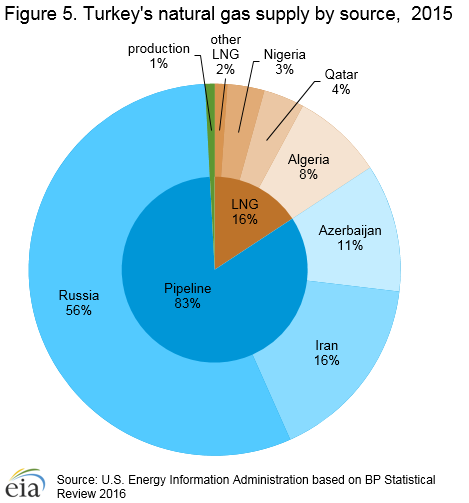 In addition to the first FSRU, which was opened in December 2016 with a capacity of 5 billion cubic meters (cbm) of natural gas for an investment of TL 330 million ($100 million), the Lake Tuz underground natural gas storage facility has 12 different storage caverns, each with a capacity of 630,000 cubic meters, and will start operations soon. Moreover, Turkey is planning other FSRU projects, which have not been publicly announced yet, as the country is aware of the importance of LNG to sustain supply security and realize its ambition to become a hub.

Speaking to Daily Sabah Professor Erdal Tanas Karagöl, the Energy Director at the Foundation for Political, Economic, and Social Research (SETA), noted that Turkey has recently realized the significance of LNG in the global energy market and acknowledges its vital importance to contribute to the country's goal to become an energy hub whilst expanding supply security.

In accordance with that goal, Turkey needs to diversify its sources and supply channels to be able to re-export natural gas to other countries, particularly in Europe, Karagöl said. LNG comes to the fore as an alluring option, as it would increase the storage and re-export capacity of Turkey, if conditions for more LNG were maintained, according to Karagöl.

Moreover, Salihe Kaya, an energy researcher at the SETA Foundation, said that Turkey could not just depend on pipelines in terms of energy supply security. Currently, Turkey imports energy from Russia, Iran, and Azerbaijan and LNG from Qatar, Nigeria and Algeria along with other spot LNG markets. As opposed to natural gas through pipelines, LNG does not require long-term contracts that are binding for Turkey, as it has to meet contract terms even if the country does not buy the amount specified in the contract, a point Kaya highlighted to emphasize the importance of LNG for Turkey's natural gas reserves.

Although Turkey has been a little behind in the LNG market, it has started to take initiatives to raise the capacity of existing terminals, add new terminals like FSRU or to launch new storage facilities because it has to store more than it consumes to become an energy hub. Therefore, current discussions around ways to reinforce Turkey's position as an energy transit point are focusing on storage facilities and terminals without letting bureaucracy hinder alternative supply sources.