Named among the most powerful people in the global energy arena, Dr. Fatih Birol has been the most influential voice in the strategic analysis of global energy markets, outspokenly vouching for energy efficiency and renewables and providing guidance for energy companies and governments worldwide since he joined the International Energy Agency (IEA) in 1995. Now serving as the chief executive of the IEA, Dr. Birol has been one of the most wanted names at global energy events.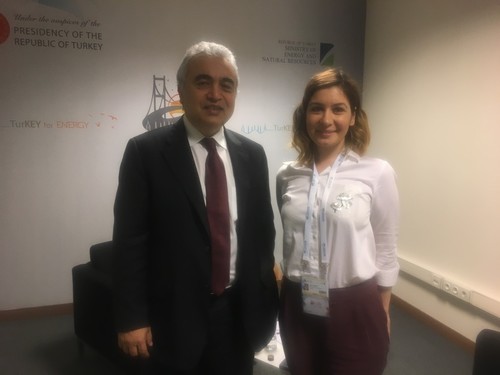 IEA Chief Executive Dr. Fatih Birol (L) talked to Daily Sabah's Elif Binici about the current global energy markets and Turkey's energy strategy.

Last week, Dr. Birol extended the courtesy to meet Daily Sabah on the sidelines of the 22nd World Petroleum Congress, where he weighed Turkey's energy policy and shed light on current energy issues.
On every possible occasion, Turkey has declared its ambition to become a regional energy hub, which was reflected in multinational energy projects, including onshore and offshore exploration operations as the well as Trans Anatolian Natural Gas Project (TANAP), the TurkStream Natural Gas Pipeline Project to deliver natural gas from producing countries, Azerbaijan and Russia, to the European market.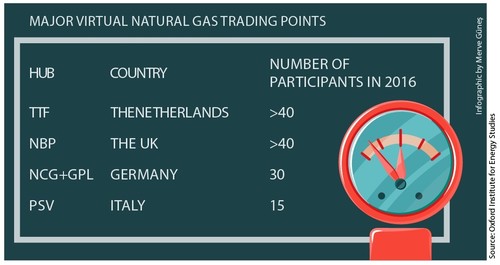 One of the highlights of last week's congress was Turkey being promoted as more than just an energy bridge corridor through which the energy supply is transferred to consumer markets from producers. Already exercising sovereign rights over one of the busiest chokepoints, Istanbul and the Dardanelles Straits, through which 2 million barrels of petroleum products flow per day, Turkey has strongly reiterated its aim to use its potential to become a regional hub, where gas is traded and the price is set by market conditions.
Analysts and experts emphasize that a liberalized, transparent and reliable energy market in natural gas where reference prices are set for contracts in a stable environment is the foremost condition for the institution of a hub. To that end, Turkey introduced a natural gas law in 2001, whereby the state-owned BOTAŞ Petroleum Pipeline Corporation, which still controls 80 percent of the natural gas market, transferred 350 billion cubic feet (bcf) of its import contracts, equal to about 20 percent of Turkish natural gas consumption, to seven private companies. Furthermore, an energy-trading hub will not only provide supply security for the hub, but it will reinforce its negotiating power for contracts while setting prices.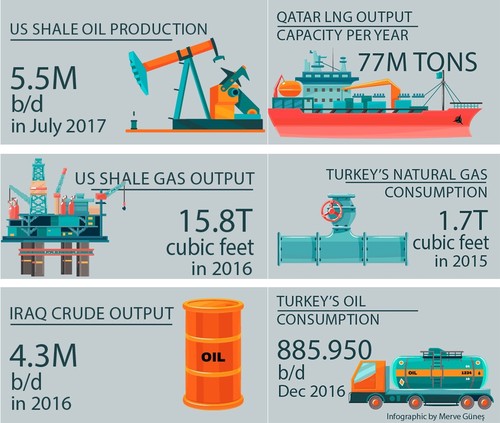 Currently, Europe has 10 hubs in seven countries that provide reference prices for wholesale physical gas contracts. The development of European gas trading hubs dates back to 2009 when shale gas production in the U.S. registered exponential growth with a 54 percent expansion and reached 3.11 trillion cubic feet (88 billion cubic meters), new global liquefaction capacity of natural gas increased and demand lowered due to the economic crisis. All these factors led to a gap in spot prices in the U.S. and the U.K. According to data compiled from the Oxford Institute for Energy Studies, natural gas prices in the U.S. remained at low levels of around $3 per million British thermal units (MBtu), European spot prices, albeit three to four times higher than those in the U.S., were still at a discount to European long‐term contract prices, and prices in Asian markets peaked. Gas raised the question to set an appropriate natural gas price. To this question, the European Union found the answer in the development of alternative pricing mechanisms, namely gas-to-gas pricing on trading hubs. The U.K. has a liquid trading hub, the National Balancing Point (NBP), while continental Europe also instituted some trading hubs, notably the Title Transfer Facility (TTF) in the Netherlands and Net Connect Germany (NCG) in Germany.
To develop a natural gas trading hub that offers reference prices and strengthens Turkey's position in long-term contracts, many experts believe that the country should commit to founding a trading hub to which diversified suppliers ensure gas flow. The recent natural gas pipeline projects, TANAP and TurkStream, as well as projects launched to increase gas storage capacity and floating LNG storage and regasification units (FSRU), all aim to serve to both ensure supply security and create a natural gas market abiding by its own rules rather than depending on strict contract terms.
"Instituting an energy hub, a terminal in Turkey relies on a couple of factors, notably including the necessity to draw energy investments, for which there are positive signs. First of all Turkey's energy demand grows exponentially," IEA Chief Executive Birol said, explaining the favorable energy investment conditions in Turkey. Drawing attention to the geographical advantage Turkey has, which makes it a natural bridge between suppliers and consumers, Dr. Birol stressed that the fundamentals of the Turkish economy, secondly, are highly solid and thirdly, the country is wide open to investment projects compared to Europe where trading hubs are already constituted and offers little room for more, hence the investment demand weakens.
Turkey moving in right direction with use of energy
Explicating the basic actions Turkey must take in the business of energy, Dr. Birol highlighted that Turkey needs to focus on a three-dimensional energy strategy. The first element of this strategy is based on reducing energy prices and the second one stipulates the maintenance of energy supply security in a sustainable manner. He added that Turkey should also continue working diligently on the environmental impact of energy by focusing on sustainable and renewable energy.
"Turkey is taking appropriate steps to combine all of these three elements," Dr. Birol emphatically stated and continued elaborating on recent actions Turkey has taken with regards to solidifying its energy policy and strategy in due consideration of its geographical significance for the region.
"The primary matter for energy supply security is the diversification of gas suppliers. Turkey is almost solely dependent on one country; one cannot put all the eggs in the same basket," he said, pointing out recent initiatives to increase the storage capacity of LNG in Silivri, Aliağa and Marmara Ereğlisi and two FSRUs on the agenda. "Turkey must seize the opportunity in the LNG wave," Dr. Birol pointed out.
Successful incorporation of LNG in the domestic energy strategy will facilitate the reduction of prices and ensure diversification of supply channels, the IEA head opined. Drawing attention to the ample supply of natural gas today, Dr. Birol underscored that this may not be the case in the future when he said, "Today, the weather is sunny, but it may rain tomorrow," pointing out that the recent Gulf dispute proved the gravity of natural gas supply security.
Mentioning that large-scale investments in solar and wind power renewable energy areas (YEKA) will ensure economies of scale in energy, Dr. Birol noted that renewable clean energy projects will provide lucrative for domestic energy consumption. He particularly underscored that the timing of these projects are most appropriate since costs are declining worldwide. "Costs of solar power have dropped by 80 percent over the last five years and costs for wind power have seen a more than 30 percent decline," he said to emphasize how investment in renewables will introduce economies of scale in Turkey's energy supply endeavors.
Turkey recently held a tender for the Karapınar Renewable Energy Resource Area, where a 1,000 megawatt solar power plant will be installed and an other tender for a 1,000 megawatt wind power plant will be held on July 27 for which foreign renewable energy companies, such as Siemens Gamesa Renewable Energy, has been reported to bid.
"Nuclear energy is sine qua non, essential for Turkey's energy supply basket. It bears significance for the energy supply, security and geopolitical strength of Turkey," Dr. Birol noted when explaining the last main energy area the country must keep focusing on. Yet, he warned that the most vital issue in nuclear appropriate actions must be taken to establish nuclear power plants and deploy correct technologies in association with project partners. "Turkey is moving toward the right direction with regards to the use of energy," he said and pointed out the energy diplomacy traffic Turkey has been caught up in order to be a home to energy projects that will ensure the supply security of Europe.
At the moment, a nuclear power plant in Akkuyu, a district in the southern province of Mersin, is being constructed in partnership with Russian state-owned nuclear energy company Rosatom and the Turkish consortium Cengiz-Kolin-Kalyon İnşaat. As previously announced by Energy and Natural Resources Minsiter Berat Albayrak, the Akkuyu plant will be operational by 2023, another project crowning the centennial of the Turkish Republic. Furthermore, a second nuclear power plant will be built in the northern coastal city of Sinop with Japanese and French partners. Although the location is not definite yet, President Recep Tayyip Erdoğan was reported to have consulted with his Chinese counterpart Xi Jinping for the third nuclear power plant during his visit to Chinese capital Beijing in mid-May.
Istanbul organized one of the best petroleum congresses ever

Expressing his contentment with hosting the 22nd World Petroleum Congress, only a year on from the 23rd World Energy Congress, described as the "Olympics" of global energy, Dr. Birol communicated the reviews of the congress by energy ministers, CEOs and executives of prominent energy companies. "The fact that Turkey welcomed the leaders of global energy two years in a row at the most important energy events demonstrates the country's position in and commitment to the world of energy. All the executives of the energy giants I am acquainted with expressed their gratitude for the hospitality of the Turkish government and their fascination with the fruitful discussions during sessions. The 22nd World Petroleum Congress in Istanbul has been one of the best-organized petroleum congresses, they told me," Dr. Birol said.
Generally speaking about the congress highlights, the IEA head noted that oil prices were a topic of major discussion since producer countries were not happy about the flat market. "Low prices, however, is an exquisite opportunity for fossil-scarce countries like us, Turkey, as energy imports constitute a large portion of our current account deficit." Stating that the IEA does not expect any considerable spike in oil and natural gas prices for the next four-five years, Dr. Birol highlighted that low or flat energy prices will yield a doping impact for the Turkish economy, facilitating the reduction of the current account deficit based on energy imports.
U.S. shale oil output equals entire Iraqi oil production
As the chief executive of the IEA where he previously served as the chief economist, Dr. Birol supervises the World Energy Outlook (WEO), which is the most authoritative source outlining the strategic analysis of global energy markets. When asked about the major change in the upcoming World Energy Outlook to be released on Nov. 14 from 2016, he said that the biggest difference would lie on the re-definition of the role the U.S. has recently undertaken in oil and gas. WEO 2017 will also elaborately discuss the impact of increasing shale oil and gas output on the U.S. economy, energy market and its global repercussions.
According to data compiled from the U.S. Energy Information Administration (EIA), shale oil output in 2016 was 4.25 million b/d, which corresponded to 48 percent of the U.S.'s total crude production. Moreover, the IEA estimates that shale oil production will reach 5.5 million b/d in July. Dr. Birol strongly emphasized the U.S. is taking firm steps to become an energy superpower as it has transformed into an exporter from a net energy importer country. This technological revolution has enabled profound output improvement in shale oil and gas, he noted.
"Let me put it this way," Dr. Birol said, "With shale oil production over the last seven years, the U.S. took over the oil production in Iraq, which is approximately 4.3 million b/d. He further drew attention to the fact that U.S. shale gas production amounts to the total LNG production of Qatar, which currently stands at 77 million tons per year, but decided to increase it by 30 percent to 100 million tons. Again, according to data compiled from the U.S. Energy Information Administration, about 15.8 trillion cubic feet (Tcf) of natural gas was produced directly from shale and tight oil resources in 2016, which corresponded to 60 percent of natural dry natural gas production in 2016.