In a bid to reach Britain, 385 migrants live in desperate humanitarian conditions near the La Chapelle Paris metro station in the 18th arrondissement close to the Gare du Nord station, revealing a grave human tragedy in the French capital. In the face of the burgeoning flow of migrants fleeing war, poverty or persecution in the Middle East and Africa, the humanitarian situation has become precarious as the region may face an epidemic due to poor sanitary conditions, French daily Le Monde reported.
Hundreds of migrants have been waiting in makeshift camps for their asylum application procedures to be completed. Others, who were granted asylum in France, are still sleeping outdoors in the camps while waiting for lodging.
Many makeshift camps have been set up in Paris due to the heavy influx of migrants to Europe. Hundreds of migrants waiting to reach Britain also live in temporary camps in the famed Sacre Coeur Basilica.
While anti-immigration sentiments have been on the rise in the country lately, French authorities have called for the migrants to be moved as early as possible to more decent shelters. However, migrants still face miserable living conditions with authorities currently taking a wait-and-see approach.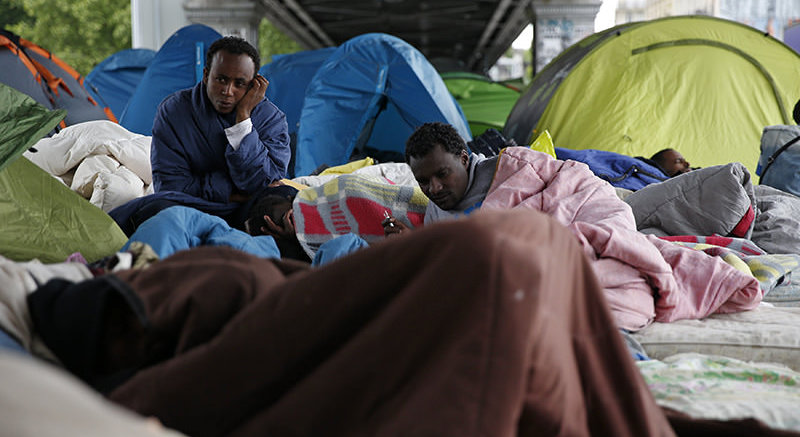 France has been shaken by human tragedy at migrant camps in Calais. As migrants move further north on to Calais, refugee camps in northern France are no better than those in Paris. As only a small number of refugees are eligible to enter European countries, those who can find shelter suffer from worsening humanitarian conditions in refugee camps, as a new camp built in the northern French city of Calais exemplifies. An 18-hectare wasteland in the French port city will be turned into a camp for as many as 2,500 asylum seekers. Hundreds of migrants will be relocated by French authorities by the end of April to the site, dubbed the "New Jungle," where there is no access to basic services. Most migrants coming from Eritrea, Ethiopia and Sudan and war-torn Syria intend to cross the English Channel and seek asylum in the U.K.
A human rights report released by the Council of Europe in February shows an alarming rise of intolerance and racism against all minority groups, while addressing the issues of vandalism and the prevailing discrimination against immigrants, the Roma community and the social exclusion of disabled people.
The apparent rise in racism and discrimination against immigrant communities in France was condemned by French Prime Minister Manuel Valls, who announced that the French government would pour 100 million euros into a major anti-racism action plan in order to increase the penalties for crimes deemed to have been fuelled by racism. Muslims, the Roma and the Jewish community have been targeted by vigilante attacks and stigmatized by hate speech, facing fear of harassment and discrimination. In the aftermath of a deadly attack on the French satirical magazine Charlie Hebdo that killed 12 people in Paris, French Muslims have faced violence. Reports of attacks on mosques and Muslim-run businesses in various places in France have led many French Muslims to fear rising Islamophobia. The French media reported revenge attacks on Muslims in the aftermath of the Paris massacre.