A survey conducted by the American-based research company Gallup in eastern Europe has revealed that Russia and Serbia perceive NATO to be a threat. In contrast, the citizens of NATO member countries consider the defense organization to be important for their national protection.
The survey published by Gallup last weekend indicates that NATO is popular in eastern European countries. The results come amid ongoing discussions over the organization and its role in the modern world, as well as criticism directed at the North Atlantic defense pact.
Gallup revealed that citizens of Poland, Lithuania, and Estonia, which recently received an influx of U.S. army troops, appreciate NATO and associate it with the protection of their country amid Russian annexation of Ukrainian lands in the Crimea and eastern Ukraine. Their results were based on data obtained from a sample of approximately 1000 people.
The results are noteworthy, considering that they come after U.S. President Donald Trump's dismissal of the organization as ''obsolete.''
Asked whether they consider NATO to be a threat to their country or if they associate it with the protection of their country, 62 percent of Poles, 57 percent of Lithuanians, and 52 percent of Estonians responded that they view NATO as an instrumental protection for their country.
In contrast, Russians who took part in the survey overwhelmingly asserted that NATO is a threat for their country.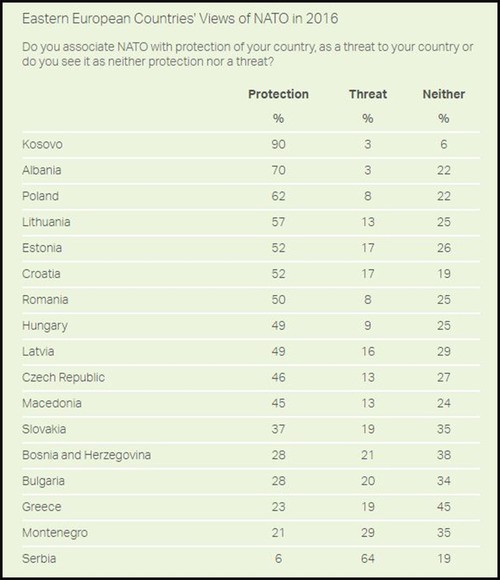 A similar contrast was also noted in the Balkans. 64 percent of Serbs, whose country shares a common Slavic Christian Orthodox heritage and is traditionally an ally of Russia, said they perceive NATO as a threat for their country.
By contrast, Albanians, Kosovars, and Macedonians appeared to associate NATO with the protection of their country, despite the fact that their countries are not NATO members.
Respondents in countries that traditionally fall into the Russian sphere of influence, such as Armenia, Kazakhstan, Belarus, Moldova also revealed their view of NATO as a threat.