A Milan judge on Tuesday sentenced a Moroccan kickboxer and his wife to jail terms over their links to the Daesh terrorist group and placed their two children in care.
Abderrahim Moutaharrik, a competitive kickboxer, was arrested in April on suspicion of Daesh links.
He was given a six-year prison term while his wife Salma Bencharki, was sentenced to five years, the AGI news agency reported.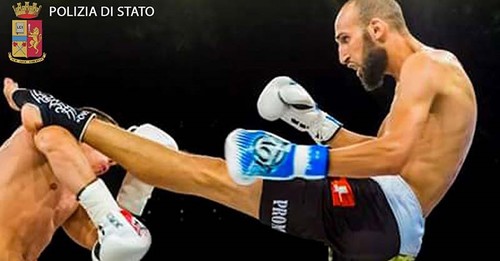 This undated handout picture released by the Italian police (Polizia di Stato) on April 28, 2016 shows Abderrahim Moutaharrik (AFP Photo)
They were arrested in April after police wiretapped their conversations and concluded that they were about to decamp to Syria with their two children, then aged two and four.
Moutaharrik was allegedly recorded saying he would be willing to mount an attack on the Vatican, which Daesh propagandists have regularly threatened to do.
His lawyer said after the sentencing that he had never said that and that he intended to appeal his conviction.
Two other people, Abderrahmane Khachia and Wafa Koraichi, received a prison term of six years and three years, four months of house arrest, respectively, after also being convicted of links to international terrorism.
Khachia's brother, Oussama Khachia, was expelled from Italy in January 2015 for promoting Daesh and reportedly died in Syria later that year.
Koraichi is the sister of Mohammed Koraichi, a Moroccan who reportedly took his Italian wife and their three children to join Daesh in the Middle East.