Greece is taking steps to remove hundreds of refugees from a makeshift camp at an ex-Olympics facility in greater Athens, a migration ministry source said Tuesday.
"We are down there today to register the refugees' needs and officially inform them that they should relocate to organized camps," the source told AFP.
Some 700 mainly Afghan refugees are living at the camp at Hellinikon -- which until 2001 was the Athens airport -- in crumbling flight lounges and abandoned sports facilities later built for the 2004 Olympics.
Rights groups have repeatedly labeled the makeshift camp on the coastal Athens front unsuitable for long-term accommodation and called on the government to find alternative arrangements for the refugees.
In February, some of the refugees went on hunger strike to protest against the lack of hot water and suitable food.
The ministry source said the relocation to other facilities would be "gradual" and declined to give a timeframe.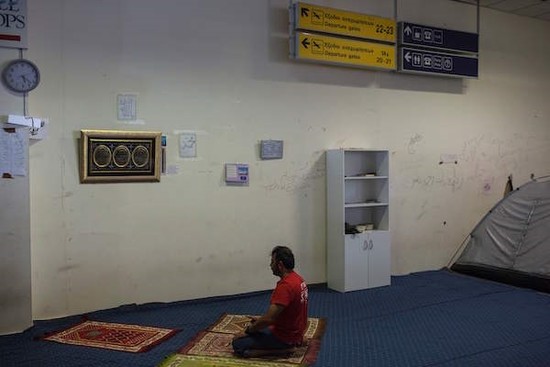 The refugees were initially deposited at Hellinikon from late 2015 onwards as a temporary measure, as Greece's leftist government scrambled to accommodate hundreds of thousands of people of all ages landing on Europe's doorstep to escape war and poverty.
Many of them slept at the port of Piraeus, at Hellinikon and at another improvised camp on the northern Greek border for months before organized camps could be created with the help of volunteer groups and EU funds.
Overall, some 60,000 people including many young Syrians, Afghans and Pakistanis, have been stuck in Greece for the past year after neighboring countries along the migrant route into Europe shut their borders.
At the start of the 2015 influx, Afghans were originally viewed as refugees and allowed to continue their journey from Greece to other countries in Europe.
But many now face deportation -- despite growing insecurity that saw civilian casualties in Afghanistan hit a record high in 2016 -- after a disputed deal between EU and Kabul to send migrants back.