"Nobody's Fault," Esra Carus's new exhibition at Istanbul's Kuad gallery, includes many references like Hannah Arendt, Carl Jung, Roland Barthes and William Shakespeare. Carus's works explore myths and archetypes, and the concept of evil in everyday life. "The reason I focus on the concept of evil is the fact that we are, both emotionally and physically, undergoing a global and unavoidable disaster situation that is caused by humans," she says in the exhibition catalog. "Terrorism, violations of human rights, violence, cruelty, apocalyptic expectation … all these forms of evil that we could not even begin to count were what led me to focus more on the id of the human being. … Political theorist Hannah Arendt's explorations of reality through the Holocaust and the roots of violence were my guide."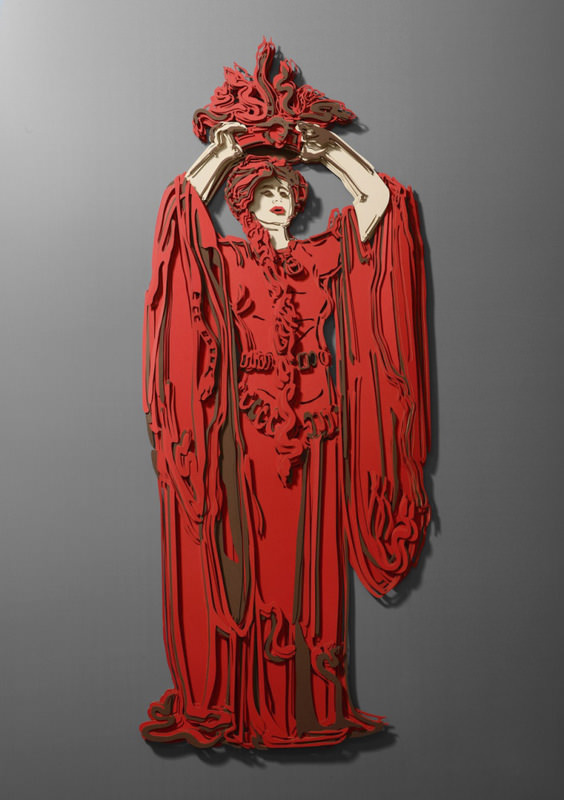 Born in 1968 in Istanbul, Carus is a graduate of Mimar Sinan University's Department of Ceramics and Glass. Her work has been exhibited in New York, Ankara, Diyarbakır and Istanbul. In 2009, she participated in the Atelier Babelle Flianders in Berlin; two years later, she attended the Berlin Literaturform in Brecht Haus, Berlin. Her lifelong fascination with German culture led Carus to Arendt and her analysis of the phenomenon of fascism in Germany.
Works on display in her newest exhibition include cardboard cuttings, collages, porcelain plaques and drawings. We see figures of Eve, red apples and mermaids as well as works devoted to silence, prophecies, sins, walks in the dark, last regrets and secret realities.
Another famous figure who gets a mention in the exhibition is Shakespeare. Carus said her work "gracefully commemorates the 400th anniversary of Shakespeare's death [April 23, 1616]." There are works that depict Lady Macbeth, Hamlet, Romeo and Juliet, Ophelia and Othello. The title of a drawing reads "Lady Macbeth's Fantasy;" the most charming work here, in my opinion, is titled "Words" and features the words: "Words, words, words" – a reference to Hamlet's famous soliloquy.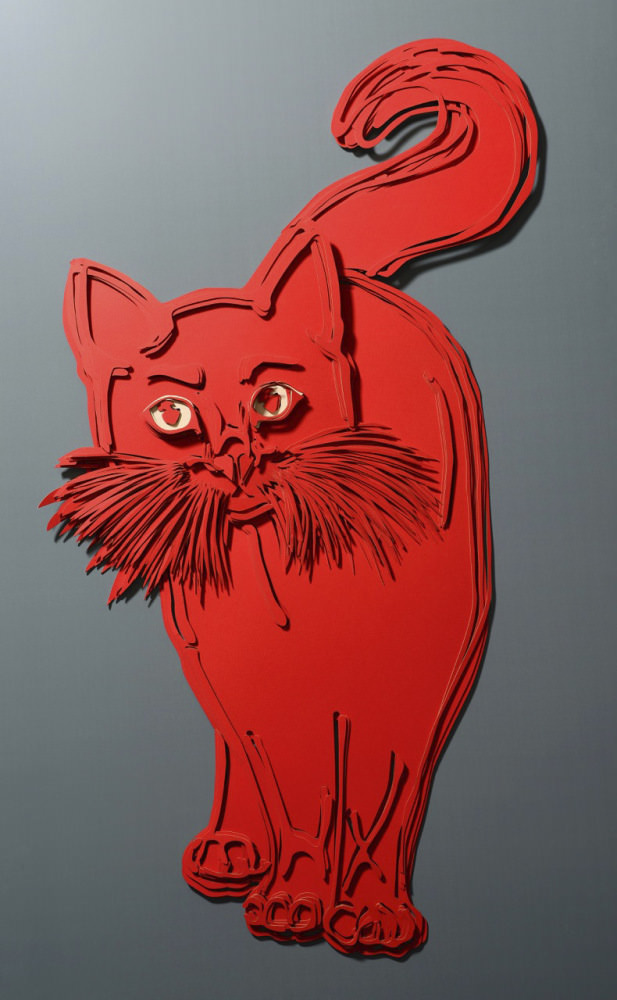 "Like Arendt, I am attempting to follow up on the ancient human knowledge that has been passed on from generation-to-generation, such as the history of Ancient Greece, Rome and religions," Carus explained. "Shakespeare was also a bearer who passed on this knowledge in literary form. Therefore, I want to look at the dark side of human nature through the well-known characters in Shakespeare's tragedies, and, at the same time, I would like all archetypes of evil and the concepts of sin and theodicy to be opened to discussion."
According to exhibition curator Beral Madra, "Carus has created a series of Shakespearean characters out of Hamlet, Ophelia, Macbeth, Othello, Desdemona, Romeo and Juliet and King Lear, together with allusions to other characters of myth and archetypes. With reference to present-day sociopolitical disorder and cultural confusion in Turkey and the region, Carus has grounded her initial idea in Hannah Arendt's 'Banality of Evil' and, together with the centaur, mermaid, satyr, and Medusa, presents the snake, owl, cat, bat and goat as ambiguous animals believed to symbolize evil."
"I have this lifelong interest in World War II and in literature," Carus told Daily Sabah in an interview last week. "I like using two sets of meanings for my works. This is something we also see in Divan poetry. I choose two subjects from two different centuries and from two different disciplines." Carus has read Arendt's book "Eichmann in Jerusalem" many times and found her focus on bureaucracy and the role it played in the Third Reich enlightening for her own work. "People don't deal with their consciences when the bureaucracy turns crimes into anonymous acts," she said. "Shakespeare's tragic characters pay for their actions with their lives. They come to terms with their crimes through their consciences. But it never occurs to [Adolf] Eichmann to deal with his crimes because he never thinks for a moment that he is guilty. He just follows the rules, he believes, and as such, feels no remorse."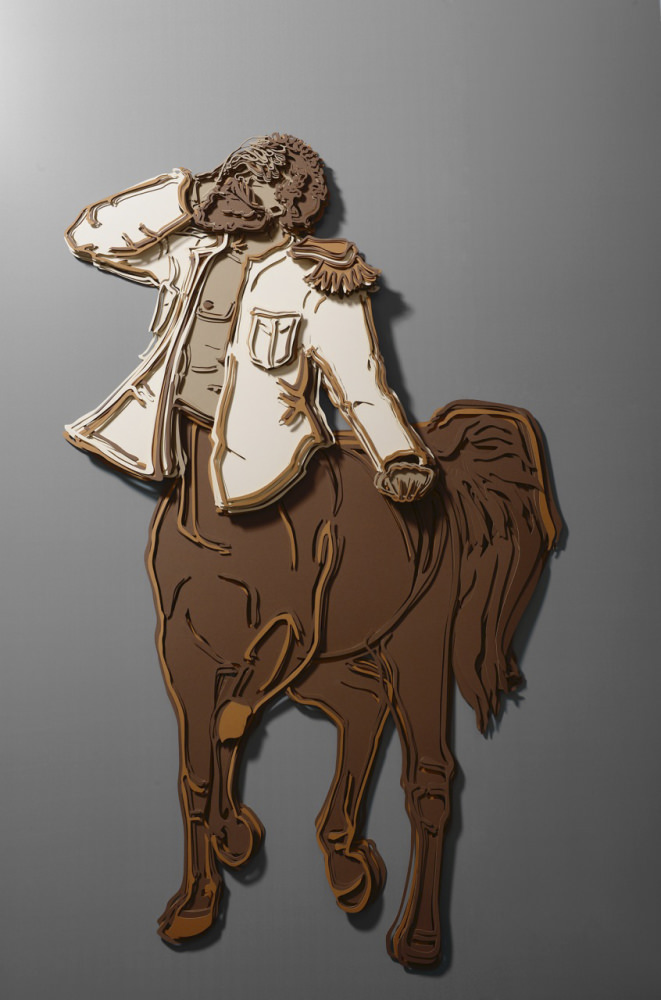 The mythological figures in the exhibition reflect the duality in humans, Carus said. "They are metaphors of 'the potential animal within.' They are archetypes of evil. Only when we know about the other in us that we become human." The other is a key concept for Carus: "The other is the alter ego of humans. If we are angry at someone, that has to do with our own character rather than the person we are angry at. Therapy, inner journeys and the process of 'çile' [suffering] in the Islamic tradition are all about meeting this other in us and then accepting ourselves for who we are. Mythology had again become a source of inspiration for arts during the Renaissance. For centuries, all the great masters of Western art had worked on mythology. They ended up turning mythology into a value system shared by all cultures and humans."
"While Carus' figures refer to historical art figures, they also reflect the skeptical aesthetics of today's comparative perception of mythologies," Madra said. "She adjusts their prescriptive identity to today's problematic system and patterns of identity. The elegant mermaid, embracing a snake and holding an apple is a clear reference to Eve and original sin, and it is juxtaposed here to the well-known tragedy of Romeo and Juliet and the foolishness and loss of reality of this famous couple. Lady Macbeth's physiognomy when she is putting the crown on her head reflects her deadly ambitions, and this scene is accentuated by snakes that extend her identity to a form of Medusa. Hamlet, disguised in a judge's robe and weighing the skull on a pair of scales indicates rising racism and sectarianism within judicial approaches. King Lear's unique local costume and goat horns are attributes of vanity and an association with the Seven Deadly Sins. The centaur in Carus' realm of interpretation is Othello, with a military uniform and an expression of remorse. While he regrets all his sins, he also symbolizes the irresponsibility of the bureaucracy, which continues to commit anonymous crimes.