Coming up this month, Shaul Shaham, an Israeli and permaculture expat, as well as the innovative force behind Ek Biç Ye İç, a spectacular permaculture cafe in Gümüşsuyu that grows its own produce used for their delicious array of fresh soups, salads and wraps, will be teaching a 90-hour hands-on urban Permaculture Design Course from on the weekends from May 27 to July 23, in which participants will be able to walk away with the coveted PDC certificate. A PDC, is an internationally recognized 72-hour course in permaculture design. Having the opportunity to catch up with this "hydroponic and aquaponic growing aficionado," I asked Shaul to describe for me in his own words what permaculture is, to which he said, "Permaculture is a network of comprehensive ecological design methods and techniques that addresses the 'why, how and what' and empowers both individuals and communities to generate conscience and resilience and become self-reliant."
Shaul describes permaculture as a "tool box" for sustainable and conscience living. "Permaculture is a way of life. It is energy management, whether you define energy as electricity, water, food or even your own physical and emotional energy. Permaculture helps you manage it and make it last," says Shaul, adding "Many people call it "uncommon sense", as when you read the principles you feel the logic behind this approach. I have seen permaculture implemented in all walks of life, regardless of your geography, profession, religion, gender or age," says Shaul, emphasizing, "Permaculture is about continuing our life on this planet with a more balanced relationship with nature and ourselves."
Shaul Shaham will be joined by İdil Akdos and other guest teachers for this 90-hour Hands-on Permaculture Design course that will take place in various locations on weekends from May 27 to July 23. This urban PDC is geared toward providing the tools and practice in order to live a more conscious and sustainable lifestyle in the city, and participants are welcome to take part in the full-course and walk away with a certificate, or to simply drop-in on some of the many field trips and modules that also feature site tours, demonstrations and discussions and hands-on participatory learning as well as taking part in "permablitzes," which are concentrated days of gardening full of action and with new friends.
Just some of the venues this course will take place in are Ek Biç Ye İç in Taksim, field trips to the Narköy Ecological Farm in Kerpe and Istanbul's Roma Bostanı. A typical day will take place between 10 a.m. and 5 p.m., with a potluck lunch break.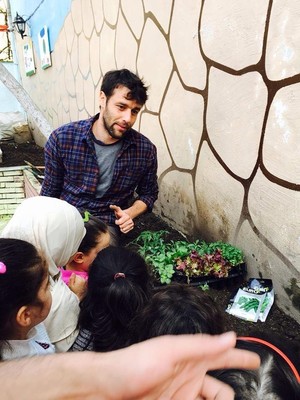 This is a unique opportunity to learn self-reliance and sustainable methods of surviving in the metropolis that is Istanbul, and Shaul should know, as he has been living here off and on for nearly five years now. His first visit to Turkey was in 2012 when a start-up eco farm called "Narkoy" invited him to implement and design a project for the farm, which is where he met a beautiful Turkish woman, "who is now my lovely wife," Shaul tells me. In 2014, he made the permanent move to Istanbul and joined the team at Ek Biç Ye İç to build an eco-restaurant in Taksim, "and the rest," as he says, "is history."
Since then, Shaul has been in charge of the ecological department of the permaculture café collective that is Ek Biç Ye İç. He oversees the seeding and harvesting of the hydroponics systems they have set up in their space in Taksim and beyond, such as one of Ek Biç Ye İç's newer projects which is to install a huge garden on a rooftop of a not-yet disclosed popular shopping center, which will have different types of gardens, aquaponics systems and a greenhouse and will be open to the public next month. For years now, Shaul and the team at Ek Biç Ye İç, have been holding permaculture-geared workshops on subjects such as developing an urban edible garden, his 'flag subject' hydroponics and aquaponics, worm composting, setting up a spring garden, which are just some of the topics Shaul will be covering in the upcoming Permaculture Design Course. To find out more, you can check out his website at shaulecosoul.com.
Shaul says the upcoming Urban PDC, will not only include all of the above, but it will also be a much deeper and active learning experiencing, giving participants a massive 'tool box' to learn how to live a sustainable life in the big city. "We will specifically be focusing on the urban environment in this course as it is most relevant to us as city dwellers, and we also will be focusing on practical activities, so students not only acquire knowledge but also experience and confidence."
A sailing spectacle on the Bosporus Strait!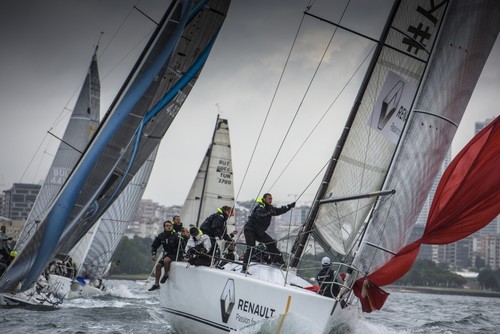 The Bosphorus Cup, in which sailboats from around the world will race along the Bosphorus Strait in Istanbul, to the visual delight of spectators along the shore will take place from Thursday, May 11 to Sunday, May 14.
Going into its 16th year, the Bosphorus Cup is a coveted one to attain and a stunning one to witness. With the spectacular backdrop of Istanbul, this race has nearly 100 sailboats, between 8 and 16 meters that come out from 30 or so countries to battle it out along the Bosphorus.
Set along a strait that divides two continents, the mission of this regatta is to increase the awareness of the sport of sailing amongst Istanbul residents and since its start in 2002, it has become a popular competition for city dwellers to come out and enjoy the view and after football, is considered to have the highest number of spectators in the city second only to the national sport of football.
"Sailing in the heart of history," is the slogan of the Turkcell Platinum Bosphorus Cup, which will take place over four days, from May 11 to 14. On Thursday, May 11, the event will begin with practice races that will take place off the shore of Caddebostan on the Asian side of the city. On Friday, May 12, there will be the Samandıra Races held off the shore of Caddebostan. Then on Saturday, May 13 there will be the Bosphorus Race, which will be held on a course starting from Dolmabahçe Palace that will sail to Anadolu Hisarı and return to the finish line that will be off the shore of the Çırağan Palace. On Sunday, May 14, the Samandıra Races resume off the shore of Caddebostan.
The best locations from which to watch this impressive display of colorful sailboats sailing across the Bosporus is the Beşiktaş seaside, Ortaköy Square, Akıntıburnu in Arnavutköy and Aşiyan.