YeatUp is an innovative website started up by two female Turkish entrepreneurs that allows for people from all over the world to offer special dining experiences from their homes and for customers to select from the wonderful options to enjoy a truly home-cooked meal in a local residence.
This new website, which was started up just a few months ago by two Turkish entrepreneurs by the names of Selda Susal Saatçi and Özlem Çulhagil Kır, works as a platform for people who want to create a special menu and dining experience from their homes and for customers who want to dine out in a unique home setting. There are menus on offer from locations all over the world in what has become an innovative and completely new form of global social dining. This online marketplace, at www.yeatup.com, offers a way for hosts to share their skills by hosting people in their homes and for customers, whether they be locals or travelers, it opens the door literally into the local lifestyle.
You get to select the host from their description and the meal offered on the website and so it is up to you whether you choose to dine in an artist's home or at the table of a skilled housewife. The choice is yours and the world literally is your oyster. Furthermore with every meal, YeatUp makes a donation to TİDER, an organization which assists those less fortunate in acquiring basic needs.
I had the opportunity to speak with founding partner Selda Susal Saatçi, who along with Özlem Çulhagil Kır, came up with this innovative new form of social dining.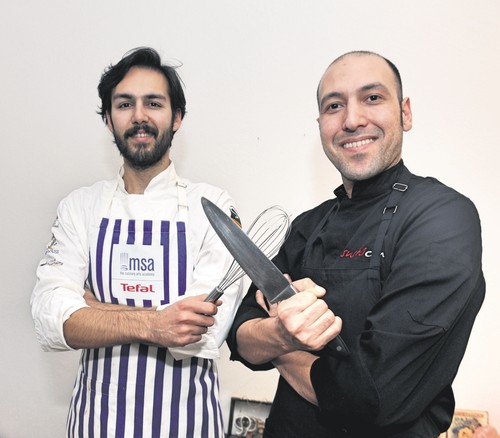 Professional chefs who participate in YeatUp's dinner parties.
Both have nearly two decades of corporate careers behind them, however she emphasized, they were extremely honored to be named finalists at the Webrazzi Arena, which is one of Turkey's most significant entrepreneurial competitions and where YeatUp was launched on Oct. 18, 2017.
I asked Selda how she came up with this unique idea to which she explained that it all started when she walked away from her 20-year corporate career in 2015 in order to pursue her own dreams. "As a traveler who has traveled to over 50 different countries, I was inspired by my own passions and wanted to bring people from different countries who do not previously know each other around the same table to give them the chance to bond as well as to give them a true local experience," said Selda.
She explained that she first started up the platform Live Global Eat Local, a smaller-scale similar version of what YeatUp was to become allowing for Turkish hosts to offer dinners for visiting foreigners. Selda said that within a year she had brought together over 100 foreigners, who were either expats or in Turkey for business, including consulate members to dinner tables with Turkish hosts. "I saw that people really enjoyed this concept and I decided to transform this hobby into a model, which even more people could benefit from," she said. This happened to coincide with the same timing as Özlem also leaving her corporate life and thus in November 2016, they began establishing the infrastructure for YeatUp.
With YeatUp, hosts from all over the world can offer special menus for this very special dining experience. The options are endless, with examples ranging from traditional Turkish meals and breakfasts to fondue and mantı parties. You can enjoy a meal of Konya classics in Konya or try out East Asian food in Çanakkale. While the options available in Istanbul are predominant at the moment, there are also meals held in cities throughout the world. You can have a Turkish brunch in London, or try the local cuisine in cities such as Paris, Berlin and Barcelona. There is even an option for Sicilian food in Johannesburg. There are a total of 15 cities that have dining options, which they hope to grow exponentially in the days to come.
I asked Selda what sort of qualifications hosts had to have to offer up a menu on YeatUp to which she said, "The common traits of our hosts is that they must have a passion for cooking and hosting others. They do not need to be professional chefs, however, they need to have skills in cooking and we expect for them to have clean homes."
There is a three-stage process to becoming a host. All applications are made through www.yeatup.com. The second stage involves inspecting the applicant's social media accounts and conducting a Skype interview, where they are able to check out the venue where the dinners will be hosted, such as the living room and bathroom areas. The third stage involves the prospective host to organize a test event in which the guests decide whether the host will become a permanent host on the website. A rigorous process indeed, however, it ensures that the experience will be as professional and enjoyable as possible. "To provide an example in terms of figures," Selda said, "We have received approximately 200 applicants thus far, however, have only accepted about a quarter of the applicants as hosts."
There is also a 360-degree evaluation system on the website. Guests are able to review hosts and vice versa, all which are easily visible by clicking on the profile of the hosts. YeatUp also operates a "Food For Good" process in which a portion of the proceeds from each meal go to the Basic Needs Association, aka TİDER, which assists those less fortunate in acquiring basic needs.
Meeting locals while eating amazing food in unparalleled settings and contributing to a good cause seems to be the perfect combination for any an expat or visiting foreigner. "I believe YeatUp presents an important opportunity for expats. This is an extremely opportune platform to learn of a country's culture and customs, trying local foods and establishing a social environment," said Selda, adding: "With YeatUp, expats can easily and quickly become integrated in social life."