In Turkey's southwestern towns, the camel wrestling season is in full force and bigger than ever. A spectator sport unlike any other; camel wrestling is a passion for the love of these magnificent beasts, the excitement of sparring off and the strong sense of community and bonding camel wrestlers have amongst one another. Every Sunday over the next three months, Turkey's legendary camels will be fancying up and facing off in what is a truly colorful event and fun way to discover more about our adopted homeland.
Camel wrestling has taken place on these lands for over 2,000 years. Every year from November to April, towns mainly along the Aegean, as well as parts of the Mediterranean, host camel wrestling events in which 100 to 200 camels square off using their necks and feet to try to pin down their opponents in what is an instinctual dance of masculinity done amongst male camels in mating season. Although the name of the sport infers a dangerous and violent event, experiencing a camel-wrestling match in Turkey is anything but. These prized possessions are decorated to the nines and spend the majority of the day standing proud as they wait their turn to spar for a match lasting just minutes as dozens of caretakers stand aside ready to separate the two camels before either get hurt. Winning, although nice, is not the sole objective, as these events are more so about appreciating the beauty of these spectacular animals and the community that the love of camels brings together.
Meet Müjdat Bayram, 36, a camel wrestler known as "Kadırgalı," for the beach, which lies on the shore of the ancient town of Assos, where he grew up, and for his flock of four camels that wrestle under the same title. Müjdat is an interesting example of how the love of camels can wonderfully take over your life. An Assos local and the town's most eligible bachelor, when summer ends this handsome and dynamic restaurant and hotel owner has a double life as a camel wrestler. What is significant about Müjdat is that he doesn't come from a long line of camel wrestlers, instead, this was an interest he developed and pursued all on his own accord and it now has become his passion.
Müjdat was just eight-years-old when he went to his first camel wrestling event and he bought his first camel at the age of 16. He then went on to spend a decade as a professional commando only to return to his homeland and buy the legendary camel he named "Kadırgalı," which would also become the title Müjdat himself would become known for. As camels wrestle and win, their reputation begins to precede them and people come out in anticipation of getting to see camels, such as "Kadırgalıs" strong contenders, face-off in the ring.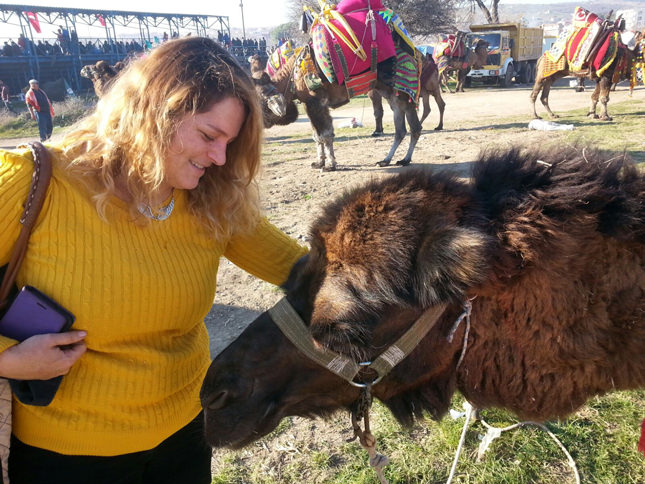 Müjdat has four camels, each are of the Tülü breed from Iran, a hybrid between a two-humped Bactrian and one-humped dromedary. Of the three to four thousand camels in Turkey, a vast majority comes from Iran and Afghanistan, due to their grand demeanor and impressive stature, which makes them the perfect contenders for the sport. Male camels have it in their nature to impose their strength over competing males for a female camel's attention during the mating season from November to March and this is a controlled way for them to safely do so.
"It's all about the fame of the camels that wrestle and displaying their beautiful and grand stature," says Müjdat. When I ask about how important winning is, he tells me that it is not so much about winning each fight, but more the reputation gained from multiple wins and showings that raise their value and make a name for the owner of the animals themselves. These animals are highly revered, even considered holy, and the emphasis of these wrestling events is entirely on keeping them safe, in what would be a dangerous bout in their own natural surroundings. When the camels wrestle, there are nearly two dozen 'separators' on hand ready to pry them apart the instant a move becomes a threat to injury. For their owners, keeping their camel safe from harm is the number one priority to ensure they have a successful career and happy life. "You have to have a deep love for these animals to be a camel wrestler and their well-being becomes all that matters to you," Müjdat tells me.
The excitement amongst the male camels is palpable and it is obvious they know what they are about to embark on in the ring. They wave their spittle into the air and stand proud and ominous to the crowds as their owner parades them around the ring before they battle. Each match lasts just minutes and upwards to a hundred matches could be held in a single day. Camels are paired according to size, style and fame and the winners go onto be paired with other winners and vice versa for the defeated.
I asked Müjdat if he ever gets scared seeing his prize possessions out there in the ring and he tells me it is an excitement like no other. "It is like my heart will beat out of my chest, because you want them to be safe, but you want them to win as well because otherwise the camels become sad and you have to console them after a fight. They cry after they run away from a fight or get pinned by their rival and so all you want to do is make them feel better," Müjdat says adding, "You become connected to one another, and they are always on your mind. I think about them all the time," he tells me adding that he spends his days and nights with them at their barn, feeding them, walking them up to five kilometers and grooming them daily.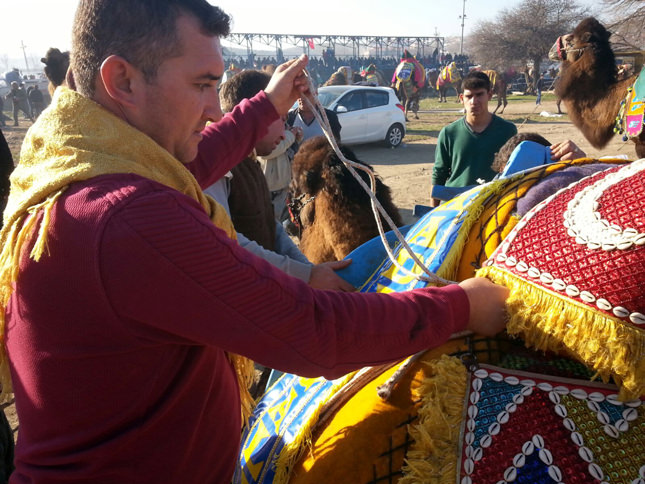 The summer months are when camels bulk up for the winter, eating upwards of five kilos of greens and feed and drinking 20-30 kilos of water daily. In winter, this drops significantly as does their temperature, which is why they are dressed up in the colorful coverings that have become a major showpiece of the matches. Going way beyond practicality, these camels are dressed to the nines, some even donning anklets. Great attention is paid to their accessories, which are truly spectacular in their vivid colors and creativity. Although, with his fish restaurant and campsite Athena, Müjdat himself doesn't have the time, while many camel wrestlers will weave and embroider their own decorations with diligent care and pride.
The characters and their names, many comical and endearing references to loved ones, is all a big part of the show and like Müjdat's four camels that compete under the title of Kadırgalı, with the names Tatar Selo Audi, Adali Ali, and Halil, the latter named for his father; many people come out just to see the beautiful animals whose reputations precede them. 'They become members of the family,' says Müjdat, saying that although he is single, for families that have camels, the animals are like just another sibling, except in this case their human brothers and sisters don't envy them, they just love them as if they were the same species.
"In fact, we are all a big family, not only with the camels but also the entire camel wrestling community," Müjdat explains adding that it is this solidarity in their love for the animals that makes being a part of this tradition indispensable for anyone who has gotten a taste of camel wrestling. "Turks are known for their hospitality, but in this community it is even more important," says Müjdat explaining that they have a wide network of camaraderie based on the shared sport. Furthermore, these events are truly fun. With hundreds of decked out camels on display, spectators who bring out full picnics and barbeque fare and wandering musicians adding to the mayhem, camel wrestling is definitely an experience to be had in Turkey. Every Sunday through to March, four to five camel wrestling festivals will be held each week in towns and villages in Turkey's southwestern provinces, such as Muğla, İzmir, Çanakkale and many more.