Turkey's version of Bear Grylls or Ed Stafford, yet even more handsome, muscular and knowledgeable, Serdar Kılıç has been teaching his Turkish audience the tricks of the trade of making it in the wilderness in Turkey. His mission, as he tells me, is to "repair the broken tie between people and nature," which he does on Friday nights at 10:20 p.m. on his show "Doğadaki İnsan" on TRT Haber.
This is the fifth television series for this hunky presenter who has spent a good half of his life out in nature. He has also traversed Patagonia, spent 17 days crossing the Sahara Desert, kayaked in New Zealand, as well as experienced the nature of countries such as the U.S., Morocco, Georgia, Peru and even Borneo to name just a very few. In Turkey, he travels all over the country where he shoots his latest television documentary series aimed at showing how people survive and thrive in nature.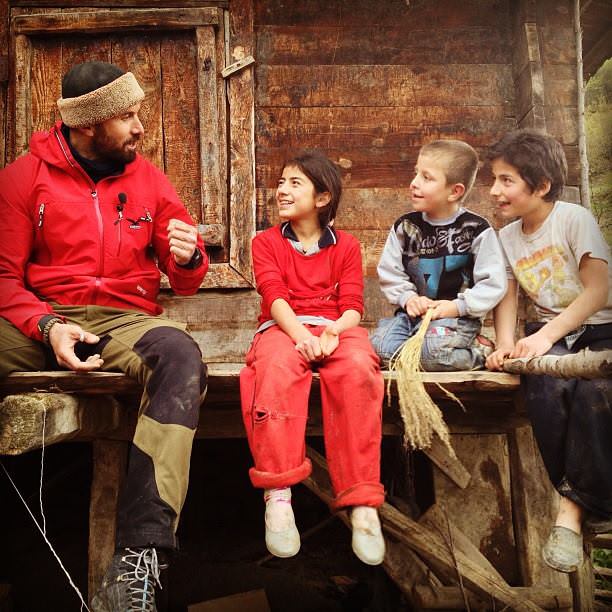 There hasn't been a more pertinent time to reconnect with nature or for many urban dwellers to learn about it to begin with. Which is why, Serdar Kılıç, Turkey's very own adventurer, explorer and survival expert is teaching his audience the skill set needed to survive in the wild as well as showing kids a variety of outdoor sports and activities in nature in his summer camp Wolftrack in Bolu.
I had the opportunity to meet with Turkey's leading explorer, the rugged, chiseled, tall, handsome and knowledgeable Serdar Kılıç to discuss his TV show, upcoming camp and projects all geared towards familiarizing people with the forests. A super fan already, I had the chance to learn more about his background and achievements and trust me; he is just as accomplished on paper as he is exhilarating in person.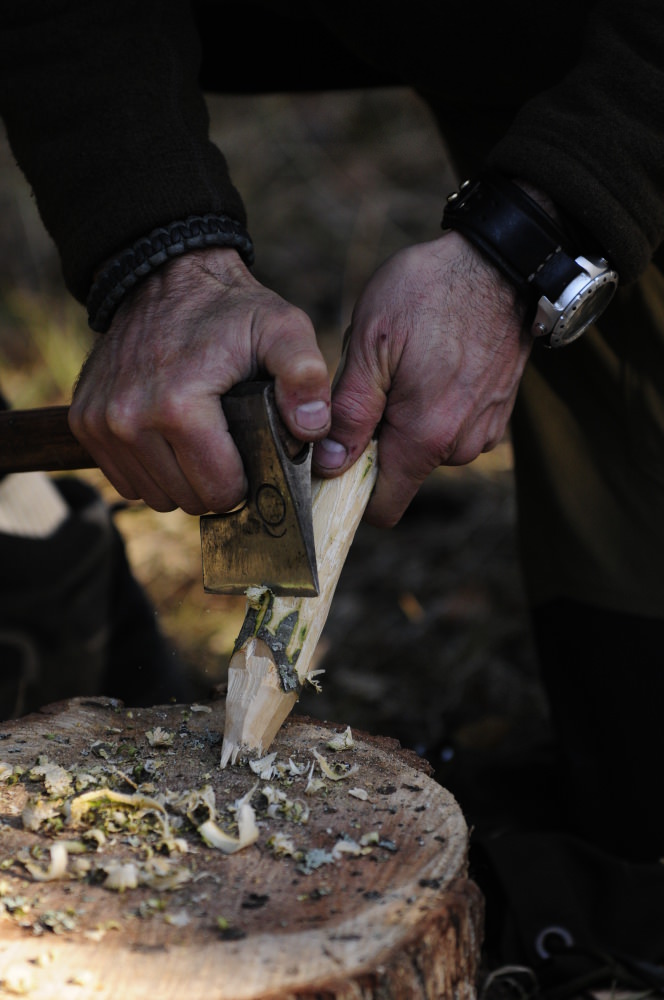 An educator, athlete, adventurer, motivational speaker and expert on all things "nature," I asked Serdar how his outdoor adventure began. "This is knowledge that was given to me by my father and grandfather. We were Kafkas migrants by heritage and my ancestors came to Anatolia during the Russian-Ottoman war. But, because they lived in the mountains in Sivas, the center of Anatolia, they were involved in husbandry and agriculture," said Serdar.
The son of a military father, he grew up all over the country, but would spend the summers as a child in this land of his ancestors. It was like a school for him, like an outdoor workshop, he says explaining that it was there he learned how to stop a cut from bleeding if he fell off a horse, or how to access food from the surroundings if he was hungry out in the wild, all of which he says is inherited knowledge from his grandfathers.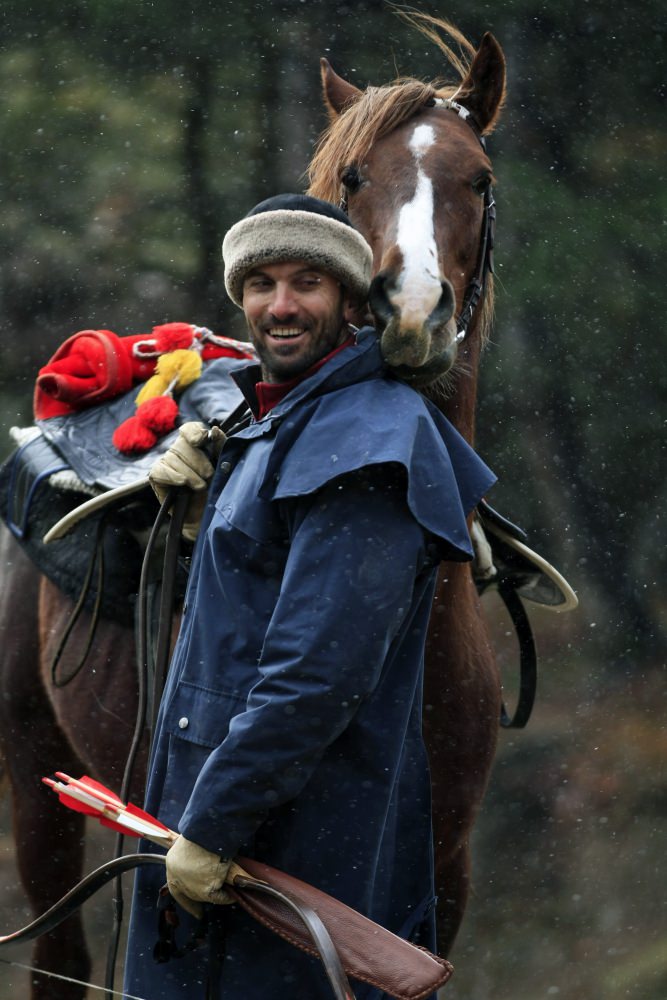 "For example," he tells me, "I would learn from my grandfather how to graft a tree in the forest," an important practice to ensure a tree provides an abundance of fruit, he explains, adding "I would ask him why we would do this in the middle of the forest, to which he would ask me, 'Son, don't the birds and the wolves of the forest need to eat?' When you experience this, your connection with nature becomes stronger. But in the city, we are far from this, a tree just looks like a painting. Yet, if you have a connection with that tree and have sat in its shade, picked its fruit or have made a table or a musical instrument out of it, then suddenly you have a connection with that tree. For my ancestors, this information handed down to them was just basic knowledge, but for me, I really took it on in a deep and philosophical way," Serdar tells me.
"I just came back from Kars where the elderly were skilled and happy people, living a dynamic lifestyle from dealing in husbandry, agriculture and even their culinary traditions of grinding their own wheat and making their own yogurt. Whereas in the city that is not the same, people are withdrawn, unhealthy and unhappy. This is because, we have never quite acclimated to the city," says Serdar, emphasizing, "What we have forgotten is why people are here on this earth and that the best answer for everything can be found in nature."
I asked the very impressive Serdar, in statute and in spirit, how he became an outdoor educator and survival skills expert, to which he said, "Like everyone, I started out by being a student." And what a student that was! He began in the Geological Engineering department at Middle East Technical University in Ankara and then moved on to Physical Education and Sports and received a graduate degree in Sports Organization and Management. However, it his certifications in all things being active in nature would require that he lists to me, although way too many to count. But let's see, there is mountaineering, skiing, canoe and still-water kayak, search and rescue and he is also a skilled archer and horseback rider, to name a very few. Many of his certifications were acquired abroad such as by the US organization First Station Response, who later invited him to return as a trainer himself. He also shares his experiences with Turkish commando teams in places such as Eğirdir and Kayseri. But this isn't even the peak of the mountain as it were because Serdar also runs a camp for children, he has shot at least five television documentary series and has racked up records for Turkey as an outdoor enthusiast.
In 2000, Serdar set up his Camp Wolftrack, a summer camp for kids aged eight to 16, to gain confidence and survival skills in wilderness taught by none other than Serdar Kılıç himself. In this survival camp of sorts, kids learn bush crafts and a variety of outdoor sports as well as spend a week without their parents in this camp with no modern amenities such as electricity. This year will be the cam[s 17th season and in the second half of the year, Serdar plans to add adults to the roster, creating a program for fully-grown adventurers as well.
For now, you can catch Serdar on his show "Doğadaki İnsan" (People in Nature) in which he explores Anatolia and the ways in which people coexist with the wilderness. Most recently, he built an impressive birchbark canoe. But this is nothing new, his previous show followed the building of his mountain cabin by hand in the hills of Bolu.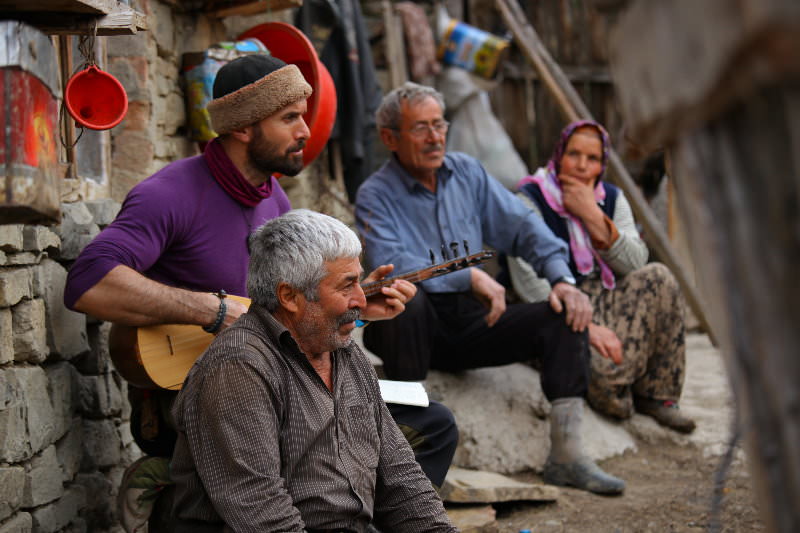 Serdar's first television documentary series was "A Man's Wilderness" (İçimdeki Doğa), which began airing in 2008 and taught tricks and skills to survive in natural surroundings in harsh climates. His second series called "Doğada Tek Başına" (Alone in Nature) began airing in 2010 and once again he provides info on how to survive in nature. In the 2011 series, "Doğada Çocukla" (In Nature with a Child) Serdar shares his skills with the young ones and in "Doğada Tek Başına Dağ Evi", which aired in 2012, Serdar builds his impressive home.
Serdar plans to revive his mountain cabin series, implementing all of the techniques learned on his current series, based on the concept of how someone would survive in nature without money. He will have animals and will clip their fur and use natural dyes to make accessories such as gloves, to give just one of the many examples he excitedly shared with me.
Serdar also has a full-length feature film project that should hit the big screen towards the end of this year. More an adventure drama than a documentary, Serdar will be setting up camp with his niece in the wilderness teaching her how to survive until things take a turn for the worst and she has to put the skills she has learned to the test.
I asked Serdar if he had any suggestions as to where our expat readers could best experience Turkey's vast nature to which he said, "I have been to 90 different places from rainforests to Alaska, Patagonia to the desert, but in Turkey's geography, the Black Sea region, especially the mountains spanning from Trabzon to Artvin, and the wildlife on the northern shoulder and continental climate on the south shoulder and how that has affected the layout and lifestyle, is quite amazing. I have been to New Zealand, but they don't have the wildlife we have here, such as grizzlies brown bears, hyenas, wolves, jackals and the creeks are filled with trout, plus the views of the Kaçkar Mountains facing north are just as spectacular!"