With fall approaching, it's time to revisit your wardrobe and see what's out there in the clothing world. Kiğılı's fall clothing line especially drew my attention. I loved the catalogue shootings, which really reflects the modern edge of Kiğılı. The purple and dark blues they have used this season fascinates me. The creative director of Kiğılı, Ahmet Sait Çakıcı, again created assertive and modern designs. He has combined comfort with elegance. In this Kiğılı collection, younger, more dynamic and more energetic "slim fit" patterns shine. It is possible to see this in all products from jackets to trousers. The new trends are clearly "cashmere" and "wool."
When trying to get warm during the cold winter days, comfortable wool and cashmere fabrics are both weather appropriate and elegant. Gingham, jacquard and printed shirts catch the eye. Quilted shirts, on the other hand, can be used as coats worn over t-shirts. Elbow patched, tartan bind shirt coats are also popular. Another trend of the season is the tricot and woven vests, which can replace sweaters and still be a good choice for the cold weather. Patterned, wool and duplex, velvet collar coats, the first-timer knee-length coats, sleeveless vests and specially lined trench coats help you stay warm when it is cold. The collection also features purses, wool and denim ties in addition to shoes.
Today, Kiğılı serves its customers with 225 stores in 66 cities across Turkey and with 28 stores and 9 corners (37 stores in total around the world) in Austria, France, Iran, Iraq, Azerbaijan, Georgia, Turkmenistan, Kyrgyzstan, Kazakhstan and China. The more they modernize, the more successful their creations get. Congratulations to the entire team, particularly their CEO Hilal Suerdem.
Mudo was another brand that has been catching a lot attention this fall and boasts Turkey's fashion dream team by employing leading designers. Over the past few weeks, I have examined the Mudo special 2015 Fall/Winter collections of Giray Sepin. There are sportive designs in her collection. The cotton, flannel, wool, real indigo and duplex fabrics are accompanied by 3-D jacquard design tricots. The feature of duplex in tricots stands out as a remarkable factor. I loved Giray Sepin's sportive approach, as well as her use of dominant black and grey colors. This fall seems like it is going to be very comfortable and sportive.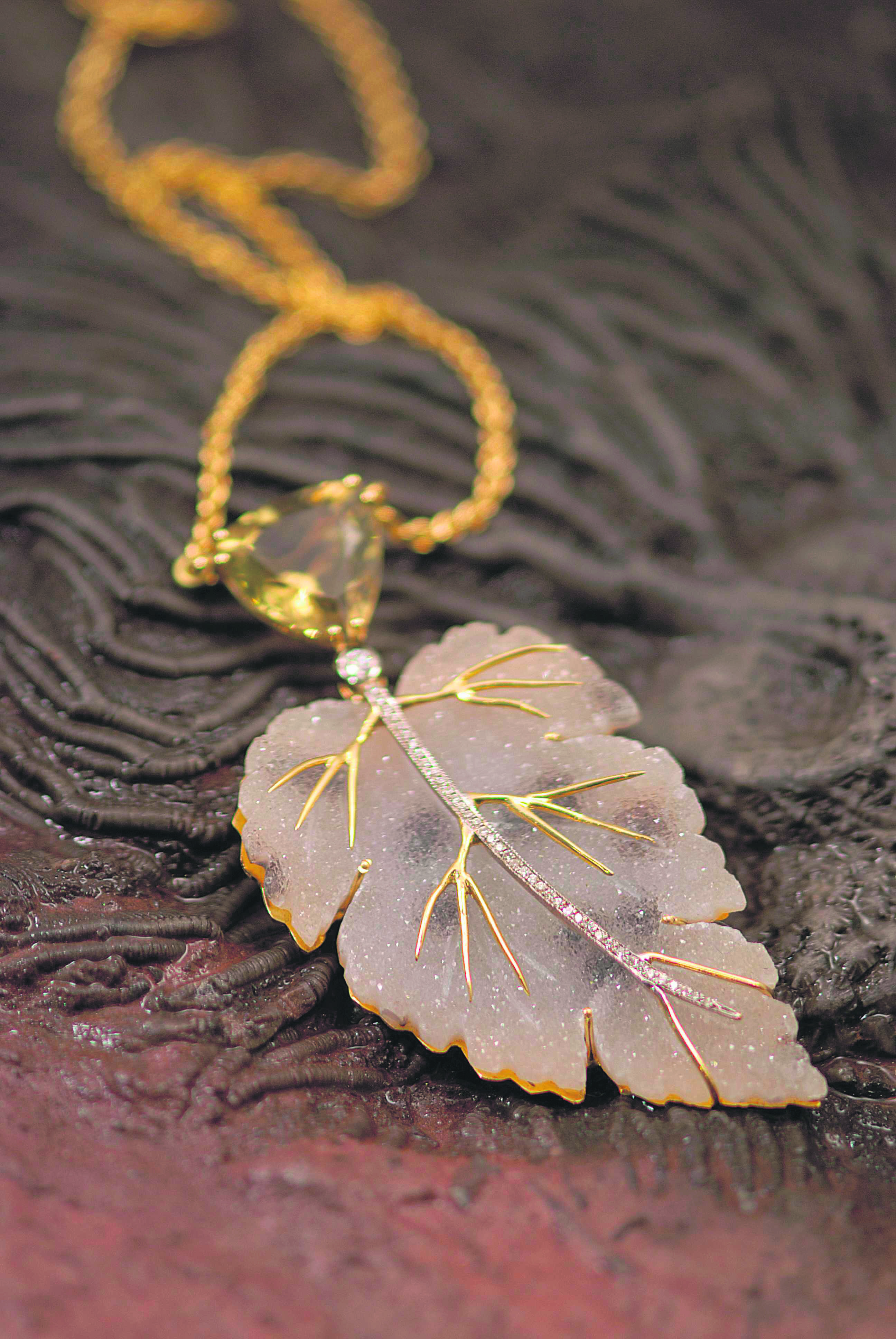 You must see Tina's jewelry design in the shape of an autumn leave.

As for the accessories, there are indeed spectacular jewelry designs for women this fall. One of the brands offering these is Tina. Setting foot into the industry in 1972, Tina Christa Sezer was the first woman to own a jewelry shop in the Grand Bazaar. Tina's daughter, Esra Moreno, who studied Gemology in Germany, also joined the Tina brand, which was established in 1992. You must see the jewelry in the shape of an autumn leaf in the Nişantaşı location. There are also many original designs made with natural stones. I would like to underline the fact that celebrities and the rich and famous that visit İstanbul also shop at Tina. With such a wide range of designs, I am sure you will find the one you'll love.
Top 3 People to Follow This Week

- Özgür İpekçi / Organizer
- Lian Beraha / Personal Shopper
- Sezar Aptulova / Nutritionist
Top 3 Restaurants of the Week

- Ops Passage / Karaköy
- Konsolos / Beyoğlu
- Delmare / Çengelköy
Top 3 Hotels of the Week

- W Hotel / Akaretler
- Sofa Hotel / Nişantaşı
- Güral Hotel / Sapanca