Roughly 500 Syrian children have received taekwondo training since sports activities were launched three years ago at the Öncüpınar Refugee Camp in the Turkish border city of Kilis, benefiting from the healing effects of these activities. Offered in collaboration with the World Taekwondo Federation and Turkish Ministry of Youth and Sports, taekwondo courses were opened at the refugee camp to relieve the sorrow of Syria's youngest refugees, who were given a chance to discover their talents.
Turkey has continued to offer medical, educational and social services to the youngest Syrian refugees, leaving no child behind since the day the Syrian civil war began.
Hundreds of Syrian children participate in taekwondo courses three days a week, sharing taekwondo mats with their friends and uniting with the shared hope that one day the civil war in their native Syria will end and they will be able to share their talents with the international community in competitions around the world.
Syrian athlete Ahmet Hachalit, 12, said he was first introduced to taekwondo after arriving in Turkey three years ago, expressing his contentment and satisfaction in the support that has been provided so far.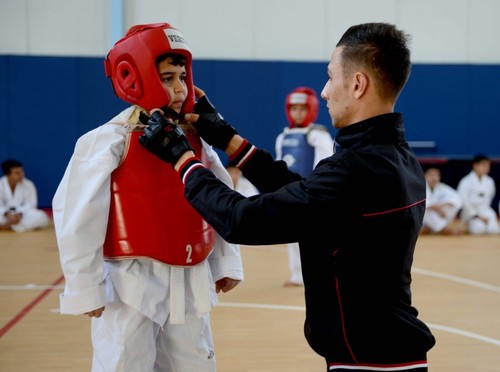 Young Hachalit said that he hopes to participate in international competitions in the future, adding that the only problem is that he had to leave some of his relatives behind in Syria.
Another young taekwondo student, İsmail İsmail, 11, said he has been given numerous opportunities since coming to Turkey, including education and sports training.
As he is trying to forget what he endured in the Syrian civil war and the aftermath of his escape, İsmail said that his biggest dream is to represent Turkey in international competitions when he grows up.
Abdullah Mohammedi, 17, expressed his gratitude for the interest and attention shown to him and other refugees in Turkey, saying, "I was introduced to taekwondo here. Our federation provides us with support and our instructor shows the required interest in the best way possible. We did not have a gym before but now we have a nice one and I thank you for that. I want to compete for Turkey one day because there is a war in our country." Bilal Neccar, a 19-year-old athlete, said that he started taekwondo about three years ago in Turkey, two years after he and his family sought asylum in the neighboring country. Stating that their coaches provide them great support in every way, Neccar passionately said, "They provide us with possibilities. I have forgotten the sorrows I experienced thanks to taekwondo. Hopefully one day, if I join international competitions, I will wave the Turkish flag in the sky and fulfill my duty of loyalty to Turkey."
Öncüpinar Refugee Camp coordinator Seyfettin Çimen said in addition to education camp staff aimed to provide social support and sports activities to the children of Syrian families living in the camps.
The sports project has launched by the camp administration and children have been directed to different sports branches in accordance with their talents since then.
Çimen said that one of these branches is taekwondo, asserting that 500 students have been trained in this sport since it opened. Recalling that taekwondo was first offered in a very small facility due to limited resources, Çimen said that after contacting the Youth and Sports Provincial Directorate, they received support for the cause.
"[The directorate] helped us find trainers and assemble materials. The success of our students has also risen with this training. Students have received degrees in competitions held within this province and others," Çimen added.
Taekwondo coach Mustafa Tohumcu said that Syrian children have begun to heal, leaving behind bad memories of war in exchange for happy memories being made in sports training.
Emphasizing an announcement by the World Taekwondo Federation that aid in the form of the Social Assistance Fund, sports equipment and relevant supplies would continue, Tohumcu said that support provided by the Turkish Ministry of Youth and Sports is also increasing. He said that this support allows children to continue taekwondo training uninterrupted, thanks to the assistance provided by the ministry and the World Taekwondo Federation.
Tohumcu noted that camp coordinators are aiming to get more children interested in taekwondo. He added that each of the refugees has a separate story, including some of who lost relatives and others who have experienced pain and suffering.
"It makes us happy to assist children in healing from these traumas with taekwondo. We have 50 athletes that we have selected in certain age groups. If they continue to work uninterruptedly, then the talented children will represent our country on international platforms," Tohumcu said.
These children who first came to the course weary of life, quickly recovered from the trauma after pouring themselves into sports training.
Tohumcu went on to say that they are very pleased with this project and all of the trainers have developed a very special, emotional bond with the young athletes. "We want to train these people to become good, strong and healthy athletes who will represent our country if they stay or represent their own country if they leave," he concluded.