Until last year, all forms of personal communication devices were not allowed in the Turkish military. Leaving your smartphone, Facebook and Instagram accounts along with all other millennial means to communicate with the rest of the world should open up a lot of free time to think about what really matters to you: The life outside of the main security gate, your loved ones and the opportunities you wish you had before joining the army. It was during one of those semi-meditation sessions that I came to realize that losing it all the means of communication makes passing away so sad. When you die, you instantly lose all the opportunities to say goodbye to your family, speak one last time with your friends or see the first tooth of your baby grandchild.
But what if this was not the case? What if you can plan your last message, schedule your last email or even prepare your farewell gift way before your inevitable end? Thanks to the ever-advancing communication technology, we now have a startup which simply lets users record and schedule calls, emails, messages, videos and even gifts, to be sent after they die to their loved ones and families. This service has made a name for itself when it won the selection prize for joining Etohum 2017 accelerator program. Its founder, Ebraheim Shetewy, is a Syrian entrepreneur who, after pursuing business opportunities in Libya, Sweden, Russia, China and the U.S., moved to Turkey three years ago. According to him, it was not your typical "wow moment" when the service was first introduced: "A lot didn't like the idea, I received a lot of criticism on how could we create something that conflicts with basic human nature which is accepting death." Thankfully, criticism went down once the service started to successfully "connect" deceased persons with their families. "We added the unsubscribe option to allow those who do not prefer to receive such phone calls or messages anymore. We understand how painful that could be. The unsubscribe option is being taken care of by humans, followed by a phone call so we make sure that those who unsubscribed understand that we are only providing a tool, and we never meant to cause any pain for them," Shetewy explains.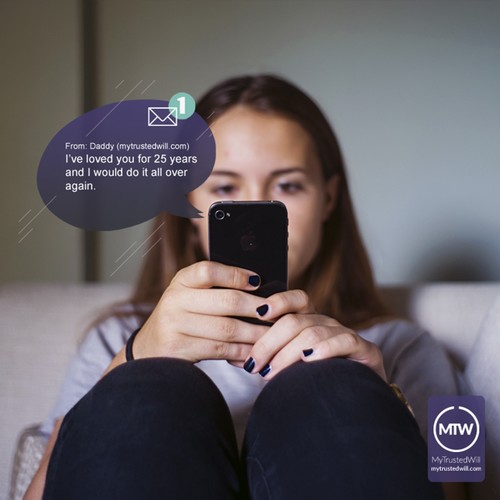 For a 3-month-old startup that provides a very unusual service for a very limited audience (they mainly target senior citizens, but they won't turn down the general public either), My Trusted Will has a rather strong user base which consists of 2,200 verified users who are also able to auto-identify nearly 200 death cases up to now. The technical infrastructure that provides a basis for the service itself is one of the main reasons this many people have trusted their most personal messages to be delivered by My Trusted Will: "We are using four layers of military-grade encryption, one of these layers is the same as the one being used by the U.S. government," says Shetewy. That means your personal message can be seen by only two parties: You and your loved ones whom it addressed to. Data privacy and security is very important for a service that involves the departed, and the young CEO of the startup is very well aware of that: "My Trusted Will is using six highly encrypted servers to help to keep our users' data safe, our system infrastructure was built to ensure the safety of these data, even we cannot decrypt or view any of the uploaded data or information."
That might not sound like healthy advice but after years of doing business in different geographic regions, My Trusted Will founder and serial entrepreneur Shetewy is ready to share his point of view in today's competitive business world: "Code every day with or without a team, don't sleep, do whatever it takes to get your project online, or at least a successful Minimum Viable Product (MVP), then venture capitals and investments will find you."
His present success did not come by chance either: "I learned that no one is listening to ideas, no one will help unless you start to help yourself, I learned to save money to fund my own projects and ideas instead of wasting it like most people my age are doing right now, I have tens of startups that failed, but I learned something from them."
This approach has allowed him to self-fund My Trusted Will in the early days, invite veteran developers, designers and software engineers to join him, and at last, make the cut for the Etohum accelerator program. "It was a long but lovely journey, Etohum is more like a 'family' rather than a standard ordinary accelerator. We received valuable mentorship and pieces of advice that helped us through the investors' meeting and the following pitches."
His team has a clear target in front of them; expanding their audience to 100,000 users. And they are working hard to get there. Expect to hear more from My Trusted Will later this year as they are preparing to release more interesting solutions and it will be about Internet of Things and VR.