Living in a concrete world no longer appeals to modern day people. Most people either leave their handsomely-paid jobs and hit the roads to discover the world or return to nature, reliving the Wordsworthian ideals. Two friends in Balıkesir decided to change their lives and create a new business in a village in Turkey's west.
In the rural village of Zeytinli in the Edremit district of Balıkesir province, a dairy and goat farm has been established with the help of a bank loan by two unlikely agrarian entrepreneurs: A food engineer and a chemist whose lives have been changed with the help of a starter loan.
Chemist Cansu Cansunal, 36, and food engineer Ozan Ektik, 36, have embarked on an unlikely endeavor: Dairy goat farming. The two men, who have been friends since their university years, started their business one-and-a-half years ago. Although these young entrepreneurs have never worked in a rural environment before, their business is thriving, and after investing in 20 "Saanen" dairy goats while starting their business, they now have 100 in number.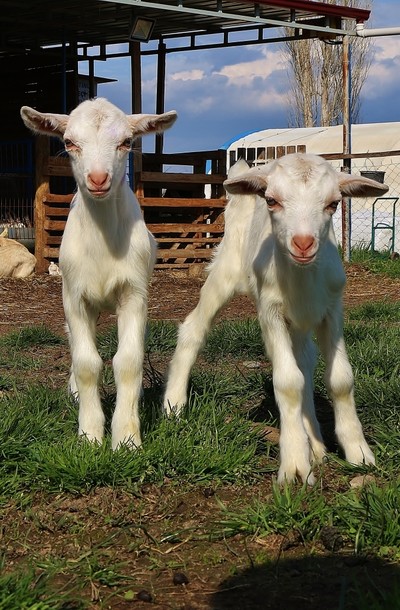 Cansunal and Ektik produced 750 tons of milk and 12 tons of cheese in their first year, and say they are eager to share their experience in the business with others who are interested in the concept.
Cansunal told Anadolu Agency (AA) that he and Ektik established the goat farm one-and-a-half years ago, noting that his previous work experiences were primarily in the field of trade.
Stating that the two entrepreneurs chose the Saanen breed of goat due to its high milk productivity, Cansunal said the goats produce at least three liters of milk per day, noting that they can sometimes produce six to seven liters of milk daily.
The business began with the help of a five year, zero-interest livestock loan from Ziraat Bank, Cansunal said, continuing: "Our milk production is around 750 tons per year. Our primary customers are the elderly, parents of infants and cancer patients.There are those who come to us after being referred by their doctors. Stressing that cow and sheep milk are mixed in goat milk in the market, Cansunal stated that their milk has no additives, asserting that they do not take any fat from milk and cheese, but produce it with their own fat. "For this reason, our cheese is much softer compared to those in the market. Our current cheese production is about 1 ton."
Ektik also stated that they started to enjoy themselves after they got into the business, and even worked day and night on the farm.
Explaining that they do not have a shepherd and that they take care of the goats on their own, Ektik said: "We are continuing to do our business happily now. At first, we started for profit but later it turned into pleasure more than profit," Recalling that they were able to reach the ideal herd within a year, Ektik said one goat produces an average of three liters of milk a day, stressing that businesses that have reached three liters in herd average are called good business.
"By the end of our first year we managed to have 100 goats on our farm. Each goat had two kid goats on average. While we sold most of the male kid goats, we kept the female kid goats for obvious production purposes. When we first entered the business, other farmers disregarded us due to our lack of experience in goat farming. However, we are enjoying our endeavors and consider ourselves successful," Ektik said.
Noting that the closed system is generally applied in Turkey, Ektik said: "We are using an open system. So far, we have little kid death. Therefore, we think that animals born in cold weather can be healthier."
Underlining that they will further improve their farms, the young entrepreneurs also said they are currently working on the production of goat sausage.
The Saanen goats have their origins in the historic region of the Saanenland and in the neighboring Simmental, both in the Bernese Oberland, in the southern part of the Canton of Bern, in western Switzerland. Known for their productivity, Saanen goats are bred almost all over the world. The total world population of Saanen goats is reported to be over 900,000. Of these, some 14,000 are in Switzerland. The Saanen is one of the largest goat breeds. They are as tall as 90 centimeters and weigh a minimum of 85 kilograms. They have white skin and short white coats. The average milk yield is 838 kilograms in 264 days of year. The Saanen is not well suited to extensive management, and is usually raised intensively. In Turkey, Saanen goats are usually bred in small farms and the price for a Saanen goat varies between TL 250 and TL 1,500.