The wind is blowing through your hair as you sit back in the driver's seat and relax, driving into the sunset. There is romantic music playing on the radio; you roll down the window a little bit more, put your arm out and feel the wind between your fingers as you imitate the movement of the waves with your hand. Then, suddenly, a loaded 18-wheeler comes your way. Well, taking a road trip is not always like what occurs in Hollywood movies. Traveling long distances on local highways might seem romantic but it is not, especially in Turkey. To make your road trip both endurable and enjoyable in Turkey, you need to make the trip special, because trust me, in a country with a population of nearly 80 million, you will never find an empty highway to experience the Hollywood dream.

With summer just around the corner, now is definitely the best time to take a road trip with your family and friends, whether you head to the Aegean coast or the Mediterranean seaside. Even though taking a road trip through Turkey may not be one like those in Hollywood movies, the country is a treasure trove for travelers who want to discover new destinations on four wheels. Whether you choose to travel to the stunning coasts of the Mediterranean or famous historic places, including the astonishing Istanbul, Cappadocia or ancient Ephesus, Turkey offers numerous choices that include natural and historical beauties for travelers. So, if you are an adventurous traveler looking to break out of the mainstream and discover Turkey's most well kept secrets, taking a road trip through Anatolia is what you need to do this summer.

Hitting the road on a whim seems very adventurous and even romantic, right? Well, it actually isn't. If you are a person who wants to experience everything that a road trip can offer you, you definitely need to approach the endeavor with a well thought-out plan. The first thing to do is to plan your route.

It is always a good idea to make your starting point a location that you know well. If you are a foreigner and plan to hit the road through Anatolia, I suggest that you to start in Istanbul which is considered the heart of Turkey for tourists. The route, on the other hand, totally depends on your priorities and taste. Moreover, the time you will spend on the road definitely has a crucial effect on your holiday; namely, it can make or break your experience. For travelers who have a limited amount of time, taking a road trip to Gaziantep, for instance, from Istanbul is nothing but a burden. You will see beautiful places and things along the way for sure, but you will not have enough time to experience everything as the drive to Gaziantep takes more than 12 hours. Hence, a fruitful road trip in Turkey requires clever planning and route-drawing.

My advice for spring travelers is to drive to Turkey's northern region; namely, the Black Sea region. The coast of the Black Sea is the most beautiful place in Turkey to visit during springtime. The famous Black Sea flatlands are definitely worth your while and, for those planning to set off on a road trip in Turkey this summer, it is best to drive along the Aegean and Mediterranean coasts of Turkey. Yes, I know it is a little bit of a cliché, but discovering virgin bays that few have discovered and experiencing different cultures in a very small area is every traveler's dream.

While planning might be the most essential part of a road trip in Turkey, the key element is having a car. If you have already had a car and are a licensed driver in Turkey, you can breathe a sigh of relief; all you need is to have a mechanic inspect your vehicle before the road trip as to prevent any potential breakdowns on your trip. Nothing ruins a road trip faster than a broken down car; however, if you are a foreigner visiting Turkey, you have many options for renting a car. The important thing to do is to book your rental car in advance, since rental cars are in high demand in Turkey; especially during the tourist months. Choosing your rental car might also be a challenge. Any car would work if you are going to drive on a highway without rugged terrain; but for the more adventurous traveler who wants to discover small towns off the beaten path, choose a vehicle such as an SUV

For newcomers, being involved in a car accident while on a road trip in Turkey might seem intimidating, but don't worry. In Turkey, if you are involved in a car accident, it's required by law that you call the police and file a police accident report. If you're insured by your rental car company, it won't be an issue. So, be sure to get the appropriate insurance before setting off. Further, don't be nervous about visiting the local gas stations. In Turkey, you can find more than you need as you head to your way.
Go traditional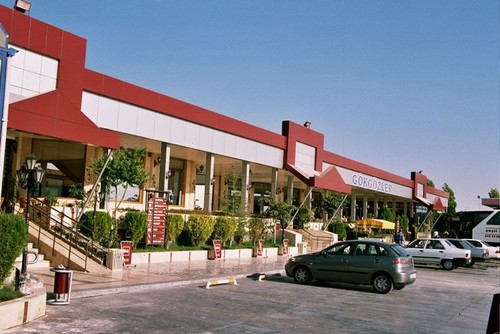 A road side restaurant in Aksaray, Turkey.
Every year, Turkish families set off for an obligatory road trip to either visit relatives or go on a holiday. So, there are few things to keep in mind that every family must do to prepare for a road trip in Turkey. If you follow these steps you will minimize any potential disasters from occurring:
n Hit the road before having breakfast. There is a great chance that you will have the best breakfast of your life in a local, small, road-side restaurant.
n If you are driving through mountainous terrain, drink water from the roadside fountains. These fountains directly draw water from the clean springs that run down from the mountains. Also, don't forget to fill your plastic bottles.
n When you become fatigued from long hours behind the wheel, pull over and get out of the car to sit for a few hours and drink a cup of tea at a local tea house.
n Try local delights on your way. Do not hesitate to give small, local, family-run restaurants a try.