Jubilant Croatian fans honked their car horns and let off fireworks after their national football team beat England 2-1 in extra time Wednesday to clinch a place in the World Cup finals against France.
Mario Mandzukic scored in Moscow's Luzhniki stadium giving the Balkan nation its first ever place in the finals in history, surprising even some fans with the result.
"We had hoped (for this) and we believed in our team, but the feeling when we finally entered the finals cannot be compared to anything," said Ivan Kecerin, 41.
The country of around 4 million people came to a standstill as Croatians watched the game on screens in squares and cafes.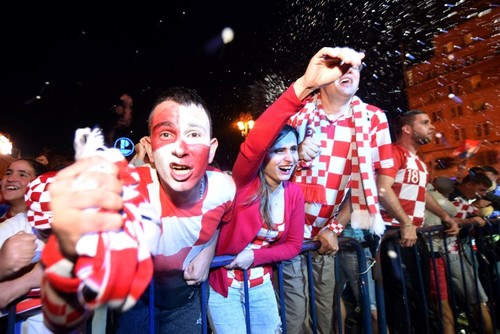 In Zagreb, the capital, tens of thousands of people gathered in the central square to watch the match despite rainy weather.
Loud cheers rang out after each goal, fans waved the red and white national flag, and after the final whistle Croatian TV showed wild celebrations breaking out in towns and cities.
Meanwhile, in London, an initial wave of elation turned to heartbreak as 30,000 beer-soaked fans in Hyde Park watched their team come up short.
Around 30 million people were believed to have watched the match on TV in Britain.
The British Beer and Pub Association predicted supporters would buy 10 million extra pints at pubs during the match, and No.1 Court at Wimbledon was less than one-third full for the men's quarterfinal between John Isner and Milos Raonic.
But after the game many fans were sobbing while others looked to the future with confidence after their once improbable dreams of a first World Cup final in more than 50 years were dashed by Croatia.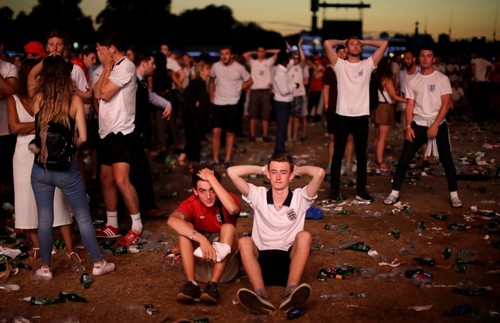 "We blew our chances," 17-year-old Josh Ogunde said after watching the 2-1 semifinal defeat with friends near Trafalgar Square in central London as the disappointed crowds streamed home.
"I just believe we can come back another time, and I hope before I die I see England win the World Cup," Ogunde said.
Matt Reece, 25, who works in marketing, said England had far outperformed the low expectations of them when the tournament began.
But he lamented England's failure to take full advantage of what appeared an unusually easy route to the final, avoiding most of the heavyweight teams in Russia.
"They've been unbelievable the whole tournament but at the end of the day, it was our best chance ever and we haven't taken it," Reece said.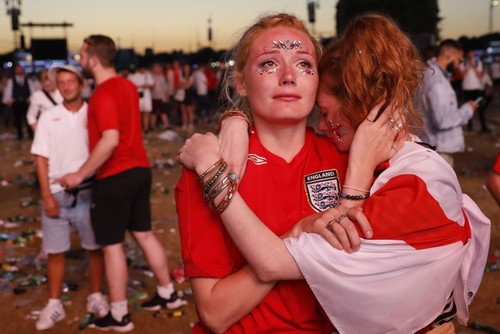 After watching their team stumble at major tournaments for decades, often falling to much smaller nations, England supporters had begun to think that 2018 might be a different story.
If they had beaten Croatia, England would have reached only their second World Cup final. In their other appearance, in 1966, in London, they entered popular folklore by beating West Germany, an achievement that many fans have long thought they would never see again.