In some parts of rural Karaman, the villagers have preserved a tradition called "Saya," for centuries. It involves a ceremony that is usually held on the 100th day after the sheep mate and the unborn offspring are thought to come alive in the ewes' wombs.
One such place where the tradition still thrives is the village of Madenşehri on the skirts of Karadağ. Here, the key means of living are sheep and goat farming.
As part of the tradition, young people gather in a village chamber and start preparations. A shepherd's socks, coat, bandolier, packing needle and bell, all used in the ceremony, are brought together. The, one of the youngsters is chosen to be the "Saya," who puts the costume on. His face is then painted black and bells are hung from different parts of the costume.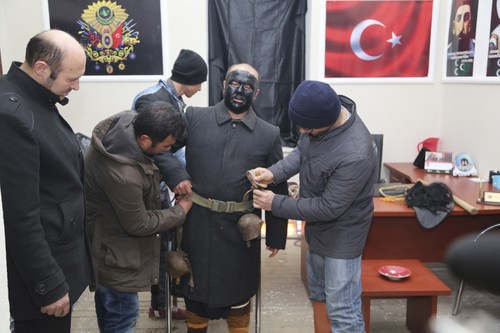 Then, the "Saya" and horse groom start collecting offerings from the villagers by going from door to door. While doing this, they recite traditional poems and every object that is taken from the residents' houses is believed to be "sadaqah," (voluntary charity) for animals and the unborn sheep.
Speaking to Anadolu Agency (AA), the Mukhtar (the head of a village) of Madenşehri, Durmuş Ali Demir said this is a traditional ceremony, which takes place at the end of January or the beginning of February every year, following the mating of sheep, and in the hope of healthy lambs.
"Young people of the village gather in a chamber in the evening. One of them is chosen as the 'Saya' and the preparations start. The group knocks on every door in the village after the Maghrib Adhan. The 'Saya' lies down in front of the door and the owners give him some money or food items, such as oil, flour or rice," he said.
Demir stressed that it was very important for them to continue the traditions.
"Everything collected on that day is brought to the village chamber and then distributed to those who are in need. Young people also organize a fun event with the money they collect. We maintain our tradition and everyone in the village comes together through this tradition. It has been practiced for hundreds of years. We have learned it from our grandfathers, now we are teaching it to the next generations. There are not many villages left which still practice it and if we also stop practicing it, it will soon be forgotten," he said.
Yasin Demir, who was the horse groom in the ceremony, said they are happy to continue a tradition that they have learned from the elders.
"This year's ceremony was great. Our grandfathers taught us this and now young people are learning it from us. Hopefully, it will continue like this. The charity collected in the ceremony is given to those who are in need and in the evening, we hold some entertaining events with the youth of the village," he said.