Sailing in his 8-meter wooden boat from Japan, Masuda Kiyoshi arrived in Muğla's Marmaris district for a break and to repair his boat. On his way to Marmaris, Kiyoshi followed the route of the Frigate Ertuğrul, which was sent to Japan 127 years ago by Sultan Abdulhamid I, only to sink in the Japanese waters on its way back.
After working as an electrician at a Japanese Fujitsu firm, 65-year-old Masuda Kiyoshi turned to sailing as soon as he retired. With his wooden boat "Umeboshi," the Japanese pensioner completed Frigate Ertuğrul's route in seven months, finally mooring his travel-sore Umeboshi in Marmaris Yacht Marina.
Marina authorities met Kiyoshi with Japanese and Turkish flags. Vice Chairman of Marina, Birol Bora Özkaynak, also presented Kiyoshi with a variety of gifts.
Speaking to Anadolu Agency (AA), Masuda Kiyoshi said he will visit the Aegean coast after the boat maintenance and repairs are complete. Planning to go back to Japan through the South Pacific via the Panama Canal, Kiyoshi expressed that his goal for next year is the Caribbean.
Setting sail as soon as he retired
Inspired by the boat races he had attended before retirement, Kiyoshi said he decided to sail from Japan to Turkey as soon as he was done working.
Stating that he sailed nonstop for 15-20 days, Kiyoshi said: "I completed the journey by keeping to the north. I arrived in Marmaris following a route from Japan, Taiwan, the Philippines, Malaysia, Thailand, the Maldives, the Seychelles, Madagascar, South Africa, the Canary Islands, the Madeira Islands, Gibraltar, Spain, Italy and the Crete Island of Greece."
While detailing the difficulties he faced sailing, Kiyoshi said: "I had a headache for a few days at the beginning. Waves make me weak, in fact. It was really difficult for me to cope with the wind on my way to Las Palmas. I completed 1,287 kilometers [800 miles] in 16 days, which normally should take 7-8 days. The wind and waves slowed me down."
'The autopilot was my only friend'
Pointing out that he had difficulty when the autopilot didn't work, Koyishi added: "I could sleep when the autopilot was on. I have four of them so that it would be easy to travel. I would just generally check to see if everything was alright. I used to change the sails when the wind changed. It was difficult to cope with the rain. I used to bind myself when I was on the deck as I was lonely all the time. The autopilot was my only friend on the road."
Stating that his wife couldn't accompany him because of seasickness, Kiyoshi said, "She wants to visit the Aegean and Mediterranean by plane."
Kiyohshi noted he will return to Japan for his mother's death anniversary, while Umeboshi is fixed by its constructor, who will fly in from Japan.
With plans of seeing the Aegean coasts after the maintenance, Kiyoshi said that he truly appreciated the Marina authorities' welcome. "That was an awesome greeting. I was really touched. Thank you so much!" he said.
Vice Chairman of Marmaris Yacht Marina, Birol Bora Özkaynak said they had expressed Turkish hospitality at their best.
Frigate Ertuğrul
​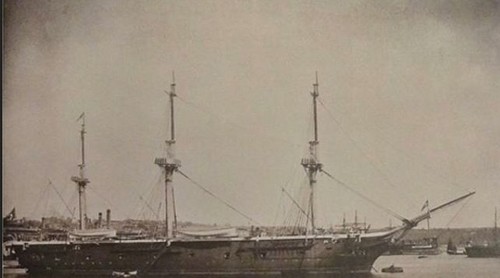 Setting out for one of the longest sails in Ottoman history, the Frigate Ertuğrul departed from Japan's Yokohama Port on Sept. 15, 1890 on its way back to Turkey. It sank on Sept. 16 off Kushimoto's shore when a typhoon forced it onto a reef. Over 500 crew members of the 569 died in the accident.