With its secret passages and tunnels and the prized possessions of the 75-year-old former cleric, the building's contents reveal details about how Gülenists view their leader - a man they exalt as if he were a prophet - and how the fugitive cleric has woven his web of secrecy for his terror group while posing as the humble head of a seemingly religious group.
On the surface, FEM prep school, one of hundreds across Turkey run by Gülenists, used to be a place for high school students to prepare for university admission exams. However, while students were making career plans in one corner of the building, Fethullah Gülen, who would move to the U.S. permanently in 1999, was making plans of other kind with his followers in another part of the building. Sinister plans to take control over the state with the aid of his infiltrators within the police, judiciary and the military, as his former followers would expose years later.
A secret passage accesible only by tearing apart a plastered section of the wall is among building's many secrets.
A banner reading, "This building is now state property - Ministry of National Education" hung on the fence of its courtyard welcomes visitors and was seized by the Turkish authorities, like other organizations belonging to the terror group benefiting from immense financial revenues of schools and other companies. Inside, a brief tour of the building reveals that the prep school is indeed an intriguing facility and larger than it appears, at least when compared to the blueprints. The building was added onto numerous times despite the ban that was in place against any unauthorized additions to buildings in the area, revealing the level of power of Gülenist Terror Group (FETÖ) members had to do what they wanted thanks to their followers throughout the states institutions, ranging from court clerks to top police chiefs and municipality officials, issuing building permits to teachers.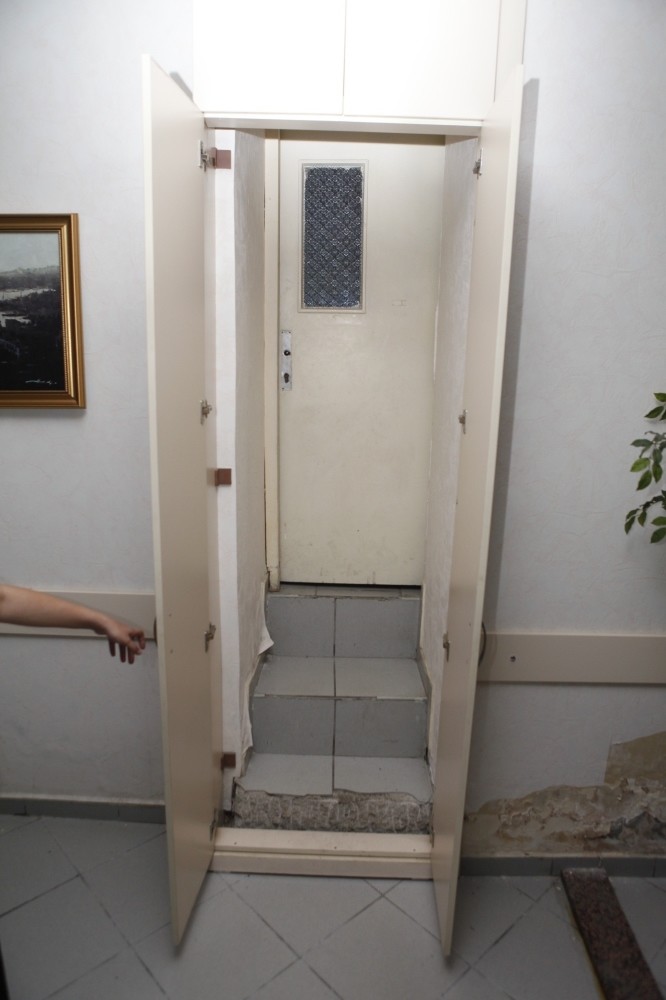 Door of "a closet" reveals entrance to a secret passage.
The building clearly ensures secrecy and a place of escape in cases of emergency as well as comfort, with secret exits and tunnels leading to rooms not seen on the blueprints, from elevators which operate only with passwords to a luxurious interior design and furniture. Three rooms on the top floor were used for Gülen's personal residence. The rooms contain everything Gülen used while he was in Turkey, from his toothbrush kept as a memento by his followers who revere all things Gülen, to other personal items of the fugitive leader. The level of devotion Gülenists show their leader was recently exposed in a police raid at another school in western Turkey, where two plaster hands were found. Followers used to kiss the plaster hands representing Gülen in a warped sign of respect. A large drawing of Jesus' disciples, a prayer rug, bedsheets and other possessions of Gülen also remain intact. Apparently, Gülenists were hoping their leader would return from self-imposed exile in the U.S. one day. A Statue of Liberty figurine from Gülen's days in Istanbul highlights his admiration for his current home. Nowadays, he refuses to leave his comfortable retreat in Saylorsburg, Pennsylvania and return to Turkey, claiming he would not be granted a fair trial. Meanwhile, the U.S. still deliberates over his extradition to Turkey where he would face life in prison for his role in the coup attempt; a likely death sentence for the 75-year-old former preacher. In his wardrobe, expensive clothes by famous brands still remain, contrasting with his seemingly humble lifestyle in the U.S. where he lives in a sparsely decorated bedroom.
According to Nurettin Veren, a former aide to Gülen, who disclosed a decades-old plot by the fugitive suspect to take over the Turkish state, the Altunizade building was where he met his followers frequently during secret meetings to conduct the affairs of the terror group. Former Gülenists say it was a privilege to access the group leader's room in the building and only the most senior members were allowed in. Password-activated elevators used for access to the room confirm this. One elevator was exclusively used by Gülen and the other one is accessible only through a secret passage. Gülen's elevator is located in a carpentry shop, another odd place in a building used as a school, in the basement of the building.
In a dining hall in the building, a closet leads to a hidden door which opens to a secret passage. The passage was closed with bricks before the authorities confiscated the building but it is believed the it lead out of the building and was an escape route in cases of emergency. In the basement, a part of the wall is composed only of plaster and when cracked with a light punch, it reveals a door, leading to a secret meeting room. Walls of the carpentry shop in the basement are also covered in plaster, which hides secret doors to elevators.
The building is equipped with a data transmission line working independently of internet service providers, enabling Gülenists to communicate without detection. Experts say the internet connection method used by Gülenists is "similar to the ones used by intelligence services."
Police are now working to reveal more secret sections of the building. Ömer Faruk Yelkenci, head of Istanbul's education authority, which currently oversees the building, says the FEM school had "many things not suitable for an educational institution." "It is clear there was something secret going on. We examined the blueprints and discovered many places we ran into in the building were not there and built illegally," he says.
Fethullah Gülen, who rose to prominence as the leader of a seemingly religious group in 1970s with his famous sermons at local mosques, gained a significant group of followers in the past four decades. His followers infiltrated the police, the judiciary, the military and positions in the bureaucracy with the aim of overthrowing the government and taking over the state. This they attempted twice in 2013, by trying to imprison figures close to the government. Their plans were foiled and the Gülen Movement was designated a terrorist organization. Still, they retained some clout within the Turkish state with secret sympathizers and in July attempted to stage a putsch, which was quelled by the public and security personnel not affiliated with Gülenists.